Sally Yates' Testimony Reveals Ignored Warnings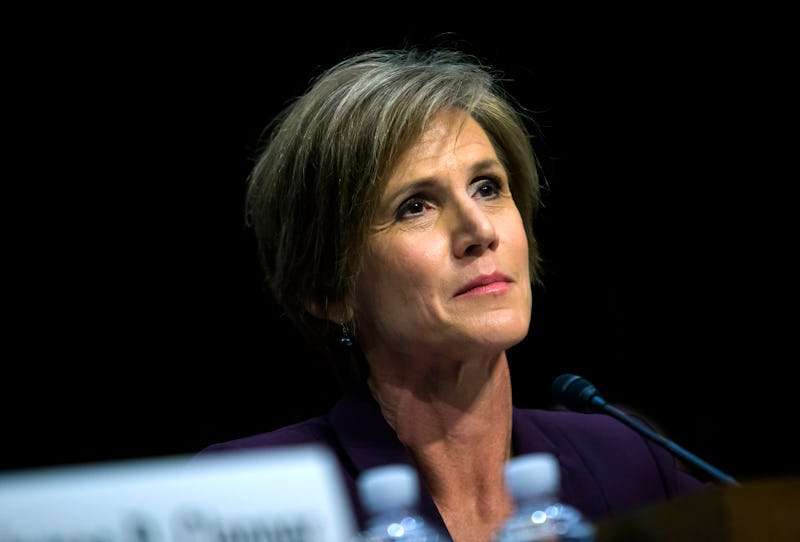 Eric Thayer/Getty Images News/Getty Images
On Monday, former acting Attorney General Sally Yates gave her long-awaited testimony to the Senate. Yates inadvertently became a hero to progressives for refusing to defend President Trump's travel ban in court, and later emerged as a key figure in the ongoing controversy surrounding Trump's former national security advisor, Michael Flynn.
The key bits from the exchange aren't hard to find, but if you'd like to read the whole thing, you can check out the transcript of Yates' Senate testimony. You can watch the full testimony here.
Flynn resigned as national security adviser in February after it was revealed that, contrary to his earlier claims, he had apparently discussed U.S. sanctions on Russia with Russia's ambassador prior to Trump's inauguration. Shortly thereafter, The Washington Post reported that Yates, during her short time as acting Attorney General, had written a letter to the White House informing them that Flynn had inaccurately represented the nature of his communications with the Russians — and furthermore, that Flynn might be susceptible to blackmail by the Russian government.
Despite her swift ascent from obscurity to national prominence, Yates hadn't spoken publicly about any of this until her testimony Monday. She'd been scheduled to testify in front of the House Intelligence Committee in March, but that testimony was abruptly canceled by Rep. Devin Nunes. The California Republican was chair of the committee, but has since recused himself from the investigation.
On Monday, Yates confirmed that she'd warned the White House about Flynn. "General Flynn was compromised in regard to the Russians," Yates told the Senate committee. "To state the obvious, you don't want your national security advisor compromised with the Russians." She added that "the underlying conduct that General Flynn had engaged in was problematic in and of itself," and expressed concern that "the American people had been misled" as to Flynn's conduct.
Prior to Flynn's resignation, on the Jan. 15 episode of Face The Nation, Vice President Mike Pence claimed that Flynn didn't discuss sanctions with Russia prior to Trump's inauguration.
I talked to General Flynn about that conversation and actually was initiated on Christmas Day he had sent a text to the Russian ambassador to express not only Christmas wishes but sympathy for the loss of life in the airplane crash that took place. It was strictly coincidental that they had a conversation. They did not discuss anything having to do with the United States' decision to expel diplomats or impose censure against Russia.
Yates said that this also caused her concern, as she knew that this was not true — and so, reportedly, did Russia. "We weren't the only ones that knew all of this," she continued.
The Russians also knew that General Flynn had misled the vice president and others, because in the media accounts, it was clear from the vice president and others that they were repeating what General Flynn had told them, and that this was a problem because not only did we believe that the Russians knew this, but that they likely had proof of this information. And that created a compromise situation, a situation where the national security adviser essentially could be blackmailed by the Russians.
Yates was also questioned, primarily by Republicans, about her decision not to enforce Trump's travel ban, which ultimately resulted in Trump firing her.
"I made a determination that I believed that it was unlawful," Yates told Texas Sen. John Cornyn. "I also thought that it was inconsistent with principles of the Department of Justice and I said no. And that's what I promised you I would do [at my confirmation hearing] and that's what I did."
"I don't know how you can say that it was lawful and say that it was within your prerogative to refuse to defend it in a court of law and leave it to the court to decide," Cornyn responded.
"Senator, I did not say it was lawful," Yates replied. "I said it was unlawful."