Salma Hayek Claims Harvey Weinstein Threatened To Kill Her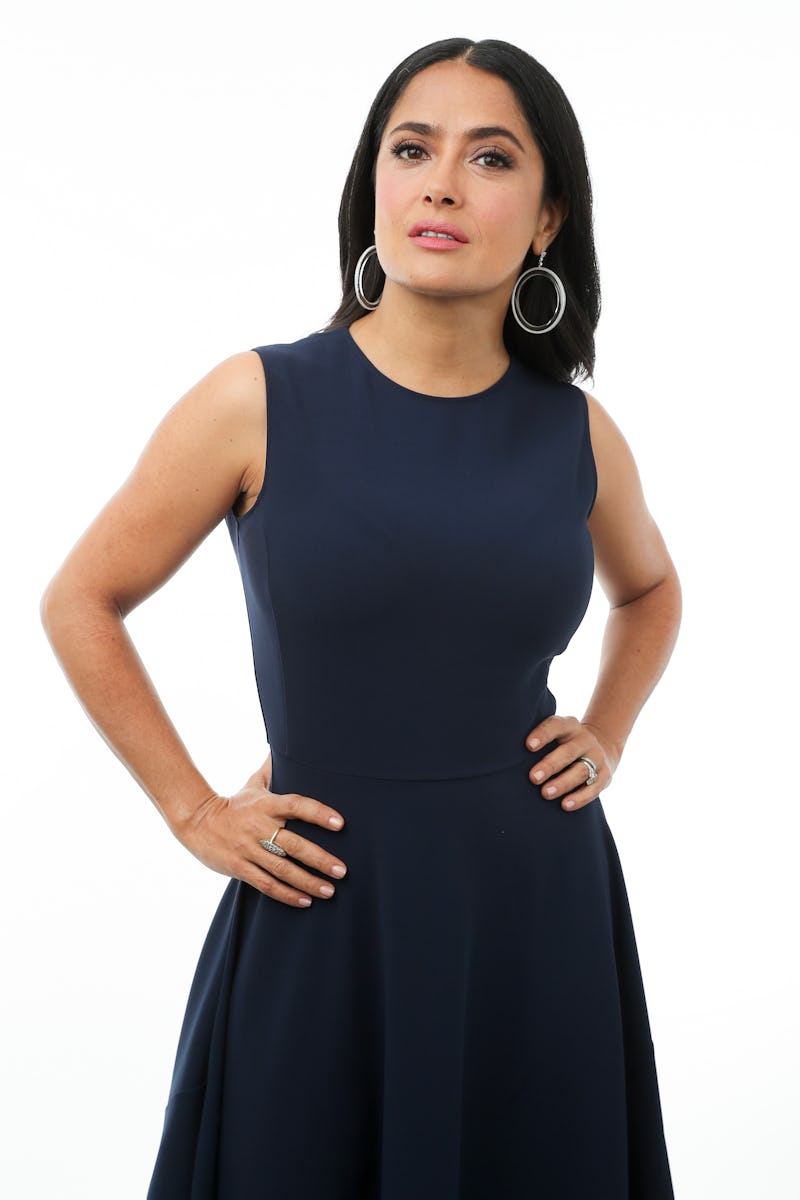 Rich Polk/Getty Images Entertainment/Getty Images
Months after the first claims emerged, there are still actresses just beginning to speak up. In a conversation with The New York Times that broke Wednesday, Salma Hayek claims Harvey Weinstein threatened to kill her, among other allegations, in an op-ed focused on sharing her experiences with a man who she calls "my monster." Bustle has reached out to Weinstein's reps and his lawyer about the new allegations, but did not receive an immediate response. However, with regards to the initial wave of sexual assault allegations, Weinstein's spokesperson, Sallie Hofmeister, told The New Yorker, "Any allegations of non-consensual sex are unequivocally denied by Mr. Weinstein."
The Times article centers around Hayek's experience leading up to and throughout the 2002 film Frida, which the actress produced and starred in. She also painstakingly shepherded it through production over a period of years, obtaining shooting permits, signing on actors, and overseeing script changes. And through it all, she alleges, she fended off Weinstein's repeated advances and attempts to undermine the project. In the actress' own words:
"The range of his persuasion tactics went from sweet-talking me to that one time when, in an attack of fury, he said the terrifying words, 'I will kill you, don't think I can't.'"
According to her essay, Hayek's initial relationship with the producer was reportedly a positive one, through mutual friends, which is why she says initially brought the project to him at Miramax. But the 51-year-old actress claims that as, she began to say no to alleged demands like massages, shared showers, and oral sex, the connection quickly soured and she began to bear witness to Weinstein's "Machiavellian rage."In fact, Hayek alleges that perhaps that her friendships with powerful Hollywood players like George Clooney and Quentin Tarantino are all that "saved [her] from being raped."
Hayek claims that she had to take the powerful producer to court in an attempt to wrest back control of Frida, the movie she'd toiled over producing for so long. Citing her incompetence as a producer, Weinstein reportedly put together a list of near-impossible demands that had to be met before he'd be willing to move forward, allegedly including a rewrite, additional millions in financing, snagging a big-name director, and casting famous faces in four of the film's supporting roles.
They were Herculean tasks that Hayek writes that she called in favors to achieve, eking out success by getting people like director Julie Taymor and Geoffrey Rush attached to the film, among other efforts. But every time she cleared one hurdle for production, the Frida star claims Weinstein would have another one already set up. And although his alleged demands transitioned away from being sexual in nature, the power dynamic between the mega mogul and his director and star were still very much in play.
"Ironically, once we started filming, the sexual harassment stopped but the rage escalated. We paid the price for standing up to him nearly every day of shooting."
The Miramax executive would allegedly show up to set, critiquing Hayek's acting choices, her character's limp and unibrow, demanding more skin, and threatening to shut down production. When he allegedly demanded a topless scene between Hayek and her friend and costar Ashley Judd, the former claims that she was so distressed that she slid into what she terms a "nervous breakdown." Her alleged reaction was complete with tears, shaking, and uncontrolled vomiting, but she got through the scene and what came after it: yet more hoops to jump through for Frida to make it to nationwide audiences.
In many ways, Hayek may seem fortunate. She was somehow able to keep clearing the bar that Weinstein was allegedly raising, because her film was so strong that it couldn't be dismissed. Audiences got to see it, and, she wasn't physically harmed by the studio exec in her account. But there's nothing truly fortunate about the situation because, in reading the testimony she published in the Times, it's clear that she experienced intense emotional harm, and it has stayed with her since the alleged incidents she describes.
No amount of critical acclaim for the film that she sweated and cried over, or even an Oscar nomination, is enough to soften Hayek's allegations against a man who was supposed to be her business partner and champion. She made sure Frida Kahlo's story was heard, but it took her 15 years to feel safe enough to tell her own.
If you or someone you know has been sexually assaulted, call the National Sexual Assault Telephone Hotline at 800-656-HOPE (4673) or visit online.rainn.org.