Sam Smith & Brandon Flynn Have Reportedly Broken Up & Fans Are Equally Heartbroken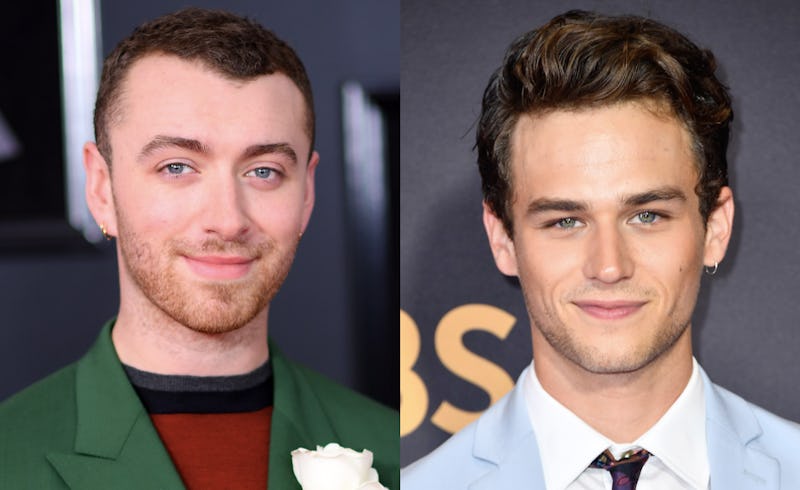 Dimitrios Kambouris/Getty Images Entertainment/Getty Images; Frazer Harrison/Getty Images Entertainment/Getty Images
Unfortunately, life seems to be imitating art when it comes to Sam Smith's love life. The "Too Good at Goodbyes" singer is now single. Sam Smith and Brandon Flynn have split up after 9 months of dating, according to a report from Page Six on Wednesday. (Bustle reached out to reps for Smith and Flynn for comment, but did not receive an immediate response.)
They started dating in November 2017 and the Page Six article reports that the former couple called it quits last week. That recent timing seems to check out, since the singer appears to have deleted several photos of them together from his Instagram account on Tuesday night. An "inside source" claimed to Page Six,
"Sam and Brandon had a real whirlwind romance. They really fell for each other. But they are both so busy with their careers and unfortunately things just haven't worked out. Sam is obviously devastated. This is the most significant relationship he has ever had. Thankfully he is on tour across the US at the moment which has been a welcome distraction."
At least there's somewhat of a silver lining: Smith will have a lot of raw emotion to put into his performances during the concert tour.
As of this moment, neither the singer nor the 13 Reasons Why actor has publicly commented on the breakup, but they both put up some interesting Instagram Stories. On June 27, Flynn posted a photo with the Allen Ginsberg quote, "It's that time of night, lying in bed, thinking what you really think, making the private world public, that's what the poet does."
Could that be in response to Smith supposedly deleting photos from their relationship on his Instagram account? Could that even be a response to the inevitably public breakup news? There is no concrete answer to any of those questions, but the fans definitely noticed the Instagram cleanup — and they're pretty heartbroken about it.
The breakup had to be pretty recent since Flynn posted about his now ex-boyfriend's birthday in mid-May. The actor wrote at the time,
"He's in a different time zone and it's hit his birthday! Just finishing his European leg of his tour, at 26 he's accomplished so much. He's an angel! He makes me so f*cking happy and I hope everyone g oes and shares all the birthday love, it ain't easy getting old but he's doing it with grace thank you for everything, Samuel! Happy 26, here's to another amazing year of life!"
Smith may have made an indirect statement via Instagram by deleting a bunch of photos, but he might have sent another message via Instagram Story. He shared a screenshot from a song he was listening to called "I Miss You." Is that a coincidence or is that a message about the breakup with Flynn?
Even though the singer hasn't discussed the relationship post-breakup, Smith did discuss their relationship during happier times for a January interview with V Magazine.
Smith said, "On a personal level, I'm in a relationship right now and for the first time, I think I deserve to be happy." He even said, "I'm actually asking myself if I'm going to be writing some happy love songs soon." Six months later, it's clear that he will not be writing any "happy love songs soon." Maybe he already wrote some while the two of them were still together though.
Breakups are tough, but at the very least, Smith can use songwriting as a way to get through the pain. Smith's 2014 studio album In the Lonely Hour was inspired by heartbreak. He discussed this during a 2015 interview with Digital Spy. Smith revealed, "My debut album is just a diary from a lonely 21-year-old."
In that same interview, he explained, "I don't have that many sad things going on in my life and it was the only thing that was really affecting me last year: I fell in love with someone who didn't love me back, and it made me get into this head space of, 'Will I find a man to love? When will I find love?'"
He continued, "This album is my 'f*ck off' to everyone and basically say, 'No, I have been in love with a man and, if anything, it was much more painful than your version', because I'm not getting what I want with a man and it's so close I can almost taste him. So, it's my way of defining what is love, and how unrequited love is just as painful, just as powerful, as what we call 'normal' love."
The only positive thing to come out of that tough breakup was the music. Smith was able to let out all of his emotions and work through the split, all while creating a highly revered album for his fans. Maybe he will be able to channel the breakup with Flynn into some new material. That would be the one silver lining to this situation.