Samantha Bee's Finally Back & She Wants The NRA To Try Out Scientology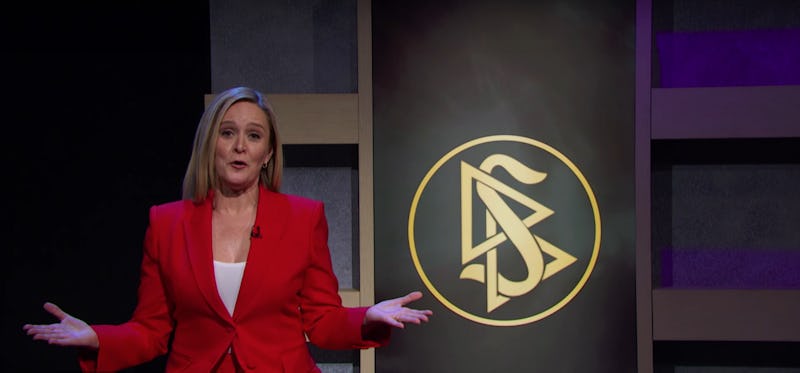 Wednesday's episode of Full Frontal with Samantha Bee gave a special call to action to members of the National Rifle Association, a PSA that also doubled as a recruitment ad for the Church of Scientology. Full Frontal host Samantha Bee advises NRA members to join Scientology instead. In a joking plea for members of the NRA to replace the philosophy of guns with the philosophy of a shadowy religion, Bee proclaimed, "Scientology can fill all the holes in your soul that the NRA currently does. It will bless you with fear, power fantasies, a creepily ageless leader — and merch!"
Bee's reasoning for "breaking free" from the NRA is that enthusiasm for Scientology is better for public safety than enthusiasm for gun culture. As the comedian espoused:
Is Scientology safe. Oh, of course not, it's bonkers! But it's, like, safer for the rest of us. So, if it keeps you from feeling like you need to load up on AR-15s, then hail Xenu or whatever the f*ck.
Who needs a rifle to defend themselves when, as an OT7, you can blow someone away with your brain? That's the stopping power of Scientology.
In Scientology, OT7 is one of the highest levels of spirituality a member can reach after "going clear." It describes the point at which one can "handle things without having to use a body of physical means."
The Full Frontal segment arrives in the aftermath of the Parkland school shooting. On Feb. 14, a 19-year-old lone gunman entered Marjory Stoneman Douglas High School in Parkland, Florida with an AR-15 semi-automatic rifle. Roaming the school to fire at students and faculty, the shooter killed 17 people and injured more than a dozen others.
As Bee concluded in her public service announcement:
Hey, buddy, I know you like to be part of something small and universally disrespected, so why not try Scientology? Because if you volunteer to be Kirstie Alley's boat slave, at least you're only hurting yourself."
Bee's impassioned message doesn't just have to do with the most recent tragedy — it also has to do with the NRA's lobbying power over the U.S. government. Robert Maguire, an investigator with the Center for Responsive Politics, described the NRA as a "massive financial firepower with large scale grassroots support." "Every dollar they spend is backed up by the fact that they have members that are going to hit the streets and canvass on their behalf," he said in an interview with TIME.
This isn't the first time Bee has spoken up after a mass shooting. After the Orlando nightclub shooting in 2016, Bee sounded off on the "love wins" rhetoric: "That is beautiful. But you know what? F*ck it." In a fiery delivery, Bee questioned why the shooter, who was twice investigated by the FBI, was legally allowed to purchase a gun.
Bee also spoke out on Full Frontal after the Sutherland Springs church shooting in Texas.
The Republican party has bought into the myth that the only thing that stops a bad guy with a gun is a good guy with a gun.In our country today, a lot more good guys are getting stopped by guns — good women, good children, good grandparents, good teachers, good country fans, good Christians.
We'll never eliminate gun violence from our society, but there are practical steps we can take to slow it down. We just need Congress to step up. If any legislators are accidentally watching my show because they fell asleep during Big Bang Theory — America appreciates your thoughts and prayers, but we need more than that.
It seems that call for policy change might have finally been heard, thanks in part to the Parkland survivors who led the advocacy movement for gun control law. In response to the Parkland shooting, Florida lawmakers passed legislation on Wednesday that would raise the minimum age for purchasing most firearms from 18 to 21, amp up school security by training and arming school employees, and create mental health programs for schools.