Why Samantha Bee Honestly Thinks Ivanka Trump Will Be Our First Woman President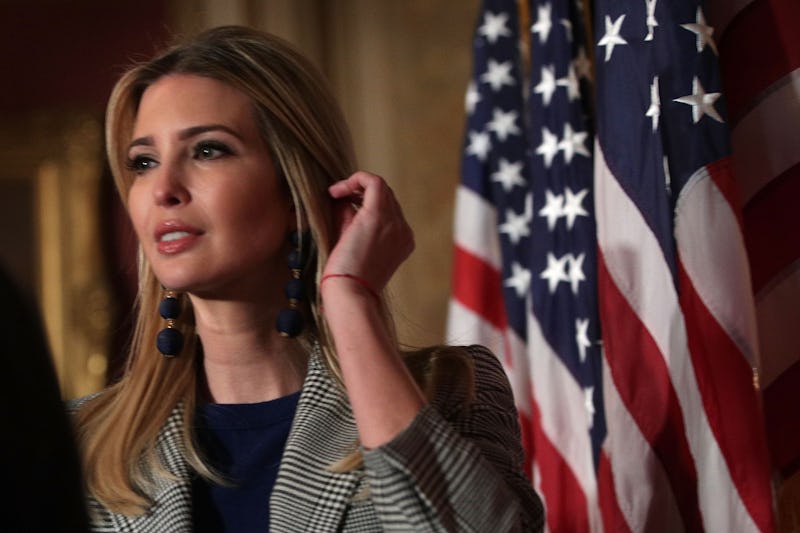 Alex Wong/Getty Images News/Getty Images
When Hillary Clinton lost the 2016 election to Donald Trump, many were left wondering if they'd live long enough to see the United States elect a female president. Now, comedian and Full Frontal host Samantha Bee has argued that while America will surely put a woman in the White House at some point, it may not be the woman you thought. In fact, according to Bee, Americans may be willing to welcome another Trump to the Oval Office. When asked if she thought a woman would be elected to the White House sometime in her lifetime, Bee predicted Ivanka Trump would be the first female president of the United States.
During her Q&A panel titled "Full Hour with Full Frontal's Samantha Bee" at the New York Comedy Festival, Bee was asked if she thought she'd see America elect a female president in her lifetime. "I feel so sad that you asked me that question because I'm going to give you my honest answer. It's going to ruin everyone's night," Bee said in warning. "I honestly — I'm so sorry — I think maybe our first female president might be Ivanka Trump."
Gasps and hesitant laughs erupted from a seemingly shocked audience. "I'm not joking," Bee said. "I'm so sorry that I said that."
Comedian and actress Ana Gasteyer, who was hosting the panel, disagreed. "No, I can't right you on that," Gasteyer said. "I do think we may go into an era of dumb shits who are popular. I mean, it could be a 'Real Housewife.'"
"I think this is all just about charisma and popularity," Gasteyer went on to add. "[President Trump is] the most hateful, horrendous, tremendously terrible leader but something about Americans needs to have people that they recognize from television. ... There's a reason that Honey Boo Boo is popular. It's because we want to feel smarter. We're getting dumber and dumber and liking dumber and dumber people as a result."
"Ladies and gentlemen I give you President Ivanka Trump," Bee said, as if implying Gasteyer's point was why she thought Trump's eldest daughter had a good shot at becoming America's first female president.
Although Ivanka has been heavily criticized for failing to be the moderating force she'd once promised to be on issues such as climate change, immigration, and LGBTQ rights, a CNN poll conducted in mid-September found 41 percent of respondents viewed her favorably. While Ivanka's favorability rating has, according to CNN's poll, fallen slightly since her father's inauguration in January, she still appears to be more popular than her husband, who serves as a senior adviser to Trump.
But while 41 percent of respondents in CNN's recent poll reported having a favorable opinion of the first daughter, young women may have a much different view of Ivanka. In April, a poll from SurveyMonkey revealed Ivanka's approval rating among young women was just 21 percent. That same SurveyMonkey poll found that when counting all respondents (meaning, not just those identified as young women) the first daughter's approval rating stood at 39 percent.
Bee has been an outspoken critic of Ivanka throughout the year. In May, Bee ripped into the first daughter's self-help book, Women Who Work, on her show Full Frontal. "Women Who Work contains more fonts than original thoughts," Bee said at the time. "True to her family's branding empire, Ivanka wrote this book largely by taking other people's work and stamping her name on it." Prior to that, Bee had warned her viewers against naively believing Ivanka would work as their "secret progressive buddy" while in the White House.
Still, is Bee right? Is it possible we'll be welcoming a different President Trump sometime in the near future?