Samantha Bee Took On The Maker Of Those 3D-Printed Gun Blueprints & It Was Scathing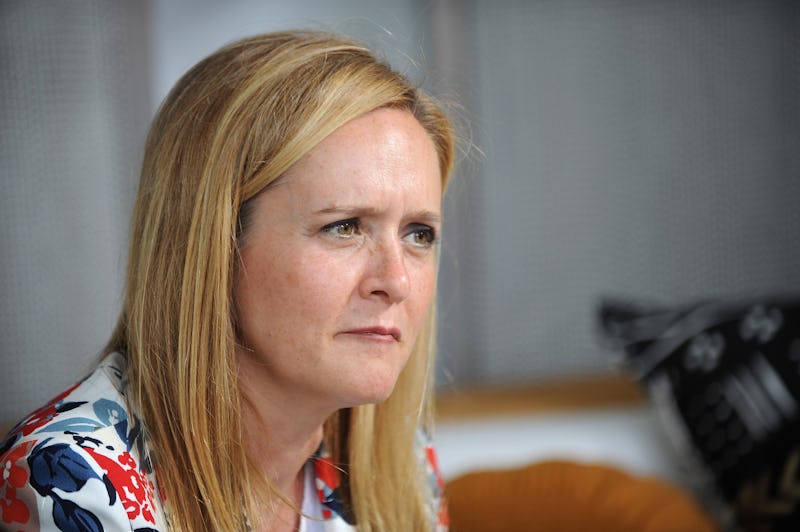 Brad Barket/Getty Images Entertainment/Getty Images
This week, a federal judge in Seattle temporarily blocked the publication of blueprints for 3D-printed guns, but the debate over these deadly plastic weapons is far from over. During the opening segment of Wednesday night's Full Frontal, Samantha Bee condemned 3D-printed guns, joining a growing chorus of voices who are concerned about the impact these "ghost guns" — which are largely untraceable — could have.
During the segment, Bee played a clip of NBC's Tom Costello remarking that these guns could "slip through security checkpoints at airports, prisons, even Capitol Hill" because they are made of plastic.
"Sneaking guns into Congress?" Bee exclaimed following the clip. "Jesus, isn't it bad enough that Ted Cruz manages to sneak in every single day? Interesting coincidence, since he is also made of extruded plastic."
Bee then voiced her concerns that it may soon become possible for more people to access 3D-printed guns, even if the blueprints for them have been temporarily blocked.
"Luckily, it is not yet legal to email someone a gun because a judge issued an emergency injunction against it," Bee said. "But who knows how long that'll hold? By next week people could be popping out ghost guns like Shrinky Dinks."
A Samantha Bee takedown of 3D-printed guns wouldn't be complete, however, if she didn't take on gun rights activist Cody Wilson — and that's exactly what she proceeded to do. Wilson is a self-described "crypto-anarchist" who sued the government in 2015 so that he could legally post blueprints for his 3D-printed gun online, according to CNN. It was only this week — the night before his blueprints were slated to be officially published — that a federal judge ruled that they were illegal.
However, CNN reported that his blueprints were downloaded more than 100,000 times when he first posted them online a few years ago, and hundreds of additional downloads took place before the judge banned them this week. Moreover, according to CBS News, it's not just the blueprints that are out there — it's the guns themselves. In the past two years, a handful of the firearms found at airport security checkpoints were 3D-printed guns, CBS News reported.
In a statement to CBS News, TSA Assistant Administrator Michael Bilello appeared to contradict Costello's suggestion that 3D-printed guns could evade detection at airports. According to Bilello, "TSA Officers are trained and on the lookout for 3D guns" and "have proven detection capabilities and screening protocols in place."
However, this might not be as reassuring as it seems, according to Bee. As she remarked during her opening segment, Wilson believes that the debate over 3D-printed guns is already over, given that "the files are in the public domain."
"You can adjust your politics to this reality," Wilson told CBS News' Tony Dokoupil earlier this week. "You will not ask me to adjust mine."
Even less reassuring, Bee pointed out, is the fact that normal guns might ultimately be more accessible, given the hefty price tag on 3D printers equipped to print out their plastic counterparts. After airing a clip from CNN's Tom Foreman, who suggested that "it is still wildly more efficient and effective for criminals and terrorists and anybody else to go buy guns," Bee could not hide her disbelief.
However, it was Wilson's comments to Dokoupil about being able to print off a gun in the comfort of his own home that really got to Bee — especially his suggestion that he could theoretically sit naked in the bathtub while doing so. To close off her monologue about 3D-printed guns, Bee had a few choice words for Wilson.
"I get the feeling Cody Wilson 3D-prints his guns with one hand," Bee suggested. "You know, I think we're going to be hearing a lot more about this fella — specifically the headline 'Idiot Shoots Own D*ck Off In Bathtub.'"