Samantha Bee Called Ivanka The "C" Word & There's Already So Much Blowback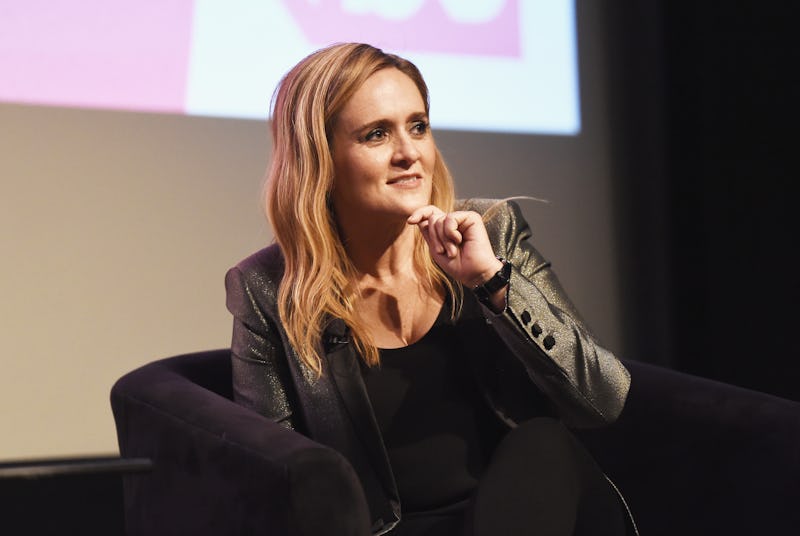 Amanda Edwards/Getty Images Entertainment/Getty Images
Ivanka Trump has hundreds of critics, but comedian Samantha Bee might be one of the biggest. The first daughter posted a "tone deaf" tweet amid reports of immigrant families being separated at the border — and in a monologue that aired Wednesday night, Samantha Bee called Ivanka Trump a "feckless c*nt" and demanded that she "do something" about her father's immigration practices.
On Sunday morning, Ivanka Trump shared a photo of her and her 2-year-old son on Twitter. The tweet came on the heels of reports of U.S. border agents separating immigrant children from their parents, prompting social media users to criticize her for her "tone deaf" post. On Wednesday night, Bee described Trump's post as "the second most oblivious tweet we've seen this week," according to USA Today.
"You know, Ivanka, that's a beautiful photo of you and your child, but let me just say, one mother to another: Do something about your dad's immigration practices, you feckless c*nt," Bee said during her monologue. "He listens to you."
While many of the fans who were in the audience during Bee's monologue gasped and then applauded her comments, conservative critics suggested there was a discrepancy between how liberals and conservatives were treated in the media sphere. One such critic, conservative blogger Erick Erickson, wondered whether TBS would fire Bee, given that ABC had fired Roseanne Barr following a racist tweet. He claimed:
"Seems to me that calling Ivanka Trump a 'feckless c*nt' is just as bad as suggesting Valerie Jarrett is an ape," Erickson tweeted on Thursday.
NBC's Megyn Kelly also slammed Bee, saying it was hypocritical for publications to praise her while simultaneously criticizing Barr. Kelly clarified that the widespread condemnation of Barr was justified, but argued that Bee should be held to the same standards.
"This is disgusting," Kelly tweeted about Bee's comments. "How is this acceptable? And how are we expected to take any of these publications seriously if they gleefully repost something like this at the same time they (rightfully) condemn @therealroseanne? You know the saying Love is Love? Well Hate is Hate."
Other conservative critics suggested that Bee would get a pass for her comments because they were directed toward a member of a conservative administration — unlike Valerie Jarett, an Obama adviser who was the subject of Barr's racist tweet.
However, not all Twitter users agreed with conservatives' criticism of Bee. In fact, many others criticized conservatives for equating Bee's comment about Trump with Barr's racism:
During her monologue on Wednesday night, Bee was heavily critical of the current administration's policies on immigration, but she also remarked that the U.S. government has separated immigrant families for years — including throughout the Obama administration. During the segment, Bee asked Trump to use this information to challenge her father's immigration policies:
"Put on something tight and low-cut and tell your father to f*cking stop it," Bee said, addressing Trump. "Tell him it was an Obama thing and see how it goes, OK?"
In addition to criticizing Trump, Bee poked fun at Barr — particularly her claim that her racist tweet was a result of taking Ambien, a medication used to treat insomnia. Sanofi, the pharmaceutical company that manufactures Ambien, quickly responded to Barr by saying that "racism is not a known side effect of any Sanofi medication." On Wednesday night, however, Full Frontal aired a fake Ambien commercial that imagined what it would be like if one of the side effects was racism.
"I mean, you were already racist, but maybe Ambien made it worse?" the commercial narrator says. "Until you know how Ambien will effect you, you shouldn't drive in urban areas, operate heavy machinery, or visit a Starbucks."
Although Bee is currently coming under fire for her comment about Trump, CNN pointed out that she regularly uses obscene language while performing. Late last year, for example, Bee said that being a woman in comedy entailed "dealing with a parade of total dicks."