Why The 49ers Kneeling During The Anthem Meant More Than You Know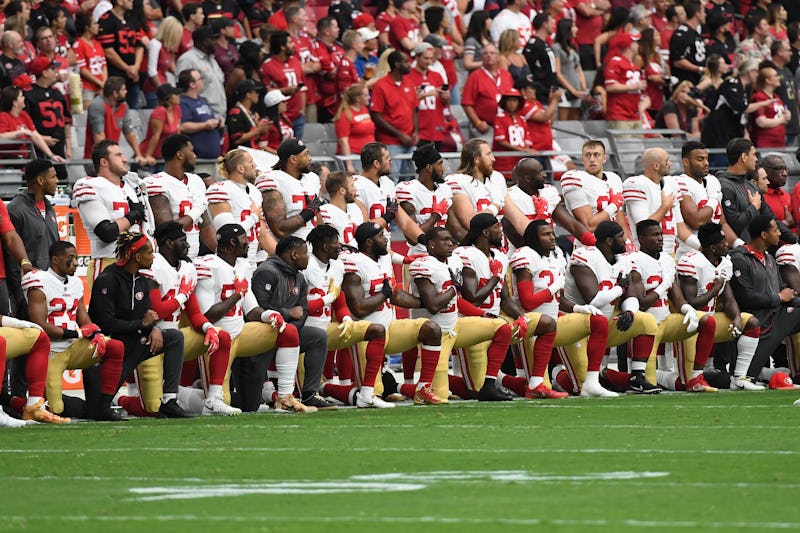 Norm Hall/Getty Images Sport/Getty Images
Donald Trump's recent remarks in Huntsville, Alabama, ended up sparking nationwide protests after he indirectly referred to African American football player Colin Kaepernick as a "son of a bitch" for demonstrating against police brutality. As NFL coaches, teams and even NBA and MLB athletes stand up to Trump's vilifying commentary, Kaepernick's own former team San Francisco 49ers kneeled during the national anthem in a playoff against the Arizona Cardinals.
At least 25 team members of the San Francisco 49ers chose to kneel before the national anthem while other team members stood in the back with their hands on their chests. Some reported that a few people booed in the direction of the players during the pregame demonstration. The team's Twitter account shared a video clip of the players on their knees.
Last year few 49ers showed unity with Kaepernick, apart from team member Eric Reid who took a knee with the former quarterback. This year, Reid penned a moving essay explaining why he and Kaepernick refused to stand for the anthem, citing documented brutality against black people as the primary reason.
The team's display of unity comes a year after Kaepernick refused to stand up for the American national anthem as a way to protest police violence targeting black and brown Americans. Explaining his reason to NFL Media in an interview, Kaepernick said:
I am not going to stand up to show pride in a flag for a country that oppresses black people and people of color" and added, "To me, this is bigger than football and it would be selfish on my part to look the other way. There are bodies in the street and people getting paid leave and getting away with murder.
Kaepernick was supported by the 49ers in an official statement which said, "In respecting American principles as freedom of religion and freedom of expression, we recognize the right of an individual to choose and participate, or not, in our celebration of the national anthem." After his 2016 protest, Kaepernick opted out of his contract with the team and became a free agent.
The quarterback's protest didn't seem to sit well with Trump who, in a breathtaking instance of hostility, bellowed to his audience in Alabama, "Wouldn't you love to see one of these NFL owners when somebody disrespects our flag, to say, 'get that son of a b*tch off the field right now. He is fired. He's fired!'" According to reports, Trump was originally scheduled to elaborate on his support for Sen. Luther Strange in an upcoming primary election but in the middle of his speech, the president turned to the NFL and Kaepernick's political stance.
Ever since Trump issued those scathing remarks against Kaepernick, various NFL players, NBA stars, and other prominent figures have criticized the president for using polarizing and divisive rhetoric against the player. In fact, since the number of protests held on football fields continues to grow, some media outlets like The New York Times have compiled a list of demonstrations with real-time updates.
San Francisco 49ers explained their reasoning for the pre-game demonstration said, ""For more than a year, members of our team have protested the oppression and social injustices still present in our society. While some may not have taken a knee or raised a fist, we have shared the desire to influence positive change."
"Today," the 49ers said, "our team chose to publicly display our unity in a new way and, in turn, urge others [to] do the same. Our demonstration is simply a representation of how we hope our country can also come together by putting differences aside and solving its problem."