San Francisco Protested Racism And Hate, And Overwhelmed The Far-Right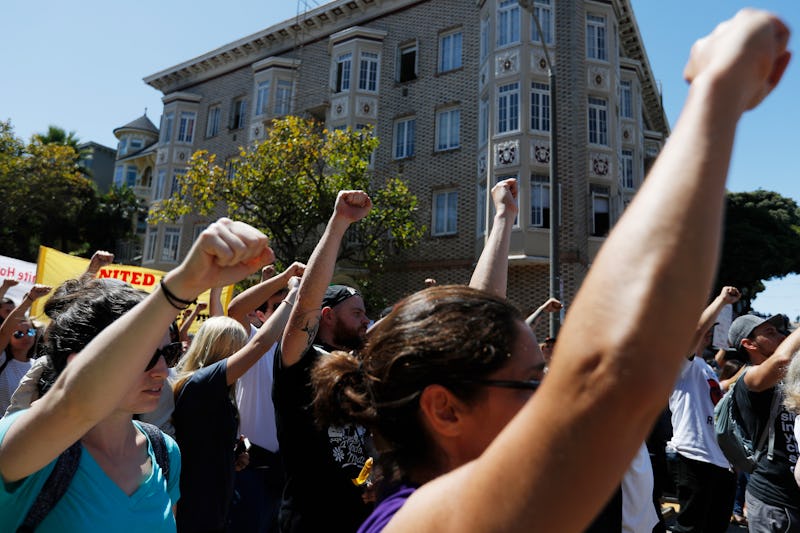 Stephen Lam/Getty Images News/Getty Images
For the past week, the cities of San Francisco and Berkeley were bracing and preparing for a pair of high-profile, far-right rallies this weekend. But then, about 24 hours before the first of them was scheduled to begin the organizers announced they were cancelling. And while it's too early to say how things will shake out in Berkeley, given that white supremacist demonstrators could still descend on the city, the effect it had across the Bay was clear ― San Francisco anti-racist demonstrators overshadowed the right-wing cancelled protest, with more than a thousand people marching to City Hall in a show against racial hatred and bigotry.
After the news of the cancellation of the so-called San Francisco "Freedom Rally" broke ― it was meant to be held at Crissy Field, until organizers called it off, citing safety concerns ― the question on many people's minds was whether all the protesters would still show up.
And, of course, whether any of the rallygoers would. Since the events in Charlottesville, Virginia weeks ago, when a white supremacist protest turned violent, killed one anti-racist counter-protester, and injured several more, far-right rallies and events have drawn an increased degree of public scrutiny. The Boston "free speech" rally on Aug. 19, for example, got a huge amount of publicity in the days leading up to it, and tens of thousands of anti-racist protesters ultimately turned out in response.
The situation is San Francisco, while somewhat different in how it played out, saw a similar conclusion. After the rally was cancelled, many people's plans for protest changed seamlessly into plans for a march to City Hall.
In short, based on the last two post-Charlottesville examples, there seems good reason to think that the increased amount of awareness and attention these far-right events are drawing is also lighting a fire underneath the people who're standing up to oppose them. Creating scenes like the one in Boston, of a small gazebo full of 100 or so rallygoers surrounded by a thick mass of tens of thousands of protesters.
On two consecutive occasions now, anti-racist demonstrators have essentially drowned their opposition out. It remains to be seen if that trend will continue in Berkeley on Sunday, where a similar far-right rally was also planned, but has also been cancelled ― at least insofar as its organizers are saying. That doesn't guarantee that the people who were planning to join the rally won't decide to show up regardless, however, nor that the people who were intent on protesting against them won't still turn out, either.