San Francisco Dropping Old Weed Convictions Is A HUGE Deal — Here's Why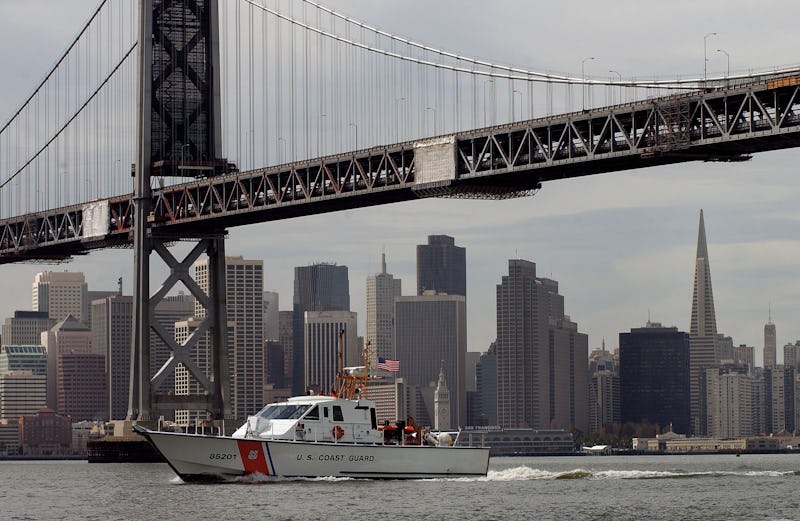 David Paul Morris/Getty Images News/Getty Images
On Wednesday, San Francisco District Attorney George Gascon announced that the city will clear misdemeanor marijuana convictions from the criminal histories of more than 3,000 people, and re-sentence more than 4,000 marijuana-related felony cases. In addition to being a big step for criminal justice reform advocates, it's an especially huge deal for the many people of color who've been disproportionately targeted, arrested, and sent through the criminal justice system for using or possessing marijuana.
The move is all the result of California's vote in 2016 to legalize marijuana for recreational use. One aspect of the law, which ran on the California ballot as Proposition 64, is that people convicted of marijuana-related crimes while it was illegal can petition the courts to have them cleared under current law, now that recreational cannabis is legal. The city will reportedly be clearing convictions dating as far back as 1975.
Paul Armentano, the deputy director of the National Organization for the Reform of Marijuana Laws (NORML) tells Bustle that San Francisco's move is a step towards easing the "lifelong stigma" of a marijuana conviction, and one that's uniquely important for youths and people of color.
"The stigma associated with a marijuana arrest and criminal conviction is lifelong, and can directly lead to numerous lost opportunities later in life," Armentano says. "The San Francisco District Attorney's office is to be commended for proactively rectifying this situation — one that has disproportionately burdened far too many young people and people of color."
As The San Francisco Chronicle noted on Wednesday, the city's decision to wipe clean the thousands of misdemeanor convictions essentially takes the job of petitioning the court off of the individual. And it's a particularly major victory for criminal justice reform and racial justice advocates, who've long pointed out the stark racial disparities in marijuana-related arrests and convictions, and the huge effect they can have on people's lives.
Back in 2013, a report from the ACLU about the racism of marijuana criminalization landed on some startling figures. From 2001 to 2010, there were more than 8 million marijuana-related arrests in the United States, and a disproportionately high number of them were black Americans. Even though black people and white people use marijuana at approximately the same rate, black people were a staggering 3.73 times more likely to be arrested for possession.
A disproportionately high number of arrests naturally leads to a disproportionately high number of black people facing convictions for marijuana possession. And even though a drug-related misdemeanor isn't as serious as a felony, they can have a lasting impact on the lives of the people who're saddled with them.
For a sense of perspective, the ACLU found that marijuana arrests in 2010 accounted for the majority of all drug-related arrests, at 52 percent. According to its numbers, more than 700 out of every 100,000 black Americans were arrested for marijuana possession that year, compared to fewer than 200 out of every 100,000 white people. This was true despite the fact black and white Americans use marijuana at roughly the same amounts, and a higher percentage of black people say they've never tried it before.
In particular, a conviction record can hinder your ability to get a job, and black job applicants already start off behind their white competitors. Studies have shown that white job applicants with relatively meager educational qualifications, like a high school dropout, have roughly as good a chance of landing a job as a black college graduate.
Arrest records, as The New York Times notes, can also hinder peoples' abilities to secure home loans, rent houses or apartments, or receive benefits that might be essential to their lives. And as the numbers show that black people have been massively disproportionately scrutinized and penalized for marijuana-related offenses, such barriers are also distinctly racial in nature.
As such, the decision to clear these offenses from thousands of people's records is a victory for criminal justice reform advocates and racial justice advocates alike.
Of course, it isn't as sweeping as it could be ― this is merely an action being taken by the city of San Francisco, rather than on a statewide basis. It also falls far short of what some want, which is for people imprisoned on marijuana convictions ― now a booming industry participated in by the privileged and powerful ― to be fully set free.
But as an early indication of the impact of marijuana legalization, it's a promising sign for so many people. And it could set off a wave of other cities and town following suit; the city of San Diego, for one, is reportedly planning to follow San Francisco's lead.
That's a trend Armentano says he hopes to see more of. "Let's hope other jurisdictions follow San Francisco's lead in righting the wrongs of cannabis criminalization," he says.