Former Supreme Court Justice Sandra Day O'Connor Announced Her Dementia Diagnosis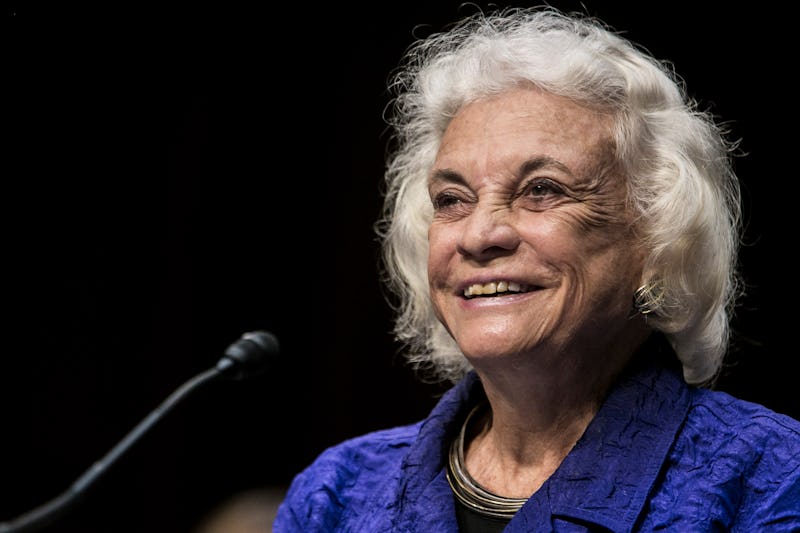 T.J. Kirkpatrick/Getty Images News/Getty Images
The first woman who ever donned the robes of a Supreme Court justice has just made a major announcement relating to her health. Sandra Day O'Connor announced that she has dementia and will step out of the public eye, through a statement put out by the Supreme Court.
"Some time ago, doctors diagnosed me with the beginning stages of dementia, probably Alzheimer's disease," O'Connor wrote, saying that she wanted to inform the public and "share some personal thoughts" while she still could. "As this condition has progressed, I am no longer able to participate in public life. Since many people have asked about my current status and activities, I want to be open about these changes."
President Ronald Reagan nominated O'Connor to the nation's highest court in 1981, and she served there until her retirement in 2006. Since then, though, she's remained active in public, promoting civic education and advocating for other causes close to her heart, as CNBC described. Now, she's decided to take a step back.
"It is time for new leaders to make civic learning and civic engagement a reality for all," O'Connor wrote. "I hope that I have inspired young people about civic engagement and helped pave the pathway for women who may have faced obstacles pursuing their careers."
"I will continue living in Phoenix, Arizona surrounded by dear friends and family," O'Connor's statement read. "While the final chapter of my life with dementia may be trying, nothing has diminished my gratitude and deep appreciation for the countless blessings of my life."
Chief Justice John Roberts released his own statement on O'Connor's announcement, saying that he was "saddened" to hear it.
"Justice O'Connor is of course a towering figure in the history of the United States and indeed the world," Roberts wrote on Tuesday. "She broke down barriers for women in the legal profession to the betterment of that profession and the country as a whole.
"She serves as a role model not only for girls and women, but for all those committed to equal justice under the law," he added.
O'Connor played the role of a swing vote when she was on the court, and her reason for retiring in 2006 — at 75, which is early for Supreme Court justices — was a touching one, given her announcement from Tuesday. She retired to have more time to take care of her husband, John, who died of Alzheimer's in 2009, as USA Today wrote.
In her final public statement, O'Connor shared why she believes it's so important for people to understand the Constitution and America's "unique system of government." Her statement also contained some commentary on the present state of politics.
"It is through this shared understanding of who we are that we can follow the approaches that have served us best over time," she wrote. "Working collaboratively together in communities and in government to solve problems, putting country and the common good above party and self-interest, and holding our key governmental institutions accountable."
Above all, though, her message was one of humility — and of hope, for anyone who might want to follow in her footsteps.
"How fortunate I feel to be an American and to have been presented with the remarkable opportunities available to the citizens of our country," she wrote. "As a young cowgirl from the Arizona desert, I never could have imagined that one day I would become the first woman justice on the U.S. Supreme Court."