Why There's Still Hope For Steven Avery & Sandra Greenman's Relationship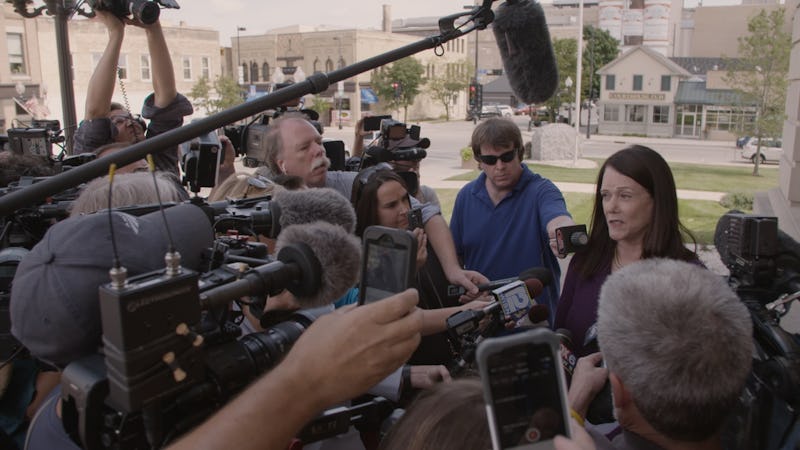 Netflix
When Making A Murderer premiered in 2015, Steven Avery was engaged to Sandra Greenman. Those who have been keeping up with the case may know they've since ended their relationship, but it doesn't mean all love was lost. Sandra Greenman's Dr. Phil interview shows they're still close, even if they're no longer romantically involved.
Greenman told the Daily Mail in January 2016 — less than a month after Making A Murderer's release — that she broke up with Avery due to a difference in beliefs. "Steve and I were engaged to be married, and I broke it off. It's not that I've ever stopped trying to work for him, but it was a religious thing. I cannot marry someone that's not a Christian," she explained. "Since we broke off the engagement, I've visited him less and less. It's too hard for me. I still love him and want the best for him. I want him out."
According to Dr. Phil's website, though, Greenman continued to visit Avery in prison after they parted ways, and she told the talk show host that she doesn't believe he killed Teresa Halbach. (Avery was convicted for Halbach's 2005 murder, but has long maintained his innocence).
"I personally believe that he's innocent. I needed to show him that I was behind him," Greenman said.
She added in the same interview that the two were waiting to "see what happens," but that it's "a friendship right now." She also suggested things might change for them if he is ever released from prison, adding that she "will always be behind him" and that he's her 'best friend." It's a sentiment she still shares now: Greenman tells Bustle that she and Avery "have a VERY strong bond and always will."
Her comments, however, are very different from those made by Avery's other former partners. Lynn Hartman, another woman who was engaged to Avery after his conviction, also made an appearance on Dr. Phil. At first, she said she was sure of his innocence after watching the documentary, and gushed about how much she could tell he loved her. But then, when asked for comment in a subsequent episode, she issued a statement that told another story.
Hartman alleged that after appearing on the program, Avery began writing threatening letters to her. "[They] were so graphic and evil, that I no longer believed Mr. Avery was innocent of the crimes he was convicted of, so I ended the relationship Oct. 1, 2016," she claimed, according to a clip for the episode. Bustle reached out to Avery's defense team regarding Hartman's allegations, but did not hear back before publication; Hartman also did not respond to Bustle's request for comment.
Avery's other ex-partner, Jodi Stachowski, who appeared in Making a Murderer Part 1 and initially supported him after the Halbach allegations, told HLN in 2016 that she no longer believes his innocence, either. She said she felt threatened in their relationship, and was desperate to get away from him. Bustle also reached out to Avery's defense team regarding Stachowski's allegations, but did not hear back before publication.
Nonetheless, Greenman continues to stand by Avery, telling Bustle they "don't know what the future holds."