Sandra Oh Is The First Asian Woman Nominated For This Emmy Category & It's Long Overdue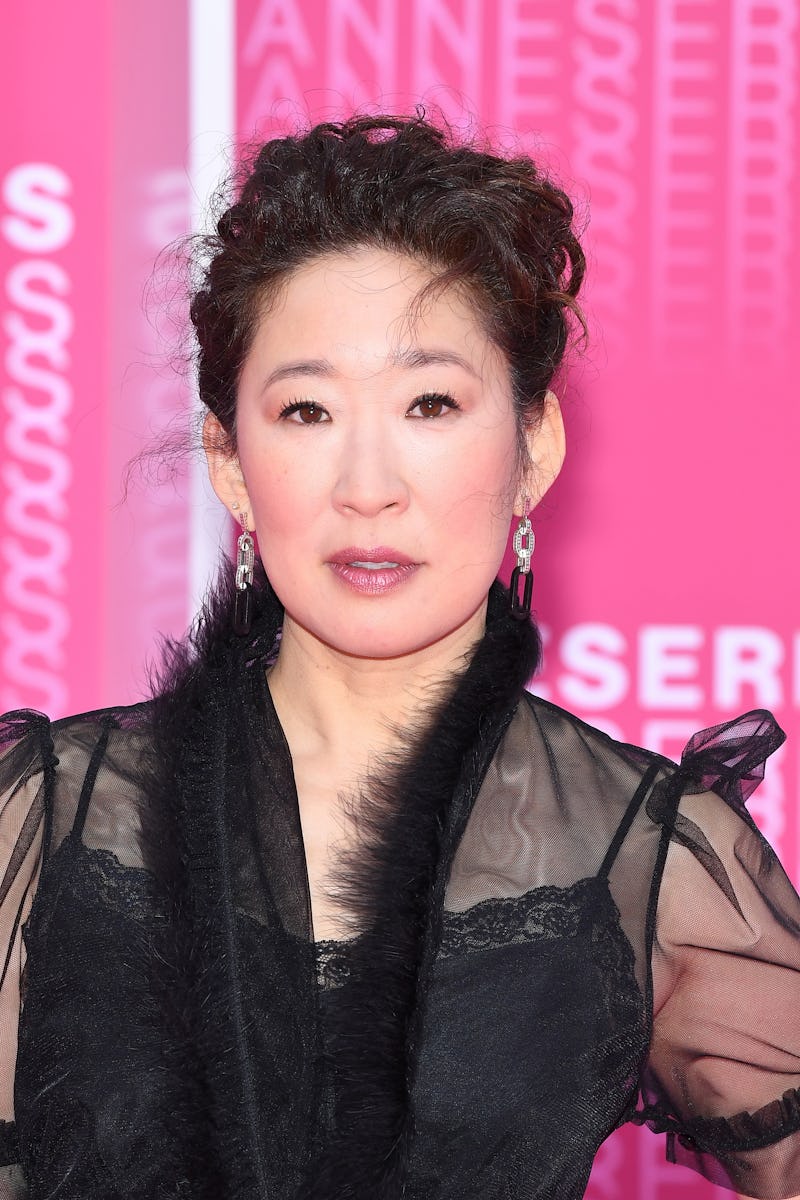 Pascal Le Segretain/Getty Images Entertainment/Getty Images
The 2018 Emmy nominations were officially unveiled on July 12, and they're already making history. With her nomination for her role in Killing Eve, Sandra Oh is the first Asian actor to be nominated for Lead Actress in a Drama, as Los Angeles Times journalist Glenn Whipp noted on Twitter. It's an important, yet long overdue, milestone in the Emmy Awards' 70-year history.
While it's a big cause for celebration, it is disheartening that it's taken this long for this kind of representation at the Emmys. As Complex noted, in regards to the 2017 Emmys, there were some major firsts when it came to the diversity of the year's nominees. That in itself is incredibly important, but it's also worth acknowledging how long it has taken for such representation to be not only seen on screen, but honored at the biggest awards show for the TV industry.
Of course, Oh's honor at the 2018 awards is still cause for celebration. Not only is the actor deservedly recognized for her incredible work on one of the most critically acclaimed television shows of the year, but she also made history in the process (even if it's wild that an Asian actor had not been nominated in this category before). And fans on Twitter couldn't have been happier.
What She Deserves
One Twitter user couldn't help but express their happiness over Oh's nomination. They said it's "what she deserves," and they're definitely not wrong.
Super Thrilled About The Nom
Another user was also thrilled about the actor's nomination. They're already looking forward to her win (since she already deserved multiple other awards).
So Deserving
Yet another user was so happy to see the Killing Eve star's nomination and said that she truly deserves it.
Legend Status
Oh has officially reached legend status (as if she hadn't before) with her history-making nomination. She's clearly got more than a few stans in her corner.
Long Overdue
Another fan noted how much the actor really deserved her nomination. They also said that it was a long overdue honor, which is totally on point.
It's Been A Long Time Coming
Seriously, so overdue.
As referenced above, this isn't the first time that Oh has been recognized for her work at the Emmy Awards. She was previously nominated five times (from 2005-2009) in the Outstanding Supporting Actress in a Drama Series category for her role as Cristina Yang on Grey's Anatomy. Despite her slew of nominations, she didn't manage to walk away with any Emmy gold.
That doesn't mean that she hasn't been honored for her astounding work in the past. In 2006, Oh won a Golden Globe Award for her Grey's Anatomy role. She's also won multiple Screen Actors Guild Awards, including one for Outstanding Performance by a Female Actor in a Drama Series also in 2006, as her IMDb page notes. So, the actor is no stranger to some awards love.
Of course, as previously noted, Oh's biggest nomination concerns her most recent one for Killing Eve. While she recently made history with the honor, she's discussed in the past the importance of welcoming diversity in front of and behind the camera. In an interview with Entertainment Tonight in January, she mentioned that it was important for her to show that she can subvert stereotypes that may be tied to the Asian community, "I feel acutely aware of how important it is and I absolutely want to be a part of it in the best way possible."
While Oh herself hasn't responded to this Emmy Awards news publicly at the time of this publication, her fans definitely have expressed their own happiness over her history-making nomination.