A Santa Fe Victim's Death Might Lead To Her Husband Being Able To Afford Cancer Treatment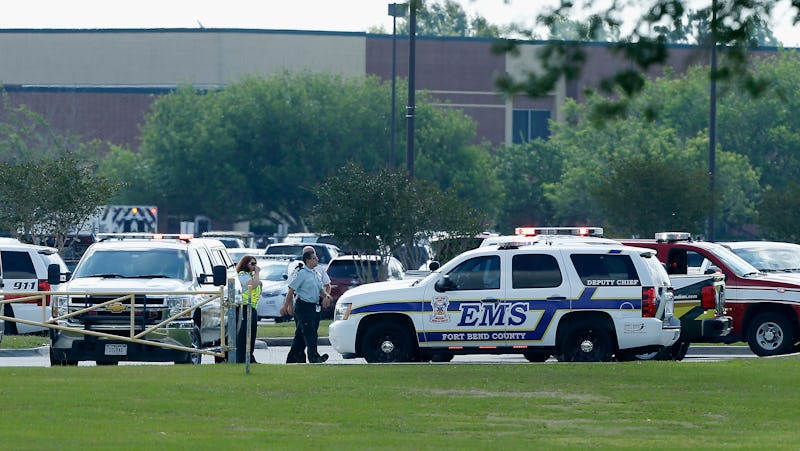 Bob Levey/Getty Images News/Getty Images
In the aftermath of a horrible tragedy, a victim's loved one is getting an outpouring of support. Namely, William Tisdale, the 67-year-old lung disease-stricken husband of Santa Fe shooting victim Cynthia Tisdale. Following Cynthia's death at the hands of a mass shooter at Santa Fe High School in Texas, where she was working to try to pay William's medical bills, a crowdfunding site raising money to help save the man's life has seen a surge in donations.
William was diagnosed with idiopathic pulmonary fibrosis (IPF), a severe and deadly form of lung disease. According to the family's GoFundMe page, he was told in December of last year ― after being denied a lung transplant ― that he'd likely only live 12 to 18 months as a result of the rare illness. According to the Orphanet Journal of Rare Diseases, only an approximated five million people worldwide suffer from IPF.
Prior to his wife's murder, according to The New York Times, the fund had raised just $1,215 ― far short of its target of funding an experimental stem cell procedure William hopes could save his life. In the week since, the total has ballooned to more than $130,000, as hundreds of people have learned of his story. and pitched in to hopefully help save his life.
But, as he told the Times, however, he would trade the potentially life-saving treatment to have his wife back with him again.
"I'd rather have her. It isn't worth it," he told the paper.
It's a positive outcome for William's medical funds, but in myriad other ways a macabre and deeply tragic story, most of all because the increased attention was driven by his wife's murder. Some observers have also noted the deeply bleak nature of the seemingly endless list of GoFundMe pages, and other crowdfunding campaign for medical bills. At the same time as it's possible to view this kind of outpouring of support in a positive light, it's only taking place by way of a deeply broken health care system.
An update was posted to the fundraising page on Tuesday, remarking on what a chaotic and difficult time it's been following Cynthia's death, while thanking all the people who've stepped up to help fund William's treatment.
"Today has been a very overwhelming and busy day for our family as we are making preparations for our mothers funeral that will be held later this week, but as we stopped and saw the amazing countless contributions that were given today we wanted to say how appreciative and thankful we are to every single one of you," the statement says.
"Our mothers main priority was to make sure our father was taken care of and now he gets to have his stem cell treatment and the true blessing is now he has a chance at long term health care," it continues. "Please continue sharing and praying for our father and our family in this horrific time of our lives. We feel all the support and thank you all so much."
According to the page, once William receives his stem cell treatment, a photo of him will be uploaded to give everyone a glimpse of what will hopefully be his recovery from this debilitating disease. So far, more than 4,000 people have donated to the fundraiser, a sharp increase from the mere hundreds who had donated prior to Cynthia's death.
Cynthia was one of two members of the school's staff to be killed in the shooting, along with Glenda Ann Perkins. She was a substitute teacher. Eight students were also killed in the attack, in one of the deadliest school shootings in the history of the state. She was 62 when she died, and as CNN detailed this week, she had been working two jobs in an attempt to finance her husband's treatment.