Sara Bareilles' 2018 Tonys Dresses Were The Epitome Of Easy Glam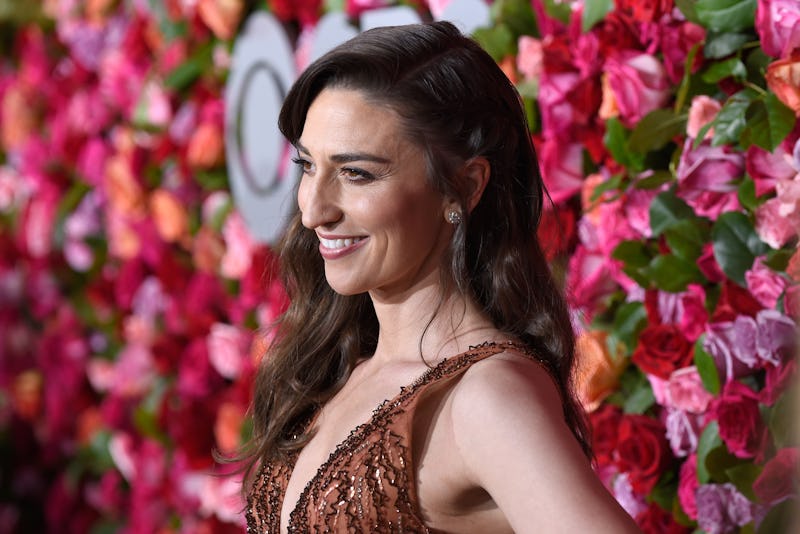 Jenny Anderson/Getty Images Entertainment/Getty Images
When you host a major televised awards program, you don't just have to learn the run of show, memorize dialogue, banter with a co-host, and keep time. You generally have to look your best and end up changing outfits many times. Sara Bareilles co-hosted the 2018 Tony Awards and the singer and songwriter looked absolutely gorgeous while doing so — many times over.
The brunette beauty, who has been starring on Broadway in Waitress, teamed up with fellow singer Josh Groban to entertain viewers and theater actors with fun repartee between the performances, elaborate skits, and much-deserved awards being handed out to talented stars.
Bareilles walked the red carpet and did press interviews before the broadcast — despite it being so close to show time! She is such a pro and a total trooper. And she looked stunning.
Bareilles wore a warm weather-ready, copper-colored, and belted dress with a sparkly, glittery, and deep-dipping V-neck and a ruffly, tiered, and pleated bottom that flared out for additional drama.
She wore a side braid in her hair, while the rest of her locks fell in a tumble of beachy waves on her shoulder. It was truly a half-up, half-down 'do. Her makeup was softly summer ready — Bareilles rocked pinky x nude lips, peach-flushed cheeks, and tan smoky eyes.
What a full and breathtaking silhouette.
Her first dress was pretty epic.
Bareilles did tease her co-hosting gig, suggesting she'd be rocking multiple ensembles.
When the show opened, Bareilles performed a duet with Groban. She wore a bespoke, charcoal tuxedo by BOSS with a cropped pant length and heels. Her beachy, braided 'do remained in tact.
For her third outfit, Bareilles wore a sleeveless and shimmery, high-collar gown with a straight shape and loads of silver sparkle.
This yellow pantsuit was part of a performance number. She and Groban were twinning.
Bareilles wore a long, shimmering red gown later into the broadcast. She was pretty as a ruby.
Her best dress of the night was a black, strapless frock with a flared skirt and a smattering of stars. It was like the night sky in dress form.
Ever since bursting on the celeb scene, Bareilles has always oozed a sort of casual and easygoing glam — even when getting all dolled up at major awards shows like the Grammys. She usually incorporates at least one head-turning element into her ensemble without ever being ostentatious. With her red carpet frock, it was that V.
But whether she is going with a sparkly frock or rocking feathers with unexpected accessories or opting for an adventurous color, Bareilles usually keeps us guessing.
Her Tony-hosting outfits compared to her other memorable red carpet ensembles like so!
At last year's Tonys, Bareilles wore a super sparkly, silver and gold gown. It had long sleeves, a high neck, and was floor-sweeping. It didn't show any skin but the bodice had a sexy, subtle, and peek-a-boo element. You could see beyond the shimmery fabric that she went bra-free and it was beautiful.
This blush 2016 Tonys dress mixed a flowing, light bottom with sparkly, metallic top. It was all about balance and flow. Did you notice her hairline braid? What an unexpected touch.
What a stunner Bareilles was at the 2014 Grammys. Her fluffy, feathered, and pale pink Blumarine gown had a mullet hem and was seriously feminine. The strong red shoes and clutch were a stark and stunning contrast to the soft 'n' frothy dress. Clearly, the singer likes to go with contrasts on red carpets in some way, shape, or form. While her crimson accessories may have been divisive for some, it was a fashion forward move.
Bareilles has shown a predilection for rocking scarlet at fancy events. Her tomato red, strapless column gown, worn at the 2011 Grammys, was simple and as chic as it gets.