Sarah Drew Addressed How Much The 'Grey's Anatomy' Fan Support Has Meant To Her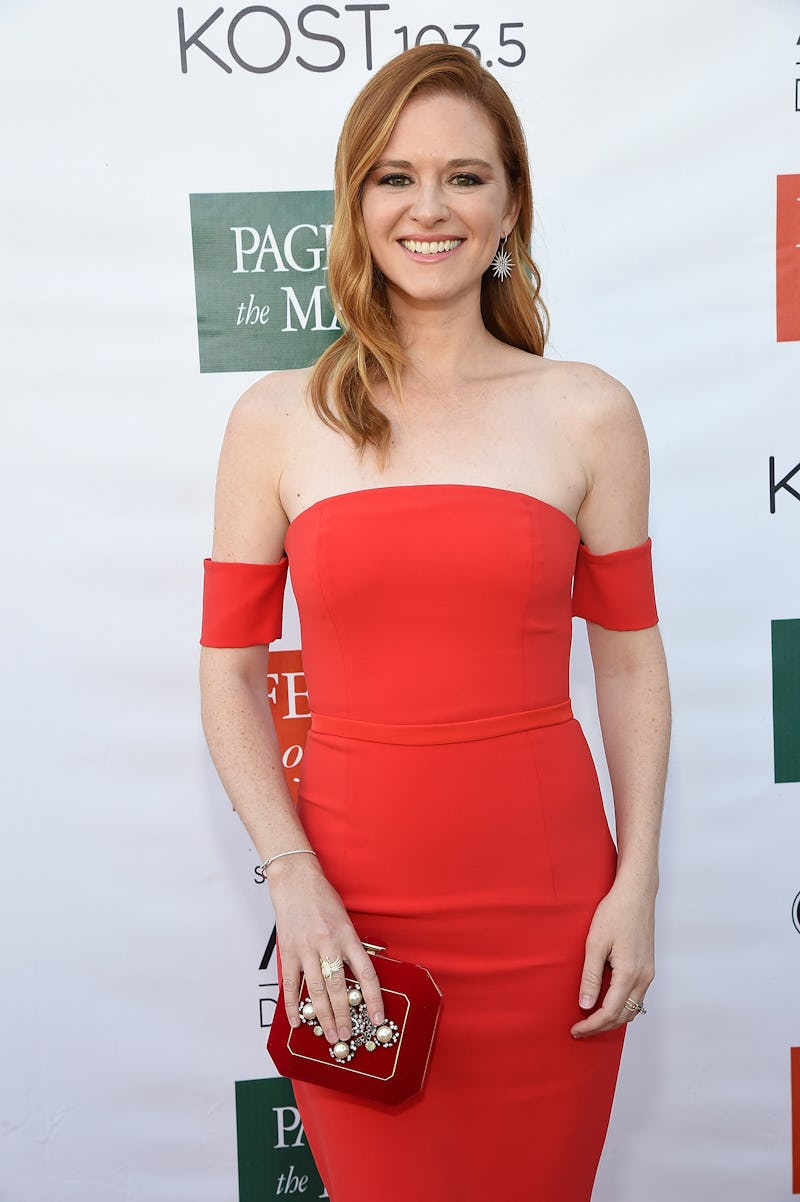 Michael Kovac/Getty Images Entertainment/Getty Images
Earlier this year, Grey's fans were up in arms after news broke that Sarah Drew (AKA Dr. April Kepner) would be leaving the series for good. Fast-forward a couple of months, and the actor is still gushing about their loyalty. Sarah Drew's comments on Grey's Anatomy fans' support after April's exit — which the star shared with Vulture during a pre-Emmys party over the weekend — sounds like proof that a little bit of championing can go quite a long way.
"I think that in being let go, the outcry of support from fans, from my cast, from my crew, was so extraordinary," Drew told the publication, before adding that she fondly refers to the experience as "being love bombed." Who else can picture Dr. Kepner saying the exact same thing? Continuing, Drew went on to explain her sweet turn of phrase in a little bit more detail:
"It's like when you're let go before something ends and when it's not your choice, people come up and tell you why they love you and how much they love you and what you meant to them."
And, given the overwhelming Pandora's Box of emotions that usually accompanies any big transition — especially when that transition involves leaving a job, not to mention a whole character, that's been a part of your life for nearly a decade — it sounds like all those "I love you"s were exactly what Drew needed to hear. "In a way, you almost feel like you're attending your own funeral. Weirdly," she told Vulture of her character's unexpected Grey's exit, which eventually played out during the most recent season's finale episode back in May.
Those who've been following the Grey's hubbub over these last few months know that the news of April's untimely departure was a difficult pill to swallow, for fans and cast members alike. "Over the last 14 seasons I've cried many tears on screen and off," wrote Ellen Pompeo in an IG message to fans during the season finale. Pretty obviously referencing Drew's departure, and probably Jessica Capshaw's exit as well, she continued, writing, "This year was no different. Saying goodbye to characters, cast mates, friends is always very hard regardless of the circumstances."
In addition to the love from her fellow Grey's cast, Drew (and Capshaw) saw some serious support from fans on Twitter, who raised more than $1,000 for an aerial banner that read "We [love] Sarah Drew & Jessica Capshaw" in proud, bold lettering. Those fans arranged for the banner to fly over the studio where Grey's is filmed not too long after Drew and Capshaw's exits were first announced. Responding to the fans' sweet gesture, Capshaw tweeted, "OMG ... There are no words ... WE [love] YOU ALL!!"
After reading through Drew's latest comments to Vulture, it seems safe to say that, perhaps, she's finally found the words Capshaw was looking for. And, while saying goodbye to a character she's played for the better part of nine years couldn't have been easy, it sounds like Drew is taking it all in stride. "There's been so many silver linings," she told Vulture during the weekend's pre-Emmys event.
Of course, the fact that Drew is totally thriving right now can't be entirely attributed to the boatloads of support she received from friends, fans, and colleagues earlier this year. (See: Drew's Emmy nomination for Outstanding Short Form Comedy or Drama Series.) That being said, Drew's latest comments on the enduring strength of that support, and what it meant to her, do seem to suggest the encouragement — not to mention all the love — helped remind her what she's worth. Professional ventures aside, that, in and of itself, sounds like a really beautiful thing.