Sarah Sanders Was Asked About Trump's Family Separation Policy & Things Got Heated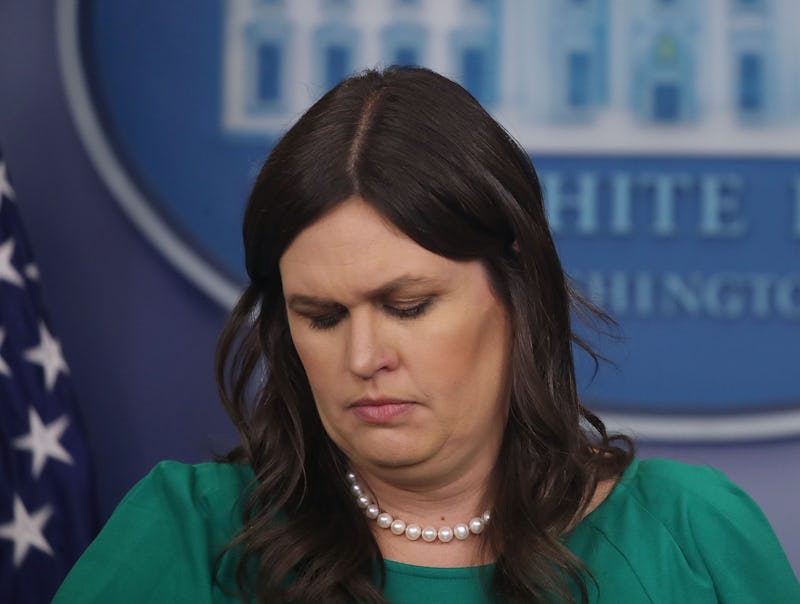 Mark Wilson/Getty Images News/Getty Images
The Trump administration is splitting up immigrant families that officials apprehend at the border, but White House Press Secretary Sarah Huckabee Sanders doesn't want to talk about it. At Thursday's press briefing, Sanders was asked about immigrant children being separated from their parents and put into shelters, and whether she, as a parent herself, has any empathy for those children. She refused to answer the question.
"Come on, Sarah, you're a parent," CNN's Brian Karem asked while discussing the administration's immigration policies. "Don't you have any empathy for what these people are going through? They have less than you do. Sarah, come on. Seriously."
"I'm trying to be serious," Sanders replied, "but I'm not gonna have you yell out of turn."
"These people have nothing," Karem continued.
"Brian, I know you want to get some more TV time, but that's not what this is about," Sanders said.
"It's not about that," Karem replied. "It's about you answering the question, Sarah. Honestly, answer the question. It's a serious question. These people have nothing, they come to the border with nothing, and you throw children in cages. You're a parent. You're a parent of young children. Don't you have any empathy for what they go through?"
Sanders ignored the question and called on another reporter.
Sanders did address the administration's decision to separate undocumented children from their parents, and blamed Congressional Democrats for it.
"The separation of illegal alien families is a product of the same legal loopholes that Democrats refuse to close," Sanders claimed. "And these laws are the same that have been on the books for over a decade and the president is simply enforcing them."
In reality, the separation of undocumented families is the result of the Trump administration's decision to do so, and is not required by law. Some journalists noted Sanders' defense was odd, as she appeared to be simultaneously criticizing "loopholes" while also defending the administration's decision to use those loopholes — that is, blaming Democrats for failing prevent the Trump administration from implementing the policies that it's implementing.
Nevertheless, Sanders doubled down on this position when Jim Acosta asked specifically about the affect the policy is having on the children who are forcibly separated from their parents.
"It's a policy to take children away from their parents," Acosta said. "Can you imagine the horror these children must be going to, when they come across the border, they're with their parents and suddenly they're pulled away from their parents? Why is government doing this?"
"Because it's the law," Sanders again claimed, falsely. "It doesn't have to be the law. The president has called on Democrats in Congress to fix those loopholes. The Democrats have failed to come to the table, failed to help this president close these loopholes and fix this problem. We don't want this to be a problem."
When asked why the administration had decided to take advantage of loopholes that it claims to oppose, Sanders again dodged, and quipped that it's "hard for [Acosta] to understand even short sentences."
Richard Hudson, Deputy Chief of the Operations Program for Customs and Border Protection, told Congress that within one two-week period in May, 658 undocumented children were split up from their parents by immigration officials. The New York Times had previously reported that 700 immigrant kids were separated from their parents between October and April, bringing the total number of children who've been forcibly separated from their parents to 1,358.
Speaking anonymously to The Intercept, a senior official at the Department of Homeland Security said that the practice of splitting up families is "not only a cruel and barbaric practice meant to deter asylum-seekers from exercising their legal right to seek protection in the United States, but it is also an abrogation of our responsibilities under international law." That's a reference to the United States being a signatory to the Hague Convention on Parental Responsibility and Protection of Children, which states that "the best interests of the child should be paramount in any consideration of policy or law affecting children or families."