Sarah Huckabee Sanders' Response To Rumors She's Quitting Doesn't Exactly Deny Them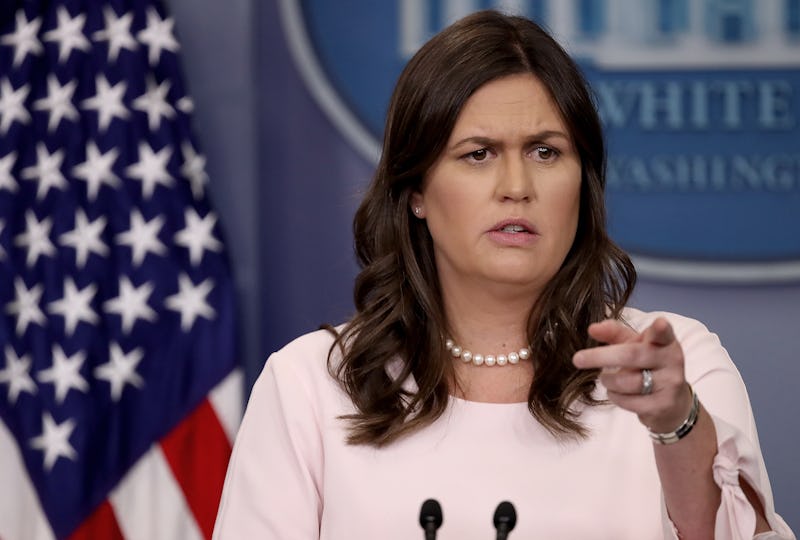 Win McNamee/Getty Images News/Getty Images
One of the most prominent figureheads of the Trump administration, Sarah Huckabee Sanders, responded to the rumor that she's supposedly planning to leave the White House and her reaction was vaguer than you'd expect. Though she mentioned how much she loves working for POTUS, she didn't exactly deny reports that she's quitting either. Bustle has reached out to the White House for comment.
Sanders serves as the press secretary and, according to CBS News, has become a confidante of the president since the administration's communications director, Hope Hicks, left the White House at the end of March. Her June 13 tweet says:
Does @CBSNews know something I don't about my plans and my future? I was at my daughter's year-end Kindergarten event and they ran a story about my "plans to leave the WH" without even talking to me. I love my job and am honored to work for @POTUS
If the rumor of Sanders' leaving turns out to be true, she will be one of many White House employees to quit the administration over the last several months. CBS News reports that under the Trump administration the White House has been getting rid of certain jobs, "assigning multiple portfolios of responsibility to individual staffers," and that some positions have never even been filled.
Before stepping into the press secretary position, Sanders worked on Trump's presidential campaign, and was later a deputy press secretary to Sean Spicer until Spicer resigned in July of 2017.
Also said to be leaving is Sanders' deputy, Raj Shah, who worked for the Republican National Committee during the 2016 election season, and later joined the Trump administration at the White House. If Sanders and Shah leave the White House they will be added to a long list of White House Staffers to vacate their positions.
NPR reports that the Trump administration's White House staff turnover is breaking records, with more senior aides leaving in the first 13 months of his term than those of the four previous presidents after two years.
According to the site, typically, there's more staff turnover during a president's second year in office than their first. It was thought that with so many people leaving within the first year, the turnover would decrease during his second year.
"It looks as though turnover continues," Kathryn Dunn Tenpas from the Brookings Institution and White House Transition Project said. "People are moving to new positions. A lot of people are resigning or leaving. It's unclear when this will cease or whether it's just a continuous process with President Trump."
"There will be even more people leaving the White House sooner rather than later - laid off or just leaving out of exhaustion. And it's going to be harder to find good people to replace them," a source close to the Trump administration said to CBS News. "I do think that they're going to have a harder time getting the second wave of people in than the first, because those people were loyalists, and [new] folks will have to be recruited and encouraged and the survive the vetting process. In addition to all of that, the president prefers to have a small communications staff."
Tenpas told Business Insider that especially high rates of turnover increase disruption and inefficiency, result in the loss of personal networks and political connections, and can oftentimes lead to top aides' staffers calling it quits as well. For many staffers, their reasons for walking out have to do with the way Trump supposedly "fosters an environment of conflict"
"It's tough," Trump said in the NPR article about his turnover rate. "I like conflict. I like having two people with different points of view. And I certainly have that. And then I make a decision. But I like watching it. I like seeing it."