Sarah Hyland Opened Up About Her Second Kidney Transplant & How Wells Helped Her Through It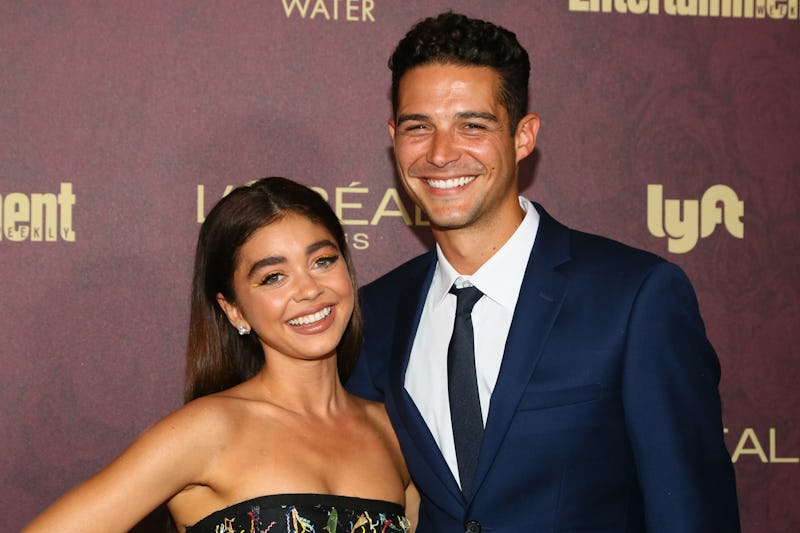 Gabriel Olsen/Getty Images Entertainment/Getty Images
It's hard to believe that it's been more than a year since Sarah Hyland and Wells Adams started dating, but as it turns out, their relationship was put to the test as soon as it began. According to what she said in a new interview with SELF, Adams supported Hyland through her second kidney transplant, even though it happened just three days after the first time they met in person.
After Hyland was born with kidney dysplasia and later went into kidney failure, her father donated a kidney to her, but as the Modern Family star revealed to SELF, she began to reject the kidney in October 2016. At that point, she was in and out of hospitals and said that she spent most of the holiday season and her birthday getting treatments, which led to her being put on dialysis in February 2017. In May, they removed the rejected kidney, and her 23-year-old brother, Ian Hyland, donated his kidney to her later that year — right around the time that she and Adams started talking.
As Hyland tells it, they started talking while she was still on dialysis, even though Adams was living in Nashville and she was in Los Angeles. And after flirting through texts and Twitter DMs, they finally came face to face.
"We met each other for the first time three days before my transplant," Hyland told the magazine. "He was texting me in the morning before I went into surgery, and we were FaceTiming the entire time I was in the hospital."
Hyland added that after Adams had the chance to see her at her worst, he was still there for her as she recovered. "I think that's why I feel the most beautiful in his eyes, because he still finds me beautiful after seeing all that," she said.
Hyland also said that going through something so difficult so early on in their relationship helped them get "intimate" from the very beginning, even though they weren't spending a lot of time together. She explained:
"It was a really intimate start to a relationship to have to go through those hurdles at the very, very, very beginning when you're just even getting to know a person. Also, falling in love with someone before you can really be intimate. I did not believe that that was a thing, but it is."
And even though Hyland and Adams don't get to spend much time together since they're busy people with their own careers, it only brings them closer when they do get to see each other.
"We're just very busy working," Hyland said. "And I think that's also what makes relationships work. You have to have your own thing … so when you come home at the end of the day, you're excited to see that person."
It's awesome to hear that Hyland has someone like Adams in her life to be there for her during the tough stuff, which it certainly sounds like she's had her share of. Here's hoping they'll continue to share their adorable relationship with fans on Instagram for years to come.