SJP Looks Like A Queen At The Golden Globes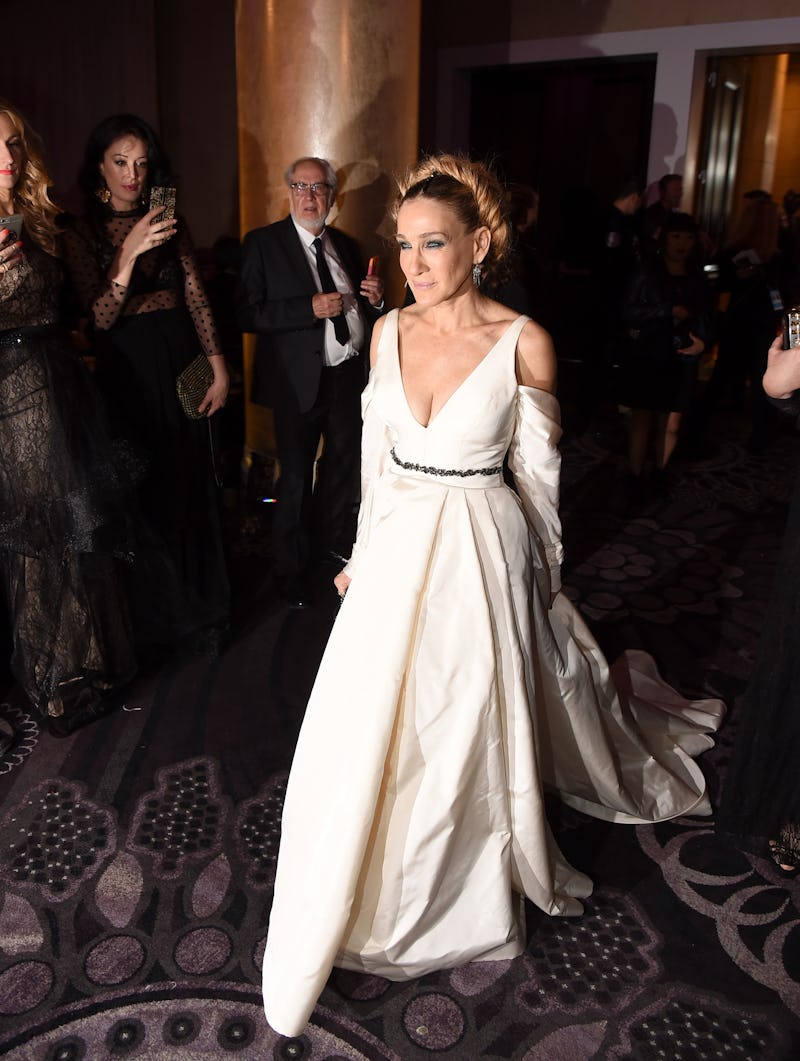 Kevin Winter/Getty Images Entertainment/Getty Images
I've never met an SJP look I didn't like, but Sarah Jessica Parker's 2017 Golden Globes dress might just be my favorite red carpet look of hers yet. Like, ever. No one does Hollywood glam quite like our favorite Sex and The City star and tonight's ensemble totally proves that. First of all, who even has the chutzpah to wear such a giant, fabulous ballgown? And secondly, who could pull off said giant, fabulous ballgown besides our beloved Carrie Bradshaw? The answer is no one.
Sarah Jessica Parker stepped onto the Golden Globes red carpet at the Beverly Hills Hilton Hotel in an insanely beautiful white Vera Wang gown. While the dress itself is stunning as a whole, it's all about the details, which Parker noted on her Instagram. The gown features a plunging neckline, as well as a deep v in the back of the dress. The long sleeves are arguably the most exciting part, however — they feature one of 2017's hottest trends — the cut-out sleeve! Her waist is adorned with sparkly jeweled accents, which gives the gown an extra edge of fabulosity. She finished off her outfit with her very own shoes, of course, but had a difficult time picking which one to rock. (Wouldn't you?)
I mean, could she be anymore stunning?
Make way for Queen SJP!
Even her shoes are to-die-for (although you can't see them with the dress)!
Here were all the options.
Details, details, details.