SJP Has A Lob Now... That May Or May Not Be Real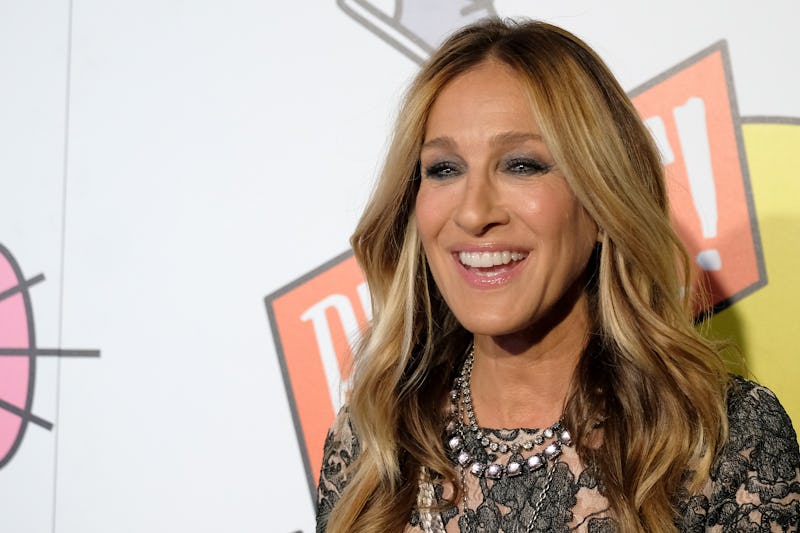 Jemal Countess/Getty Images Entertainment/Getty Images
Did she or didn't she? Sarah Jessica Parker just debuted a shorter, blonder hair cut on Instagram. The actor, best known for her role as NYC fashion ambassador Carrie Bradshaw in Sex and the City, posted a pic from a project called Unfollow the Rules. In the snap, SJP is showing off a long lob.
Her usually long, wavy, and honey blonde hair is now skimming her shoulders in a bedhead bob in a brighter, whiter hue. Her familiar strands are... gone, baby, gone.
However, The Zoe Report thinks that it's a wig and you know, it very well could be.
Honestly, I can't tell if Parker sheared off her strands for a dramatic new 'do or not.
If it's a wig, it certainly looks legit. If it's SJP's real hair, it's a pretty big change in terms of length, cut, and color. It also gives me all of the Carrie Bradshaw feels, since the character did rock a long bob at one point in the series, despite long, wild curls being her signature. Well, long wild waves and her beloved Manolos.
Real or not, SJP is slaying that chic and sophisticated lob with undone texture. Why don't you take a look and see what you think about it, OK? The image appears to be from a set.
It's a lovely look and while it's different, it's not a style we haven't seen from her before. It's just that we are used to SJP's long, ombre locks.
Parker's hair has so much body and texture that she can do any length and look glam.
Here's a classic Carrie look, both hair and dress, for a little strut (or dance) down memory lane.