Sarah Michelle Gellar's Reaction To 'Cruel Intentions' Being Listed As A Family Movie Is Priceless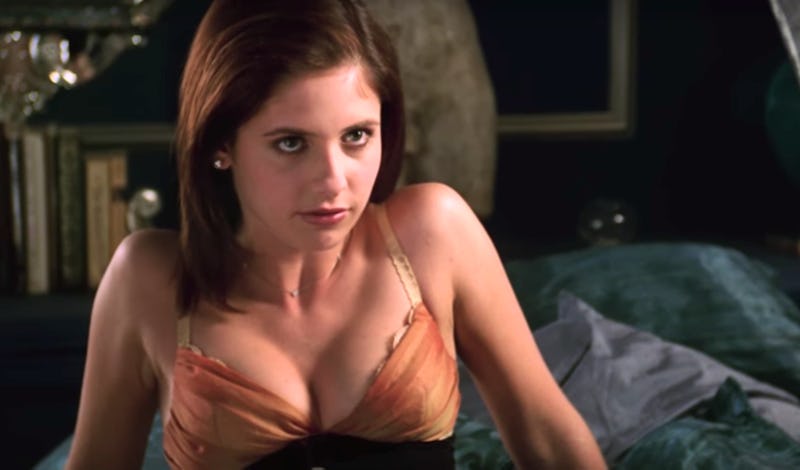 Columbia Pictures/YouTube
Sarah Michelle Gellar cemented her status as a '90s teen idol with Cruel Intentions, but little did she know the role would also make her... a child-friendly entertainment figure? On Tuesday, Gellar saw Cruel Intentions listed as family-friendly on Apple TV and reacted with a hilarious Instagram post. According to Entertainment Weekly, the film was under the Kids and Family Section on the streaming service, and, as you might have guessed, Gellar was a bit confused by seeing her sexually-charged romantic drama listed beside animated romps.
Her social media post was in response to a sharp-eyed fan's 'gram of the Apple TV page. In the picture, the movie poster for Cruel Intentions — which heavily features Gellar's cleavage and Ryan Phillippe's best smoldering bedroom eyes — is boldly placed between Despicable Me 3 and My Little Pony Movie. The Instagram user, Roger Kumble, wrote, "See it's fun for the whole family!" Considering the 1999 teen movie is normally listed next to flicks like Clueless, Can't Hardly Wait, or Empire Records it certainly looks out of place.
The actor shared her own thoughts to the streaming service's reported mistake by reposting Kumble. "It appears @appletv and I have different ideas on kids viewing," she wrote, before adding, "I guess you could say it's educational...right?!?!"
To be fair to Apple TV, while Cruel Intentions is not family-friendly per se, it is about family members who are very friendly. Gellar and Phillippe play two horny step-siblings who go to the same Upper East Side prep school. But just because their parents are married to each other doesn't stop them from getting pretty familiar...with each other's bodies.
Other parts of the movie that might be hard to explain to a kindergartener? Oh, how about the entire plot? Right off the bat, Gellar's character Kathryn Merteuil makes a bet with Sebastian (Phillippe) that he won't be able to have sex with the school headmaster's virginal daughter (Reese Witherspoon). If he isn't able to, Kathryn gets his car, and if he succeeds, she has sex with him. When they're not focusing on the bet, the two step-siblings also have their own subplots that involve using sexual exploits to blackmail or humiliate other characters. There's also casual drug use and words that would not be approved of in any elementary school classroom.
Sesame Street it is not, but as Gellar said (jokingly) it is educational. Just think, one day there's going to be a new generation, old enough to watch rated R movies (or to sneak them when mom and dad aren't looking), that will finally get a look into turn-of-the-20th century teen culture. They will see this film and realize we were not lying to them about the brick-nature of old cell phones or the prominence of hairstyles that mimicked that of Rachel from Friends.
And this wouldn't be the first time a streaming service has hilariously mislabeled a movie. Last year, Netflix notably placed horror movie The Babadook under the LGBTQ+ banner, reports The New Yorker. Though that movie centers around a monster terrorizing a single mother and her son, many on social media ran with the idea, labeling Babadook a "gay icon." As you may recall if you were on Twitter last June, throughout Pride season there were many pictures going around with the titular monster on a rainbow flag and doctored into stills from various queer television series like Looking and RuPaul's Drag Race.
While I, for one, welcome any meme that includes Gellar as Kathryn Merteuil photoshopped into Dora the Explorer, it's probably a safer bet to stop the kiddies from embracing Cruel Intentions as their new favorite film. While you're at it, don't let them see I Know What You Did Last Summer just yet, either — Gellar has plenty of actual child-friendly movies to show them first.