These Sausage Dog Fairy Lights Are The Instant Upgrade Your Apartment Deserves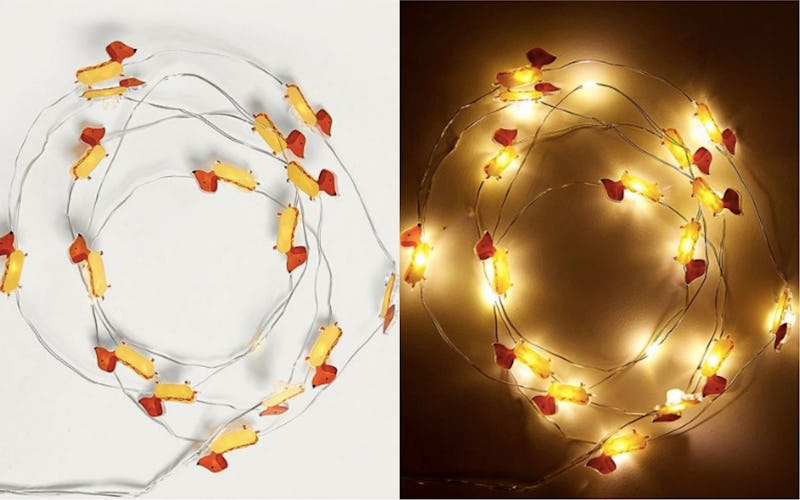 I honestly believe that lighting can make or break a room. When you're winding down and getting ready for bed, watching a movie, or curling up with a book, nothing beats soft, cozy lights to make you feel at home. If you've ever shopped for home decor at Urban Outfitters, you know that it's a great spot to score cute pieces for your place — and this time, they've outdone themselves. The brand has added sausage dog fairy lights to its home collection, and they're simply adorable. Dachschunds, with their adorable little legs and floppy ears, already light up my life every time I see one on the street. So, why not let miniature versions of them light up my room?
The product is currently available on Urban Outfitters' UK shopping site, and goes for £15.00 (roughly $19.69). If you didn't see it at first glance, each little dog-light is nestled inside an actual hot dog bun — complete with ketchup and mustard squiggles on top. The string lights are meant for indoor use, and you can put them up just about anywhere at your place. Need a glowy little halo in your bedroom when your overhead lights are so bright they hurt your head? Done. Culinary inspiration in the kitchen? Done. Seriously, you can't go wrong.
If you can't get enough of cute little dog homeware products, Urban Outfitters is the one-stop-shop for you. Their dachshund-themed collection doesn't end with fairy lights — you can also find a sausage dog duvet cover, trinket dish, and even salt and pepper shaker (one is a dog-in-a-bun and the other is a little bottle of mustard) on the UK site. If you live in the the States, don't worry. The U.S. website sells a dachshund planter, perfect for any succulents or small plants and is as darling as you could imagine.
For those of you searching for other unique fairy lights, you'll also find a great selection at Urban Outfitters. I'm talking sushi string lights (featuring four distinct sushi lights), subtle copper-colored diamond lights, tiny red heart lights, and peach lights. There's truly something for every taste (craving, rather) or occasion. Even if you prefer more minimalistic design, why not let some statement string lights add a little something to the space? The great thing about lights like this is that they won't detract much from the room — they'll just add a homey glow and prompt your more observant guests to wonder why there's a bunch of little sushis on your ceiling.
If you're in college or university, finding the time or money to decorate your apartment in a way that fits Pinterest board-worthy dreams is a hard task. Urban Outfitters has taken note of our plight and is offering a 10 percent off discount to students. The savings are online only and end today, so stock up on all your sausage dog products while you can. Happy shopping, friends.