'Scandal' Is Ending, But Shonda Rhimes Hints At Epic Last Season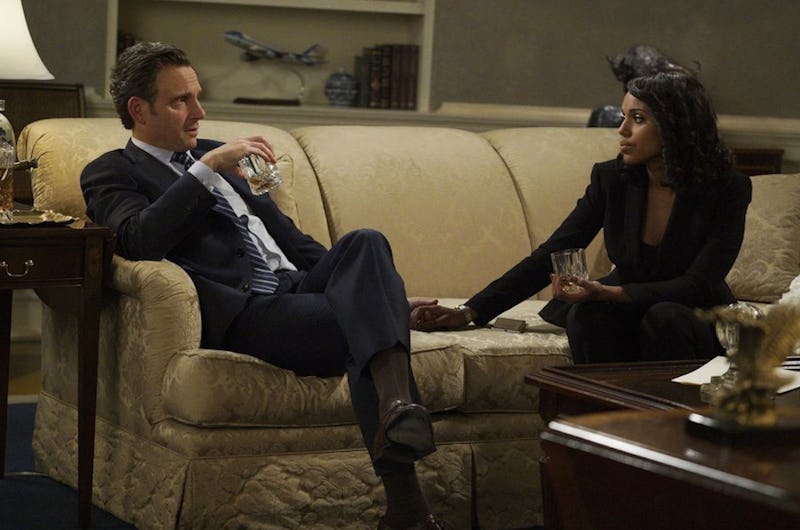 ABC/Richard Cartwright
Fellow gladiators, I've dreaded this inevitable day for some time now. For about a week, rumors have been flying that Scandal would come to a close after Season 7 (which is next season). When the news first broke, I had absolutely zero chill even though nothing was confirmed by ABC or creator Shonda Rhimes. But now Rhimes, the woman herself, is speaking out and validating that the rumors are sadly true. Although it seems untimely given Rhimes's household series Grey's Anatomy is on its 13th season, gladiators should be at ease because this was really part of her plan all along.
In a statement on Tuesday, Rhimes addressed the bittersweet decision to close the Kerry Washington-led show. "Deciding how to end a show is easy. Deciding when to finish is quite simple when the end date is years away," she said. "But actually going through with it? Actually standing up to say, 'This is it?' Not so much." Fans shouldn't fret, though, because although the political drama is coming to a close, Rhimes hints that the upcoming Season 7 will go out with a bang, and I believe her. "So, next year we are going all out. Leaving nothing on the table. Creating this world in celebration," she continued. Seriously, Season 7 may pull out all the stops and be the best yet.
Notice all of the Scandal slang Rhimes used in her statement, hinting at an epic final run. "We are going to handle the end the way we like to handle the important things in our Scandal family: all together, white hats on, Gladiators running full speed over a cliff," she said. If anything, it feels like Season 7 will be a gift to the fans.
Although the news may be surprising to gladiators, it's been part of Scandal's DNA since the onset. There are so many shows that drag on and continue far passed their expiration date, and Rhimes wanted to avoid that. "Rhimes always envisioned Scandal as a show that did not have a long lifespan... and always saw it as a seven-season show," said Channing Dungey, entertainment president at ABC. She recalled Rhimes telling her, "I always prefer to end a show where you're feeling on top as opposed to letting things fizzle out." After Season 4, Rhimes even told The Hollywood Reporter that Scandal wouldn't be a "10-season or eight-season show."
Making that call is doing the fans justice. Plus, Rhimes grew fatigue around the show mirroring real-life occurrences since the 2016 election. "Any of the stories we planned now just feel like we're copying what's happening in reality, which is insane," she said. "I used to know how it ended, and then Donald Trump was elected. We had a destination, and I don't know if that's our destination anymore." That can get old, and it makes sense for Rhimes to end the story she started on her own terms.
When I heard the news, I assumed the ratings dropped. But that seemed unlikely given the fandom and huge social media conversation around the show, especially on Thursday nights. Season 1 premiered with an average of 7 million viewers per episode, while Season 6 currently pulls in just over 5 million per episode. Clearly, that's still a massive audience, and not a number low enough to pull the plug.
It's understandable for fans to be sad, but the thought of Season 7 (and possibly Vermont) is actually exciting, considering Rhimes is doing it how she has all along: her way.