Of Course, Scheana's 'Real Housewives' Tagline Is VERY Similar To One Of Lisa Vanderpump's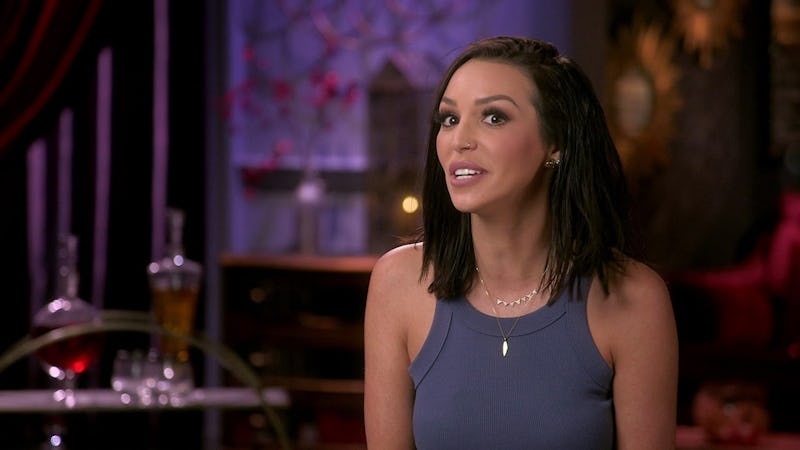 Bravo
There's no doubt that Vanderpump Rules is one of the best shows on Bravo. The only thing missing are the introduction tag lines from Real Housewives shows. Scheana from Vanderpump Rules shared what her Real Housewives tagline would be if she could have one. At this point, it's a little too late to change the Vanderpump Rules introduction, but maybe Scheana can use it in a few years if she graduates from Pump Rules to Real Housewife status. That's a far-fetched situation, but hopefully that does happen at some point. Fingers crossed.
So, what would Scheana's go-to phrase be? In a post on her Instagram, the former Mrs. Shay posted, "Life isn't always rainbows and unicorns... but it should be. Lol, my housewives tagline."
That probably sounds familiar to Real Housewives of Beverly Hills viewers. In Season 3 of RHOBH, Scheana's boss Lisa Vanderpump's tagline was "Life isn't all diamonds and rosé... but it should be." Obviously, Scheana took a cue from one of the best.
Scheana's hypothetical tagline is also giving off some Lydia McLaughlin vibes. During Season 12 of Real Housewives of Orange County, Lydia's tagline was, "If you can't take my sparkle then stay off my rainbow."
Scheana is just all about the optimism. Even if her insistence on remaining positive has morphed into obliviousness throughout the current Vanderpump Rules season, at the end of the day, she is just trying to put a positive spin on everything in her life.
Yes, it can be a little much to hear about how happy she is all the time, but it sure beats listening to someone who insists on being negative. Plus, there's just no way that Rob is the only topic she ever talks about. It's called editing, people. Clearly, he does come up in conversation quite often, but it's a much more entertaining story if it seems like that's the only thing Scheana wants to discuss.
Scheana's co-stars and fans of the show have hated on Scheana for her many mentions of her perfect relationship with her now-ex-boyfriend Rob Valletta. Most people would be down and out waiting for a divorce to be finalized, but during the Pump Rules Season 6 premiere, Scheana admitted, "I'm just waiting for that final piece of paper, the divorce certificate, and I can get remarried after that." Scheana's co-star Kristen Doute commented, "I don't think she's looking for a boyfriend, I think she's looking for another husband."
On the cast trip to Big Bear during the February 19 episode, Scheana bragged that Rob could hang up a TV in under seven minutes and that she actually timed it for confirmation. When did the ability to hang a television become an indication of a man's worth? Scheana also mentioned the TV hanging during the March 19 episode during the group's trip to Cancun, Mexico.
She could not help gushing over her relationship status, Rob's perfection in her eyes, and her post-divorce life during Season 6 of the show. Unfortunately, that just provided everyone with ample material for some funny comments. During that same Big Bear episode, Jax Taylor joked that Rob can walk on water.
The criticism about Scheana's eternal optimism can go on and on, but it's nice to see that she's actually in on the joke while still sticking to who she is. She was able to make fun of her public persona with her self-appointed Housewives tagline, but at the same time, she's admitting that she is just the kind of person who has always and will always see the glass as half full. That's just who she is and she's proud of it. Yes, it's a little bit much sometimes, but does provide her with plenty of material for potential taglines.
In an ideal world, all of the Vanderpump Rules ladies will move on to become Real Housewives when they are older, so there are plenty of other tagline ideas that Scheana should consider in case that ever happens:
"I'm Not The Most Popular Girl At SUR, But I Am The Happiest"
Scheana has up-and-down relationships with her fellow SUR employees, but on the bright side, she is getting a ton of screen time, and she is all about her life and relationship on the current season.
"An 'I Love You' Would Be Nice, But Hanging A TV In 7 Minutes Says So Much More"
There's no way that Scheana could brag about hanging that TV so many times and not incorporate it into a tagline.
"Only Rob Can Judge Me And He Seems Quite Impressed"
It's Rob's world, we're all just living in it. Why not take inspiration from Phaedra Parks Real Housewives of Atlanta Season 8 tagline?
"Joke All You Want, My Life Is As Good As Gold"
Scheana's song "Good as Gold" is Bravo classic. It is the perfect inspiration for a tagline.
"It's All Happening"
Scheana's "It's all happening" tattoo would make for the perfectly mysterious tagline.
At the end of the day, if Scheana thinks she's living her best life, then that's all that matters. Her satisfaction with her life is what's most important, but it is still pretty great that she does have a sense of humor when it comes to her public persona and the way she carries herself on the show.