This Year Has Been Deadlier For People In Schools Than In The Military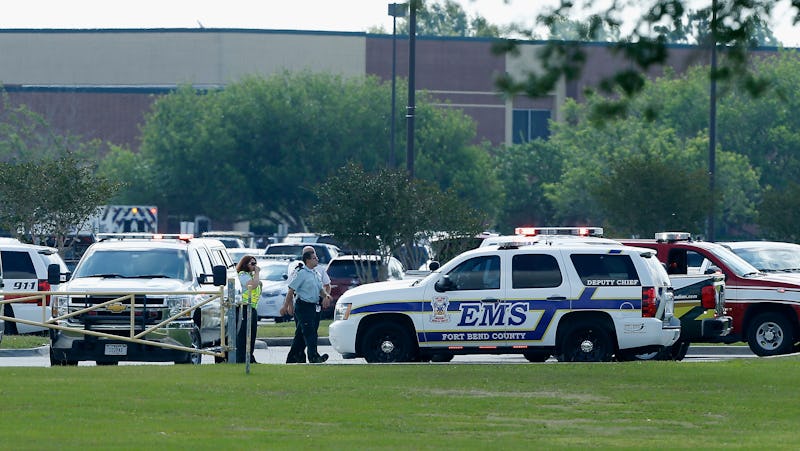 Bob Levey/Getty Images News/Getty Images
On Friday, nine students and one adult were killed in a school shooting in Santa Fe, Texas. As the nation grapples with the horror of yet another deadly shooting at an American school, the Washington Post released a startling statistic: School shooting deaths in 2018 already exceed military deaths.
According to data from the Defense Department, 29 active members of the U.S. military have died since Jan. 1, 2018, including both combat and non-combat deaths. In contrast, 31 people were killed in the United States since the beginning of the year, including the most recent shooting in Santa Fe, according to the Post.
As the Post notes, this is highly unusual. In 2017, for instance, more than six times as many American service members died than did victims of school shootings, according to the Post's data. So far, more people have been killed in school shootings in 2018 than at this point in any other year since 2000. It's not even close: Between 2000 and 2017, there were a cumulative total of 36 school shooting victims who were killed by May 18 of the year in question. This is just five more than the number of school shooting victims so far in 2018.
According to Everytown Research, there have been over 300 school shootings — an average of roughly one per week — since 2013. The massacre in Santa Fe on Friday was the 22nd school shooting in 2018 alone; although some have attempted to downplay the frequency of school shootings, arguing that only multiple-murder attempts directed at children on school campuses should count, there have indeed been 22 shootings on school campuses in 2018. Friday's shooting was the second, since the February shooting in Parkland, Florida, in which 10 or more people were killed.
Though many of those shootings are believed to have been carried out by teenagers, not all of them were. In March, an armed teacher in California who's also on the local police force accidentally fired a gun in class while teaching a course on gun safety, injuring one student. That same day, a school resource officer in Virginia also fired a gun on campus by accident, though he was in his office at the time and nobody was injured.
It's worth noting that, although there have been more total deaths at schools than in the military in 2018 so far, the rate of deaths in military is much higher than that in schools. This is because there are only around 1.3 million enlisted service members in the U.S. military, while over 50 million students are enrolled in America's elementary and high schools.
Nevertheless, school shootings have been exceptionally more deadly in 2018 so far than in past years. Since 2000, the year with the second-highest number of school shooting fatalities was 2005, the Post reports. But it's a distant second: Three times as many people have been killed in school shootings in 2018 so far than were killed in that same interval of time in 2005, according to the Post.
March for Our Lives, the gun reform movement founded by survivors of the Parkland massacre, released a statement expressing grief and sympathy for the Santa Fe victims and their families.
"We are deeply saddened by the tragedy at Santa Fe High School and send our love and support to the families affected as well as the entire community," the organization wrote in a tweet. "Though this is the 22nd school shooting this year, we urge those reading this not to sweep it under the rug and forget. This is not the price of our freedom. This is the most fatal shooting since the one at our school and tragedies like this will continue to happen unless action is taken. Santa Fe, we are with you, and we will do whatever we can to support you as the days go on."