ScHoolboy Q & His Daughter Won The Red Carpet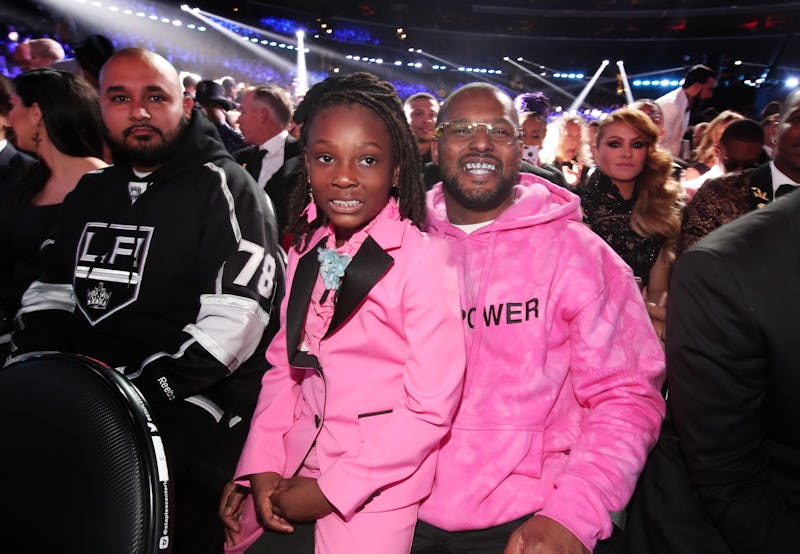 Christopher Polk/Getty Images Entertainment/Getty Images
The Grammys red carpets come with the expectation of glitz and glamour, but music's biggest night also brought the cutest moment of this awards season so far, courtesy of ScHoolboy Q and his daughter Joyce Hanley.
The pair walked the red carpet together, with the littlest Hanley rocking a pink Gucci suit, and ScHoolboy Q in a matching pink sweatshirt with the words "GIRL POWER" emblazoned on the front.
This isn't the first time ScHoolboy Q and Hanley have wowed fans with a father-daughter team-up. Hanley was on the cover of his album Oxymoron, and also had speaking parts throughout the album. This red carpet duet is definitely a gorgeous moment for both of them. Not only is Hanley basically the best-dressed of the night, but her dad's mellow look does not come off as schlubby, the way some other dudes-wearing-sweatshirts-while-women-have-to-be-flawless looks do, but as purposefully playing a classy second fiddle to his superstar daughter.
ScHoolboy Q's feminist ensemble is arguably one of the "political" looks of the night, and fans are loving it. This is a critical time for supporting young black women, and the Hanleys have brought the #blackgirlmagic in the best of ways.
Check out some of Twitter's adoring reactions below.
1. They've Got Our Vote
2. Stan
3. No One Else Matters
4. He Gets Our Vote For This, Too
5. Tonight & Forever
Girl power, indeed.