This Is The First Place In The World To Offer Free Pads & Tampons To All Students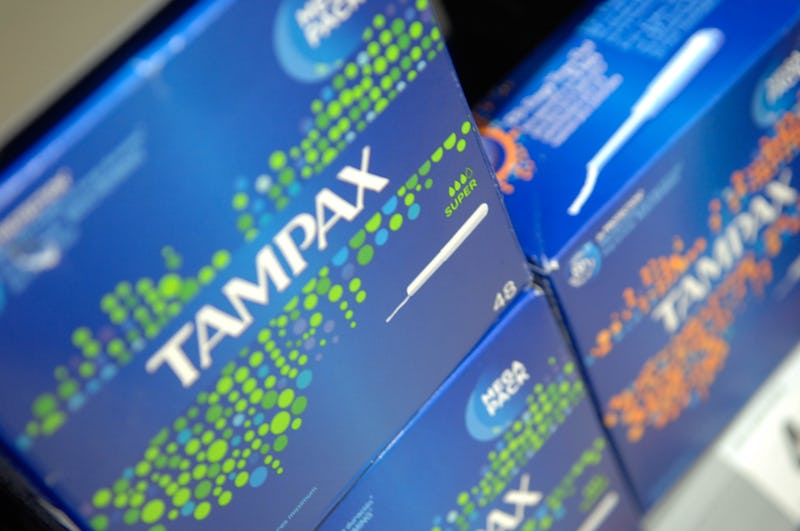 Newscast/Shutterstock
In a new effort to "banish the scourge of period poverty" — when people struggle to afford menstrual products and other basic hygiene necessities — Scotland will offer free sanitary products to students at all of its schools, colleges, and universities. According to The Guardian, this initiative follows a successful pilot program in the northeastern city of Aberdeen, and will make Scotland the first country in the world to provide free sanitary products to all of its pupils and students.
Last year, the Scottish government funded a trial program in Aberdeen that distributed products to more than 1,000 women, The Independent reported. As a result of this pilot scheme, the Scottish government expanded its efforts nationwide. It started rolling out free menstrual products to women from low-income homes across Scotland earlier this year, and subsequently announced its plan to make sanitary products free and available to all of its 395,000 pupils and students.
A recent survey conducted by Young Scot — a national youth information and citizenship charity in Scotland — found that roughly a quarter of its 2,000 respondents struggled to access sanitary products. Communities Secretary Aileen Campbell told the BBC that this new scheme would alleviate those difficulties, and expressed pride in Scotland for taking "world-leading action to fight period poverty":
In a country as rich as Scotland, it's unacceptable that anyone should struggle to buy basic sanitary products. I welcome the support of local authorities, colleges and universities in implementing this initiative. Our £5.2 million investment will mean these essential products will be available to those who need them in a sensitive and dignified way, which will make it easier for students to fully focus on their studies.
According to The Guardian, the Scottish government worked with numerous groups — such as the Convention of Scottish Local Authorities (COSLA), Colleges Scotland, Universities Scotland, and the Scottish Funding Council — to implement this initiative.
As Campbell told the BBC, the free distribution of sanitary products will allow students to focus on their education without having to worry about accessing basic necessities, but that is not the scheme's only benefit. Councillor Alison Evison, who is the president of COSLA, told The Guardian that "it will also contribute to a more open conversation and reducing the unnecessary stigma associated with periods."
The initiative launch, which coincides with the start of a new academic year, was also commended by Monica Lennon, a Scottish Labor MSP (Member of Scottish Parliament). Earlier this year, Lennon called on the Scottish government to "lead the world on period poverty." She then brought forth a member's bill proposing the free provision of sanitary products to anyone who needs them. When the Scottish government announced its plan to provide free sanitary products in schools, Lennon told reporters that it was "another great step forward in the campaign against period poverty."
"Access to period products should be a right, regardless of your income, which is why I am moving ahead with plans for legislation to introduce a universal system of free access to period products for everyone in Scotland," Lennon said. "No one should face the indignity of being unable to access these essential products to manage their period."
One of the major providers of these free sanitary products will be Hey Girls, a Scottish start-up launched in January by a mother and her two daughters to make environmentally friendly sanitary products more widely accessible. Hey Girls will distribute sanitary products directly to local authorities in Edinburgh, Glasgow, and other Scottish cities, and it will also partner with a charity called FareShare to distribute them across Scotland.