Scotland Schools Will Teach The First LGTBQ-Inclusive History Curriculum In The World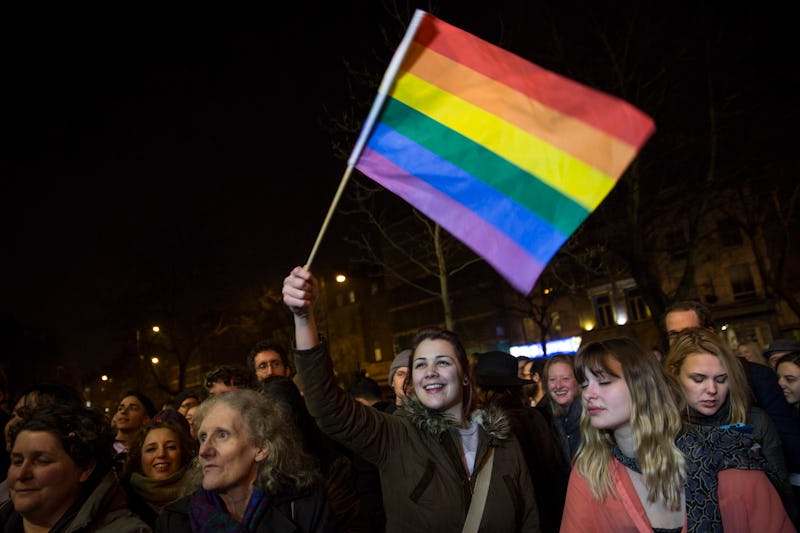 Rob Stothard/Getty Images News/Getty Images
Thursday brought joyous news for Scottish youth and parents. By May 2021, history curriculum in Scotland will include LGBTQ history. The LGBTI Inclusive Education Working Group submitted 33 recommendations for a curriculum that including gay, lesbian, bisexual, transgender, and intersex history for all age groups, according to NBC News.
This implementation will make Scotland the first country in the world to teach this kind of curriculum, according to Scotland Deputy First Minister John Swinney. The curriculum will include lessons about terminology, how to combat homophobia and transphobia, history of prejudice experienced by queer people and the history of queer movement for equality, according to the government's statement.
"Scotland is already considered one of the most progressive countries in Europe for LGBTI equality," Swinney said. "Our education system must support everyone to reach their full potential. That is why it is vital the curriculum is as diverse as the young people who learn in our schools."
Time for Inclusive Education co-founder Jordan Daly said the campaign was pleased with the result after three years of work. "The implementation of LGBTI inclusive education across all state schools is a world first, and in a time of global uncertainty, this sends a strong and clear message to LGBTI young people that they are valued here in Scotland," Daly said in a statement.
The Working Group — which brought together people from LGBT Youth Scotland, The TIE Campaign, COSLA, Education Scotland, Educational Institute of Scotland, Equality and Human Rights Commission, National Parent Forum of Scotland, respectme, School Leaders Scotland, Scottish Catholic Education Service, Scottish Trans Alliance, and Stonewall Scotland — began in April 2017, according to the Scottish government.
Daly said education is critical for queer and straight youth. "Education is one of the most vital tools we have to tackle bullying, prejudice and discrimination, and it shapes the fabric of our society," Daly said in a statement.
LGBT Youth Scotland CEO Fergus McMillan said the organization "warmly welcomes" the working group's recommendations. "The group has worked hard to reflect the needs and experiences of LGBTI learners in Scottish schools," McMillan said in a statement. "The recommendations and their implementation is an excellent opportunity for Scotland to build on emerging good practice, to ensure that Scotland is the best place for LGBTI young people to grow up and reach their full potential."
In 2016, TIE found that 90 percent of LGBT-identifying Scots experienced homophobia, biphobia, or transphobia while they were at school. Furthermore, 95 percent of LGBT people surveyed by TIE said these negative experiences had "long lasting negative effect" on their lives. But in addition to bullying, there were historical reasons for Scotland to adopt this kind of curriculum.
The campaign for queer-inclusive education in Scotland came 18 years after the repeal of Section 28, a law that established a "prohibition on promoting homosexuality by teaching" or through publishing. "We've dismantled the destructive legacy of Section 28, and we've finally got a strong national package to bring forward an LGBT-inclusive education in all public schools without any exception," Daly told NBC News.