Scott Disick & Sofia Richie Have Confirmed Their Relationship — Kind Of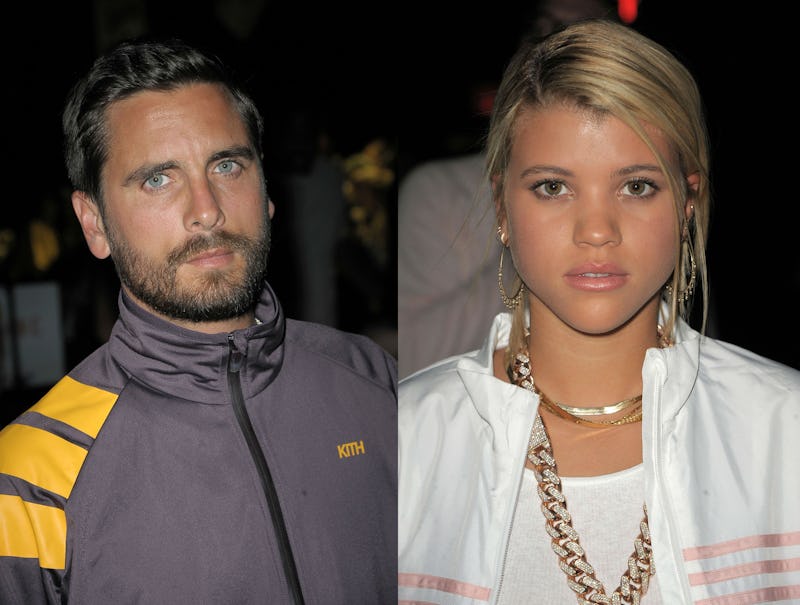 Getty Images
Scott Disick and Sofia Richie have been shutting down dating rumors since they were spotted together at the Cannes Film Festival in May. On Thursday, the rumored couple were caught kissing in Miami, fueling claims that these two are more than just friends. Disick and Richie made their relationship Instagram official on Saturday when they both posted intimate photos to their accounts. In the snap, which was originally posted to Disick's Instagram story, he can be seen getting cozy with the model. Richie posted a similar shot to her own Instagram, and the pose leaves little doubt that these two stars are more than friends.
In May, Richie tried to squash dating rumors, and insisted that she and Disick were just hanging out. In a Twitter post, she wrote, "Just so everyone can get their panties out of their *sses, Scott and I are just homies #relax". In June, she tweeted on the matter again writing, "The last time I'm gonna say it. Scott and I are just friends. I'm single and focused on friends, family and work. #againrelax." The age difference between the two stars is significant, and initially cast a lot of doubt on their relationship status. Richie is 19-years old, and at 34, Disick is almost 15 years her senior. However, while in Florida, the two were seen holding hands and kissing, and do appear to be more than friends.
The reported couple were in Miami to see Travis Scott, who is rumored to be expecting a child with Kylie Jenner, perform at the reopening of the LIV nightclub. In addition to their boat-side PDA, Disick and Richie also shared pics of a dinner with friends. In one post, a waiter puts down a desert in front of them that reads "Congratulations Scott and Sophia" in chocolate. Fans are unsure if the order was a joke or prank, or if the reality-star and model are hinting at news or an announcement.
While the two may have made their status Instagram official, the nature of the relationship is still unclear. According to E! News, they are enjoying each other's company but it may not be serious. "They just get along great and share very similar friends," a source told the publication. "Sofia's been all over the place lately and seems like she is not serious about most things especially getting serious with a dude. It's light and fun between them at the moment." If this is the case, it's possible that the relationship is more casual than their Instagram update suggests.
This year, Disick has been spotted in a series of public hookups. In May, the reality star was also spotted with 19-year old actress Bella Thorne during the Cannes festival. The two reunited in Los Angeles, and were spotted holding hands as well. Thorne told Sirius XFM podcast host Jenny McCarthy that they weren't hooking up in a serious capacity, nor did she receive pressure from the Kardashian family to end the relationship. He's also been linked to 19-year old Ella Ross, and Megan Irwin.
As for Disick's apparent fling with Richie, Kourtney Kardashian seems unfazed. While the two broke up a couple years ago, they do share three children together. Kourtney is currently dating model Younes Bendjima. According to Us Weekly, she's is confused but not upset by the romance. "Kourtney thinks this fling with Sofia is a little weird, but nothing shocks her anymore. Kourtney just wants Scott to be his old self," a source told the magazine. "She shares three kids with him, so she'll always want the best for him and will always make sure he's happy."
It's unclear if the relationship between 19-year old Richie and Disick is serious, but the two did share their latest vacation on social media. The congratulatory cake could suggest an important announcement from the two stars, but in the Insta-footage it does appear more likely to be part of an elaborate joke. These stars do have a considerable age-difference between them, and are at too different a place in their life to commit to a serious relationship, no matter what they post to Instagram.