Scott Pruitt Confirmed To Lead EPA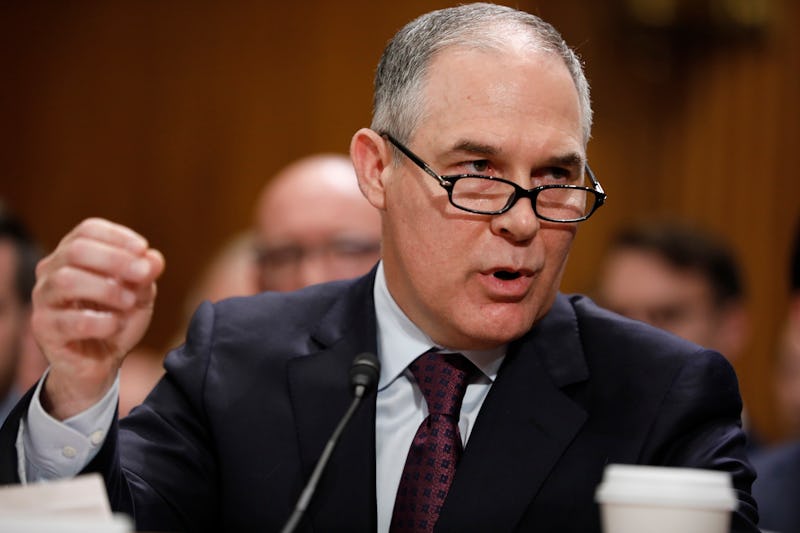 Aaron P. Bernstein/Getty Images News/Getty Images
On Friday, Donald Trump's controversial nominee to lead the Environmental Protection Agency, Scott Pruitt, was confirmed by the Senate. Pruitt was confirmed after a vote to delay his confirmation until emails ordered released by a judge could be reviewed by the Senators. Pruitt, who was serving as the Attorney General of Oklahoma, has long been an opponent of federal environmental regulation, and has sued the EPA several times.
Viewed by many as a friend of the fossil fuel industry and a skeptic of climate change, Pruitt has faced criticism as the potential head of the top federal environmental agency. Trump critics view Pruitt as, perhaps, one of the most cynical appointments Trump has made.
Democratic senators held the floor through the night on Thursday to oppose Pruitt's confirmation, even pushing merely to delay the vote so that senators could examine emails between Pruitt and fossil fuel industry representatives following a judge's order on Thursday. Republicans, perhaps still reeling from the failure of Trump's nomination of Andrew Puzder to lead the Labor Department, were eager to push through Pruitt's confirmation.
But the Democrats themselves weren't even united in their opposition of Pruitt: two Democratic senators from red states voted for Pruitt's confirmation, Sen. Heidi Heitkamp of North Dakota, and Sen. Joe Manchin from West Virginia.
On the Republican side, Sen. Susan Collins of Maine voted against Pruitt's confirmation; additionally, Arizona Sen. John McCain skipped the Pruitt vote to attend a security conference in Munich.
Democrats had asked Pruitt to turn over the emails during his confirmation hearing, but Pruitt declined, telling senators they would have to file their own Freedom of Information Act requests. The Center for Media and Democracy, a liberal watchdog group, had filed a FOIA request for the same documents back in 2014. To date, Pruitt's office had only turned over 411 of the more than 3000 emails requested; he has until next Tuesday to comply with the court order.
That the GOP would spend much of the 2016 campaign moaning about the email transparency of Hillary Clinton only to duck a chance to examine emails from their own nominee is the height of hypocrisy to me. But to my mind, the real worry should be over what happens if there is something explosive in Pruitt's emails that is discovered only when it is too late.