What You Should Know About SCOTUS' Major Abortion Rights Decision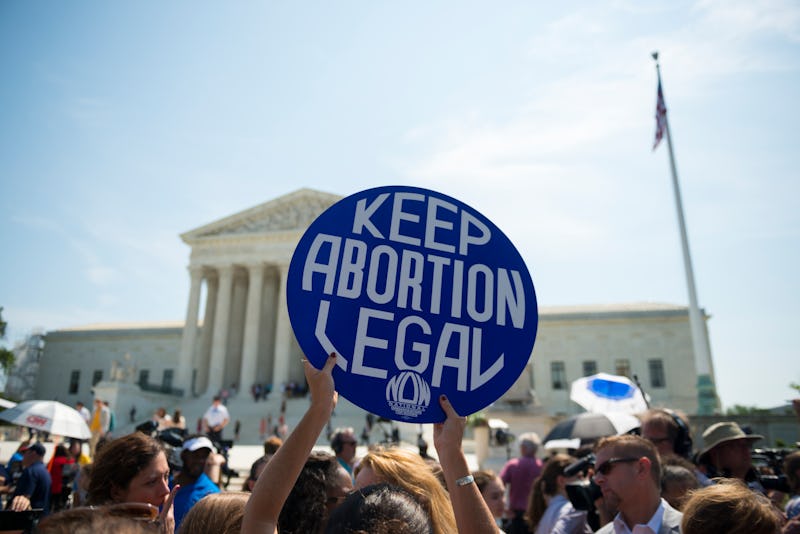 Joel Carillet/iStock Unreleased/Getty Images
Years of repeated restrictions on abortion access have dwindled the number of abortion-providing clinics in Louisiana down to just three, according to a Center for Reproductive Rights report. On March 4, the Supreme Court heard a case, June Medical Services v. Russo, which could have forced two of those clinics to stop providing abortions — leaving the state with just one provider.
The Louisiana case has to do with a law that would require abortion-providing clinics in the state to have admitting privileges at a local hospital, or to get clearance from a hospital to admit patients, according to SCOTUSblog. Admitting-privileges laws are an example of what advocates call targeted regulation of abortion providers, or TRAP laws. Advocates say the regulations are not supported by medical science and are often a quieter way of banning abortions by regulating clinics out of existence.
On June 29, the Supreme Court issued a decision in the case in a 5-4 ruling, finding the Louisiana law unconstitutional and upholding an earlier decision about admitting privileges that it reached in 2016's Whole Woman's Health v. Hellerstedt. "This case is similar to, nearly identical with, Whole Woman's Health. And the law must consequently reach a similar conclusion. Act 620 is unconstitutional," the decision reads.
"Today's decision is an important win for the people of Louisiana, and we are relieved that the Supreme Court followed facts and precedent to strike down the state's harmful anti-abortion law," said Guttmacher Institute President and CEO Dr. Herminia Palacio in a statement emailed to Bustle. "Even with today's decision, we are under no illusion that the future of abortion rights in this country is secure. There is a decades-long, coordinated campaign that will use any pretext to try and restrict legal abortion out of existence — as we just saw in a dozen states that tried to ban abortion under cover of the COVID-19 pandemic."
The case was very similar to one SCOTUS has already heard. So why did they hear it again?
June Medical Services v. Gee is almost identical to another TRAP lawsuit the Supreme Court heard in 2016 where they held in favor of the abortion provider. The case, Whole Woman's Health v. Hellerstedt, concerned Texas' House Bill 2, which regulated abortion providers with an admitting privileges requirement, and a provision that required abortion-providing clinics to meet the building standards of mini-hospitals, or ambulatory surgical centers (ASCs), among others.
The bill closed more than half the clinics in Texas. Whole Woman's Health, a network of health clinics with three locations in Texas, challenged the privileges and ASC requirements, arguing that they have no medical benefit to pregnant people and actually harmed their access to care.
In 2016, the Supreme Court ruled in favor of Whole Woman's Health, finding that the two provisions "place a substantial obstacle in the path of women seeking an abortion, constitute an undue burden on abortion access, and therefore violate the Constitution," according to SCOTUSblog. The ruling established a precedent, in effect making all similar TRAP laws unconstitutional.
"The big win in Whole Woman's Health is that a state can't insert itself between a woman and her ability to obtain an abortion and claim that they have women's health and safety as their concern, unless that state can substantiate those concerns with scientific evidence," Amy Hagstrom Miller, president and CEO of Whole Woman's Health, told Bustle in March.
Some advocates were worried about the court choosing to hear a case so similar to Whole Woman's Health, given that that ruling should have established precedent. Jennifer Dalven, director of the ACLU's Reproductive Freedom Project, told Bustle that the court didn't have to hear arguments again to reverse the 5th Circuit's decision — they could have issued a summary reversal, which would reverse the lower court's decision and likely cite Whole Woman's Health. She thinks the court is hearing the whole case again in part because Justices Brett Kavanaugh and Neil Gorsuch gave the court a firm conservative majority, increasing the chances that they will rule against June Medical and allow the restrictions to stand. In their decision, the Court's four liberal justices were joined in the majority by Chief Justice John Roberts, who had dissented in the 2016 case that established the precedent under which the Louisiana law was found unconstitutional.
Julie Rikelman, senior litigation director at the Center for Reproductive Rights, which is representing June Medical Services, told Bustle in March that the court rarely issues summary reversals, and the Center asked the court to step in "because we thought that the people in Louisiana deserve the same rights as the people in Texas."
Despite Kavanaugh's "history of disrespect for women's rights," as Hagstrom Miller put it, she and Dalven are glad the court is hearing the case. "The 5th Circuit ignored the Supreme Court's decision in Whole Woman's Health and tried to basically build a completely new case with the same facts, and it's important for the Supreme Court to keep those circuit courts in check," Hagstrom Miller said.
The court also considered changes to a legal rule that could wipe out pro-choice lawsuits across the country.
The state of Louisiana also asked the court to overturn "third-party standing," a 43-year-old legal rule that allows abortion-providing clinics to sue on behalf of their patients, Vice reported. Without third-party standing, providers would have to find pregnant patients who are willing to go through years' worth of litigation to sue states themselves. Hagstrom Miller said this would be virtually impossible; many people seeking abortions don't have the resources to bring a lawsuit themselves. This process could also delay their access to abortion or put it entirely out of reach. If the court overturns third-party standing, it would also work retroactively, meaning all of the current lawsuits blocking abortion restrictions and bans nationwide would disappear, according to Vice.
ABC News reported that third-party standing applied in this case as a matter of precedent. "In short, the State's strategic waiver and a long line of well-established precedents foreclose its belated challenge to the plaintiffs' standing," the opinion read.
For now, third-party standing seems to be safe. But this isn't the last challenge abortion rights will see. "While today is a victory for Louisianans, we must remember that we are in a world where politicians have pushed basic health care almost out of reach for millions of Americans, and where your ability to access abortion is still determined by where you live, how much money you make, and in this country that effectively also means the color of your skin," Alexis McGill Johnson, president of the Planned Parenthood Action Fund, said in a statement emailed to Bustle. "We will not back down from this fight, and we will not let politicians interfere with our ability to control our own bodies, lives, and futures."
This article was originally published on