The U.S. Post Office Is Launching Ice Cream Stamps — And They're Scratch-And-Sniff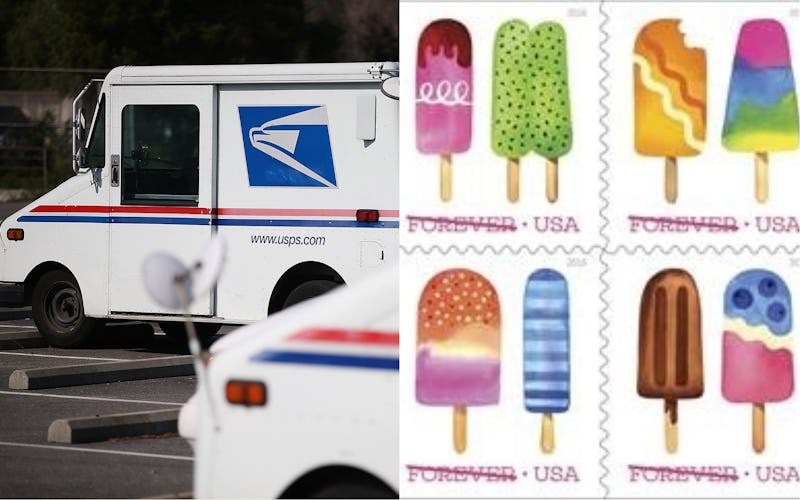 Justin Sullivan/Getty Images News/Getty Images; 2018 USPS
Once upon a time, when stickers were the currency of the playground, scratch-and-sniff stickers fell somewhere between holograms and puffies (though they didn't rank nearly as high as oilies, which were top dollar). For the most part, in adulthood, scratch-and-sniff is relegated to perfume ads in magazines — UNTIL NOW, that is. Indeed, the US Postal Service says they'll be launching a scratch-and-sniff ice cream stamp collection, which is sure to brighten up all the mail that gets stolen from my lobby each week.
According to a press release from the US Postal Service on Monday, the service will introduce its new collection, "Frozen Treats Forever," on June 20. The 20-stamp booklet consists of ten different illustrated, colorful frozen fruit and ice cream popsicle drawings, all showcasing the work of artist Margaret Berg. The Postal Service plans to officially launch the booklet at Austin's Thinkery Children's Museum next month, though you'll be able to preorder your collection on the Postal Service's website sometime before that.
The FOREVER stamps are lovely to look at, and considering Berg's CV, that's not super surprising. Berg, who hails from South Africa, studied art at the Otis College of Art and Design in Los Angeles, and has since lent her talents to brands like Godiva, Papyrus, Robert Kaufman Fabrics, International Greetings, American Greetings, and Penguin Books, to name a few. (Do note that the stamps themselves were designed by Antonio Alcalá and Leslie Badani, though they feature Berg's work.)
The Postal Service says they picked ice pops because of their very American association to summer:
Today, Americans love cool, refreshing ice pops on a hot summer day. The tasty, sweet confections come in a variety of shapes and flavors.
Ice pops are made by large manufacturers, home cooks and artisanal shops. In recent years, frozen treats containing fresh fruit such as kiwi, watermelon, blueberries, oranges and strawberries have become more common. In addition, flavors such as chocolate, root beer and cola are also popular. Some frozen treats even have two sticks, making them perfect for sharing.
It's not clear from the Postal Service's release what exactly the stamps will smell like, but you can assume, based on the illustrations, that they'll evoke some fruit scents (I spy kiwi, watermelon, orange, and strawberry) as well as at least one chocolate-looking pop, maybe a blue raspberry ice (confusing, as raspberries are never blue) and perhaps even a Creamsicle. Summer has so many good scents!
The Postal Service has had some pretty good stamps over the years, including a Disney Villain collection — featuring, among others, Scar from The Lion King, the Snow White and the Seven Dwarfs Queen, Gaston from Beauty and the Beast, Captain Hook from Peter Pan, and, duh, Ursula — in addition to stamps featuring Sally Ride (America's first woman in space), John Lennon, Lena Horne, and the one-and-only Mr. Fred Rogers.
Still, you couldn't smell any of those stamps (which, in all fairness, is maybe for the best), and these frozen treat babies will allegedly transform each electric bill into a delicious, chocolate/fruit perfume. It's a lot better than the summer scents you might actually be used to, which include (but are not limited to) hot garbage, hot dog poop, hot dog pee, hot human pee, armpit sweat, back sweat, a half-empty wine glass my roommate left on the counter for three days, spilled milk SOMEWHERE, and a squashed cockroach, which you may think does not smell but it definitely does, especially when it is hiding behind your toilet.
There are also some very good smells, like freshly cut grass, chlorine, and the beach. Just some inspo for future summer stamps, in case this is the start of a new trend for you, Postal Service.