Trump's Favorite Fox News Host Will Be In Singapore For The North Korea Summit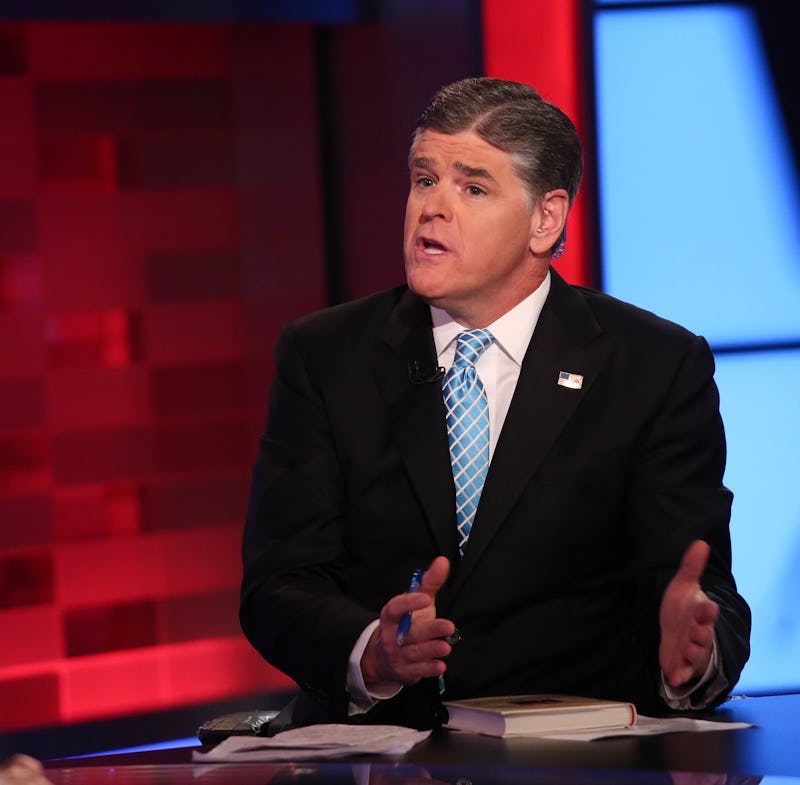 Rob Kim/Getty Images Entertainment/Getty Images
When President Donald Trump goes to Southeast Asia next week to meet with North Korean leader Kim Jong Un, he'll have some of his favorite pundits in tow. Fox News host Sean Hannity will be in Singapore for the North Korea summit, along with former White House advisor Sebastian Gorka.
The summit will begin next Tuesday in Singapore — considered to be a "neutral" country for the two parties — on Sentosa Island. According to The Hollywood Reporter, Hannity will be there from Monday to Wednesday and record his show on location over those three days. Although only one day of talks has been confirmed for the meeting, U.S. officials have reportedly made a contingency plan in case the discussions go well and continue into Wednesday.
Gorka told Fox that he will also be at the summit. "I'm delighted to go with Sean Hannity and his team," he said on Wednesday. "We will be there on the ground reporting for Fox and Fox Business."
Hannity and Gorka won't be present for the actual talks between Trump and Kim — they'll just report on them. It's certainly conceivable, though, that Trump will take advantage of their presence in Singapore to personally debrief with them. It's been reported that Trump often calls Hannity multiple times a day, including before going to sleep "to decompress."
Gorka also had a good relationship with the president while serving as his deputy assistant, a job he held until he left the White House last August (he claimed that his departure was voluntary, while the administration said that he was forced out). Gorka was a close ally of Steve Bannon's and helped defend the most anti-immigrant, anti-Muslim aspects of Trump's policies. Now he works as a Fox News contributor.
Several other Fox journalists will be in Singapore, according to a press release from Fox News. Chris Wallace, Bret Baier, John Roberts, Rich Edson, and Ed Henry will all be there. Wallace, a journalist who does not have personal ties to President Trump, will also be covering the North Korea summit for Fox. Wallace hosts the talk show Fox News Sunday every week; this Sunday he'll do so from Singapore.
We don't yet know the exact list of government officials who will accompany Trump to the talks, but many members of a U.S. delegation, including the White House's deputy chief of staff, Joe Hagin, are already on the island to prepare.
And the preparations are numerous. The New York Times reported that diplomats need to plan every aspect of the meeting in infinitesimal detail, including where the leaders will sit around the discussion table, which drink should be used for toasts, and who will pay the bills at the Capella Hotel (where the summit will be held on Sentosa Island).
One person who reportedly isn't sweating the details as the summit approaches is Trump himself. The AP reports that he is eschewing "detailed briefing books" for "limited preparation and instinct." However, The Hill reports that he is getting some sort of daily briefing on North Korea.
Although the summit now seems likely to move forward, Trump surprised the world by temporarily canceling it on May 24, apparently because of harsh statements that North Korea had made about Vice President Mike Pence (an official called him a "political dummy" and said that some of his recent remarks were "stupid" as well as "unbridled and impudent"). Eight days later, the president met with North Korean deputy Kim Yong Chol and announced that the meeting was back on.
Hannity heaped praise on Trump throughout that process. According to Hannity, the North Korea situation has been "seeing significant progress that is great for the world" thanks to the president's strategy of "peace through strength." He's likely to keep delivering pro-Trump takes on the ground in Singapore.