People Are Trolling Sean Spicer On Venmo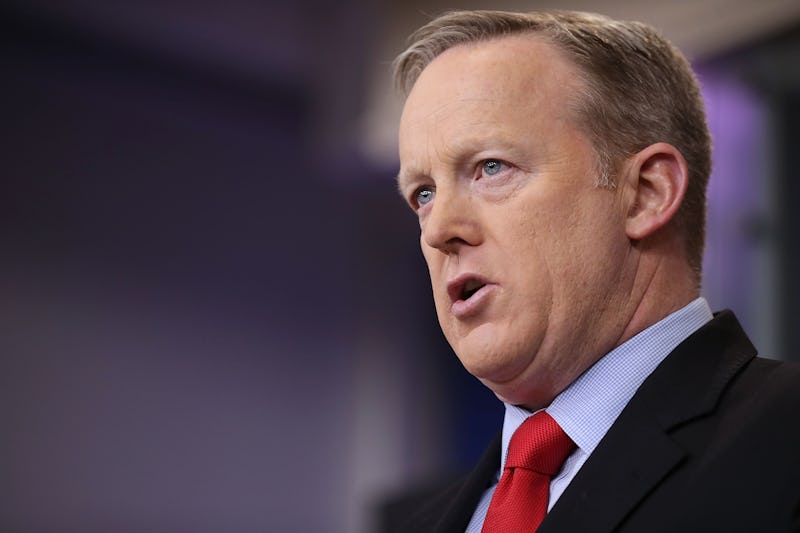 Chip Somodevilla/Getty Images News/Getty Images
If you have any remorse to spare for any member of the Trump administration right now, let it be hapless press secretary Sean Spicer. Sure, he may have willingly (and aggressively) leapt into his role as Team Trump's mouthpiece with zeal, telling some angry and decidedly amusing falsehoods in his very first statement in the briefing room, but he's also under immense pressure ― from his boss, from the writers of Saturday Night Live, and of course, from Melissa McCarthy. And now, Sean Spicer's public Venmo profile has been discovered, and he's getting absolutely roasted over it.
Spicer, 45, has had a pretty rough go of the press secretary gig so far, clearly torn between trying to appease the sometimes unmanageable demands of the president ― like insisting an identically angled aerial photo of Trump's inauguration only looked like fewer people attended than Obama's first one.
The performance vaulted Spicer into infamy and mockery on social media, a situation that's only been furthered by McCarthy's virtuoso performance on SNL last week. Which is why when someone stumbled upon what appears to be Spicer's Venmo account, it was obviously what was going to happen next. Time for some jokes, everyone.
To Help Me Calm Down
I Want This Money, Period
The Popular Vote
Destroying My Psyche
Soros Didn't Pay Me
And, in what seems like an ill-considered move, Spicer has apparently actually denied some of these requests. First of all, wow, how rude for a public servant charged with interacting with the press and being the administration's public face. But second of all, he's ignoring one of the cardinal rules of getting trolled ― never let them see you sweat, Sean!
Now, it's clear enough not just that he's been inundated with payment requests (some people have even paid him cents to crack a joke), but that he's seeing all of this, too. Of course, he could just be denying the requests without reading them. But if you're Venmo-pranking Sean Spicer, the next best thing to him paying you that $100,000 you're asking for is him affirmatively denying your request.
Cat Counseling Payment DENIED
Deals Payment DENIED
Salary For Being A Mouthpiece Payment DENIED
First Amendment Rights Payment DENIED
Needless to say, hopefully a valuable lesson has been learned: when you're charged with being the press representative for an unprecedentedly unpopular first month presidential administration, keep all your profiles set to private. And maybe pick a profile image that's a little more neutral, and a little less glowering.