See Everything In The Zayn x Versus Versace Collection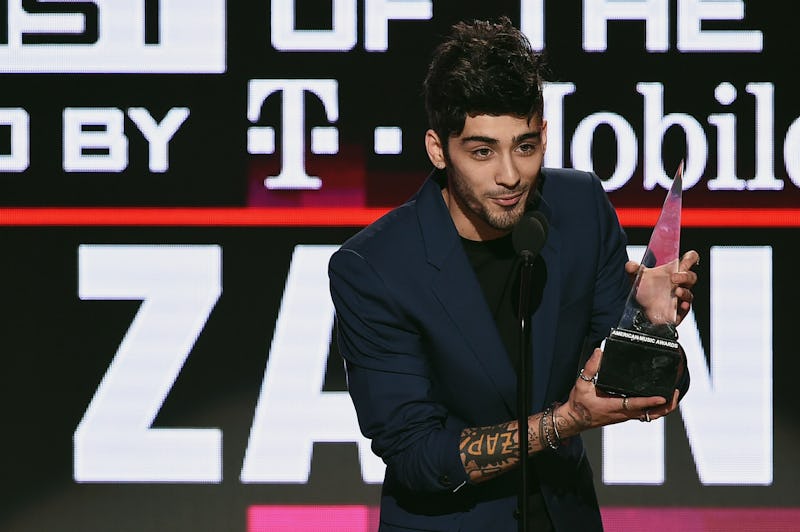 Kevin Winter/Getty Images Entertainment/Getty Images
Zayn Malik is not only on the brink of musical superstardom, but he is also a budding fashion icon. Ever since the former One Direction member announced a joint project with Versace, we have been (im)patiently waiting to check out the designs. Well, today is finally the day! See everything in the Zayn x Versus Versace collection, because it's just as awe-worthy as you had probably expected.
We first learned of the artist's fashion venture back in October of 2016, and after endless months of anticipation, the line has finally landed on the brand's website. As you might have expected, the range is quite edgy, including leather jackets, lace-up denim, and lots of athleisure. The line appears to be inspired by Malik's personal style as well as his girlfriend Gigi Hadid's.
Speaking of Hadid, the Versace project is obviously a family affair. Malik has selected Hadid's little sister, Bella, to promote the collection. Not only is Bella the younger sibling of his significant other, she is also one of the most successful and in-demand models right now, so I totally get why she got the part.
Given that Versace is a renowned luxury fashion house, Malik's collection is priced accordingly. A leather biker jacket will run you $1,475, while others a printed crop top is $250. I'll definitely be breaking out my piggy bank for this one. Check out every single piece in the Zayn x Versus collection.
Tops
ZXV Long Sleeve Crop Top, $250
This is such a versatile piece.
ZXV Triangle Bralette, $225
The adorable bra top comes in black, as well.
ZXV Printed Crop Top, $250
Obsessed with this graffiti-like print.
ZXV Versus Graphic T-Shirt, $225
Graphic tees are always a good idea.
ZXV Chevron Long Sleeve Top, $375
This item can totally be unisex.
ZXV Versus Logo T-Shirt, $175
Also available in white, this is one of the least expensive pieces in the collection.
ZXV Printed T-Shirt, $225
If you look really closely, you'll see that this print reads "ZXV," a.k.a. Zayn x Versus.
Zayn x Versus T-Shirt, $175
You can never have too many t-shirts.
ZXV Versus Graphic T-Shirt, $225
Totally digging this matching his-and-hers logo tee.
Bottoms
ZXV Lace-Up Eco-Leather Pants, $675
Need. This. Immediately.
ZXV Nylon Track Pants, $275
The chicest sweats I have ever seen.
ZXV Sweatpants, $325
Love the pocket detail on these basic black sweatpants.
ZXV Active Pants, $275
Your leggings just got a major upgrade.
ZXV Printed Mini Skirt, $250
I need these matching co-ords in my life.
ZXV Lateral Lace-Up Denim Skirt, $350
Lace-up denim is my favorite kind. The best part is it comes in leather, too.
ZXV Scuba Pants, $395
Leggings that look like pants?! Yes, please.
ZXV Distressed Jean, $325
This totally looks like something Malik would wear.
Jackets & Sweatshirt
Zayn x Versus Eco-Leather Biker, $1,475
Gimme.
ZXV Patch Nylon Bomber, $950
This bomber is everything.
ZXV Nylon Bomber, $1,025
One for bae, too.
ZXV Logo Zip Hoodie, $395
This sweatshirt matches those plain black sweats perfectly.
Zayn x Versus Eco-Leather Biker, $1,550
So dope.
ZXV Zip Active Jacket, $650
It's like shopping in Malik's closet.
ZXV Printed Sweatshirt, $275
This is my favorite design in the whole collection.
ZXV Lace-Up Denim Jacket, $675
The two-piece look is giving me serious Bella Hadid vibes.
ZXV Printed Sweatshirt, $350
Many of these items can definitely be unisex.
ZXV Distressed Denim Jacket, $525
There's a full on denim suit for both men and women.
ZXV Canvas Graphic Parka, $1,350
Is anyone else feeling a Yeezy resemblance?
ZXV Versus Graphic Hoodie, $375
Super vintage-y inspired.
ZXV Bomber Trench, $1,075
This midi version of the classic bomber is really unique.
Dresses
ZXV Scuba Mini Dress, $450
The hemline totally makes this dress.
ZXV Triangle Top Dress, $395
You need this mini dress in your closet.
ZXV Lateral Lace-Up Mini Dress, $1,325
Lace-up detail is a common theme in this line.
Accessories
ZXV Adjustable Patch Cap, $175
This sleek cap is great for any season.
ZXV Patch Waist Bag, $295
The fanny pack is definitely back in style.
ZXV Patch Backpack, $425
So is patchwork.
The full Zayn x Versus collection is currently available on Versace.com.