See 'On The Basis Of Sex' Early In New York For The Ultimate Lesson In RBG's Epic Story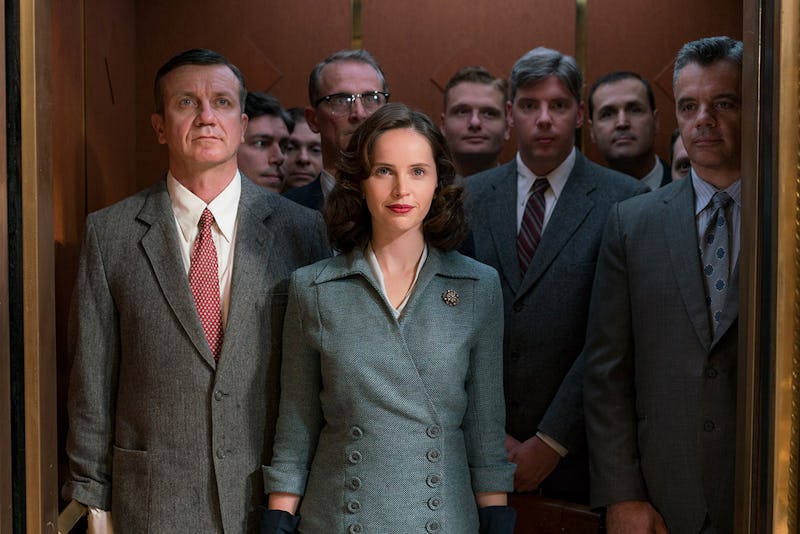 Focus Features
For the past 25 years, Justice Ruth Bader Ginsburg has sat on the U.S. Supreme Court, ruling on monumental cases like United States v. Virginia (struck down universities with all-male admissions policies) and Obergefell v. Hodges (granted same-sex marriage in all 50 states). Before she was Supreme Court Justice Ginsburg, the now-85-year-old put her stamp on history in cases and circumstances that changed the landscape for sex equality, shaping the rights and the opportunities we have today. Due to her impact, Ginsburg has become a beacon of feminism and equality — not to mention, the face of many a parody prayer candle — in recent years, which in 2018 alone has led to a documentary, which came out in May, and the upcoming Focus Features film On the Basis of Sex, which hits theaters Dec. 25.
The upcoming film stars Felicity Jones as Ginsburg and Armie Hammer as Ruth's husband and legal partner, Marty. Other big names are also in the film, including Justin Theroux, Jack Reynor, Cailee Spaeny, and Kathy Bates. The film tells the story of of Ginsburg's adult years as a young attorney and mother, facing inequality and discrimination throughout her career. The film was written by Ginsburg's nephew, Daniel Stiepleman.
In the film, Ginsburg and her husband take on a case that shaped the future for sex discrimination cases that came after. The Charles E. Moritz v. Commissioner of Internal Revenue case in 1972 opened up a conversation around discrimination, even though the subject of discrimination in this instance was a man who was denied a caregiver tax deduction as a single male in Colorado.
The film also shows the discrimination faced by Ginsburg herself, and how she prevailed over it. She was one of nine women to enter her class of 500 people at Harvard Law in 1956, and she struggled finding a job out of law school due to being a woman, according to The Washington Post, despite being the top of her class. But, in the face of all of this, she became the first female professor to get tenure at Columbia University in 1972, and later became the second appointed female U.S. Supreme Court justice in 1993.
Ginsburg continues to impact the social and legal rights of the nation — while also maintaining her status as a pop culture star — which is why there seems to be no better time to celebrate all of her accomplishments over the course of her career. That's why Bustle is teaming up with Focus Features to invite readers and fans to a special screening of On the Basis of Sex on Dec. 11 in New York City.
The screening takes place at AMC Loews Lincoln Square 13 at 6:30 p.m., and is free — all you have to do is RSVP here and mark it in your calendar. Seating is limited and the event is first come first served, with doors opening at 5:30 p.m.
So come and join us for the movie, and learn just how much of an impact Ruth Bader Ginsburg's life and career has had on so many. You may think you know the Supreme Court justice through headlines and a certain SNL actor's tattoo, but Ginsburg's accomplishments go beyond anything a quick tweet or blurb may hint at, and On the Basis of Sex is here to share how her story has made history.