These Pics Of Selena Gomez & A Young Fan Bonding Over Their Kidney Transplants Are So Moving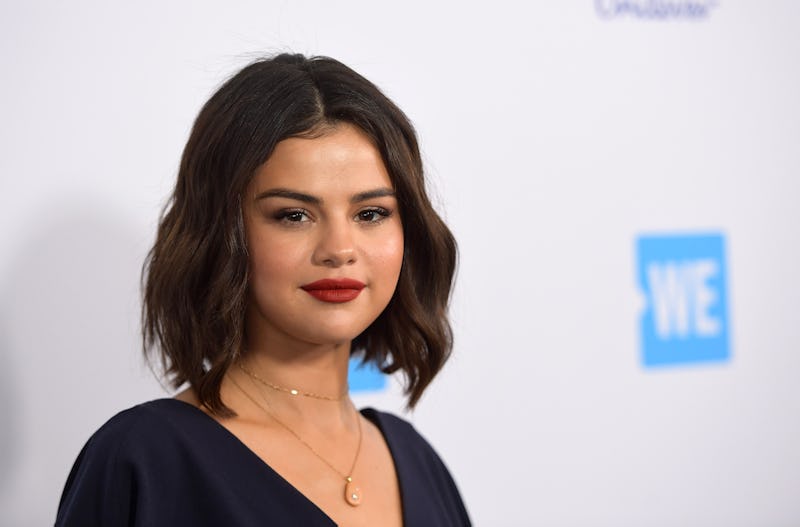 Matt Winkelmeyer/Getty Images Entertainment/Getty Images
This year's WE Day featured a particularly sweet moment between Selena Gomez and one of her littlest fans. As E! News reported, Selena Gomez and a young fan bonded over their kidney transplants onstage at the event. The singer took the WE Day stage to discuss her own kidney transplant experience and to introduce one of her fans, a young girl named Nellie Mainor. Gomez first said, "Last year I had a kidney transplant and it was weird. It was weird but hard."
She then explained to the crowd that Mainor had also gotten a kidney transplant, just like her. While Gomez underwent a kidney transplant because of complications from lupus, Mainor has a rare kidney disease, which led to the procedure, as E! News noted.
Their shared experiences allowed the two to bond while at WE Day. As she introduced her young fan, Gomez revealed that she was actually a big fan of Mainor's. "Do you know how much I've admired you these past couple of days?" she asked. The two shared a hug after Gomez's kind words. The "Same Old Love" singer then said to Mainor, "Hold my hand. I'm needy!" before the two held hands together onstage
Gomez also wrote about Mainor on Instagram in a tribute to her and the event as a whole. And the singer's message is nothing short of moving. She wrote, in a caption for the post that featured a snap of Gomez and Mainor together, "This is Nellie. She's fearless and is wanting to spread awareness about kidney diseases."
In her post, she also described how in awe she was of the amazing work that other WE Day honorees were doing, and noted that this was her sixth year attending the event. Gomez wrote, "my sixth year doing this incredible show. They have such a force of young people that are doing so much for their communities and the world."
What is WE Day, exactly? According to the foundation's website, WE Day is a celebration in honor of young people everywhere who are making a difference in the world. While the WE movement is an ongoing one throughout the year, WE Day is a particular event held once every year in multiple locations around the world. The event features famous speakers and the movement's honorees as they come together to "kick-start another year of inspiration."
Considering how recently Gomez's kidney transplant occurred, sharing this WE Day with Mainor must have been particularly moving for her. The singer first revealed in September 2017 that she had undergone the procedure in an emotional post on Instagram. She told her fans that there was a reason why she had a low-profile during the summer. "So I found out I needed to get a kidney transplant due to my Lupus and was recovering. It was what I needed to do for my overall health."
Gomez then went on to thank her friend, Francia Raísa, who was the one to donate her kidney. The singer's entire statement honoring her friend's choice was just so beautiful. "She gave me the ultimate gift and sacrifice by donating her kidney to me. I am incredibly blessed. I love you so much sis."
Gomez and Raísa later went on the Today show in October 2017, where they discussed their procedures and expressed exactly how dire the singer's health situation was. The "Wolves" singer told host Savannah Guthrie during the interview, "My kidneys were just done." She went on to say, "That was it, and I didn't want to ask a single person in my life. The thought of asking someone to do that was really difficult for me." But, the process worked out and Raísa was a match for the kidney donation. As both women described though, the process was definitely not an easy one recovery-wise.
Gomez has been through so much with her journey through battling lupus and undergoing a kidney transplant. And it was so moving to see her bond over that undoubtedly difficult experience with one of her fans during the WE Day celebration.
This article was originally published on