Selena Gomez & The Weeknd Are Instagram Friends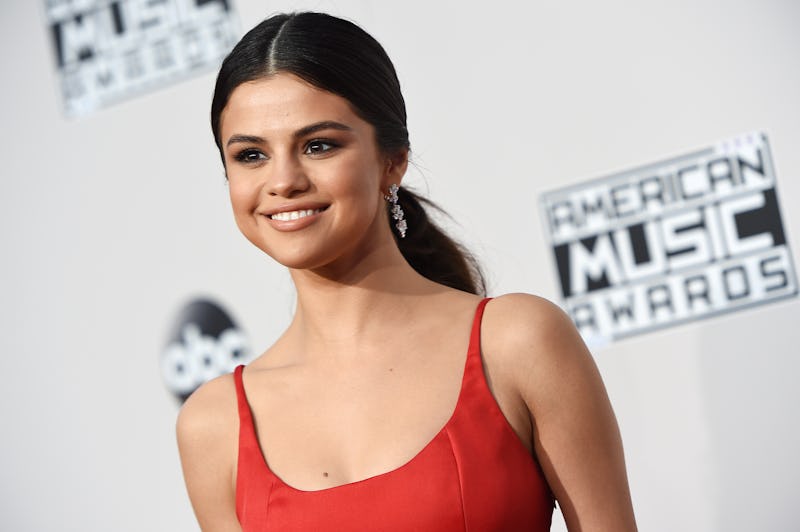 VALERIE MACON/AFP/Getty Images
Except for a little PDA captured by paparazzi on Jan. 10 outside Giorgio Baldi, an Italian restaurant in Santa Monica, Selena Gomez and The Weeknd have kept their alleged relationship mostly off the radar. In fact, before said PDA, nobody knew the former Disney star and the soulful singer might be a pair. Since the twosome was spotted, there's been all sorts of speculation about the nature of their relationship. However, if these two are together they are not being particularly forthcoming with details — which is, of course, their right as human beings who may or may not be newly in love. But for those Weekena (couple name, yes or no?) 'shippers out there, Selena Gomez and The Weeknd are now following each other on Instagram, which could totally a subtle nod to their relationship. Right? Maybe?
Gomez isn't the only one who is newly following the artist behind Starboy. Us Weekly reports that Gomez's cousin Priscilla DeLeon also follows The Weeknd. Of course, DeLeon could just be a huge fan of The Weeknd's sweet-as-honey voice, but at the same time the move could be seen as something more — dare I say family approval? Gomez and The Weeknd, whose real name is Abel Tesfaye, have worked together before, both appearing at the 2015 Victoria's Secret Fashion Show, so DeLeon could simply just be a little slow with her following-her-cousin's-fellow-artists game.
In more seemingly couple-y news, Gomez and The Weeknd were spotted out with friends French Montana and Jaden Smith on Wednesday, Jan. 25 at Dave & Buster's in Hollywood. An onlooker described the event to E! in a warm way claiming, "[Selena] seems very at ease with him and you can still see the stars in her eyes. They are clearly smitten!" Going to an PDA-heavy dinner together is one thing, but hanging out with mutual friends? That's traditionally a whole 'nother relationship level. Paparazzi caught the couple (?) holding hands as they strolled out of D&B casually at 3 a.m. looking sleepy, but also potentially in love, I suppose?
The Weeknd and Gomez have been running in similar circles for awhile as he used to date Bella Hadid, part of Taylor Swift's squad, so their friendship isn't really a surprise. Whether or not this seemingly romantic collaboration is just a couple of friends with benefits having a good time or a serious relationship, only time will tell. For now, let's all be happy for the two of them, because doesn't Gomez look so happy? It's nice to see.