Selena Gomez Just Got SO Honest About Her Depression & Anxiety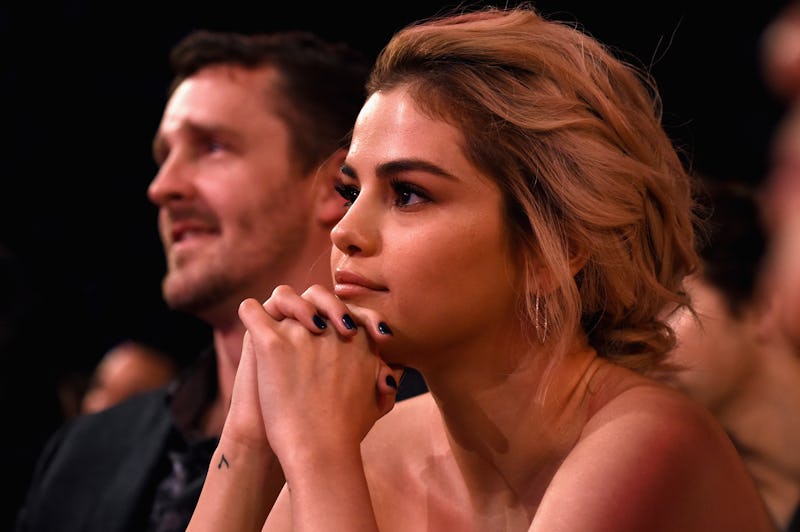 Michael Kovac/Getty Images Entertainment/Getty Images
She's never shied away from discussing her struggles with mental health, but in a recent interview for Harper's Bazaar, Selena Gomez said that she may never overcome her anxiety and depression — and that's totally OK. The singer was interviewed by Katherine Langford —  the lead in 13 Reasons Why, which Gomez produced — and the two stars covered a lot of ground. But one question from Langford, in particular, prompted an especially insightful response.
After Gomez opened up about fashion (her first big purchase was a Louis Vuitton laptop bag), female role models (Meryl Streep, Grace VanderWaal, Amal Clooney), and fast-food chain, Chili's (she loves the chips and queso), Langford posed one final question: "Do you think 2018 will be a better year than the one we just had?" Given how general the question is, Gomez could have easily offered something mundane along the lines of, "I sure hope so!" or "It can't get much worse!"
Instead, Gomez took Langford's question and ran with it. She immediately opened up about her mental health, and emphasized it as her first priority — not just in 2018, but for the rest of her life. "I'm going to say yes [2018 will be a better year] because I believe that for myself," she said. "And anyone who knows me knows I will always start with my health and my well-being."
Gomez then went on to admit something in a way that's she's never really done before. She said that her mental health issues — anxiety and depression, in particular — will be something that she struggles with for the rest of her life.
"I've had a lot of issues with depression and anxiety, and I've been very vocal about it," Gomez said, "but it's not something I feel I'll ever overcome. There won't be a day when I'm like, 'Here I am in a pretty dress — I won!' I think it's a battle I'm gonna have to face for the rest of my life, and I'm okay with that because I know that I'm choosing myself over anything else."
On Feb. 1, The Blast reported that Gomez had recently completed a two-week treatment program for anxiety and depression at a facility in New York. Gomez didn't confirm this news (Bustle reached out to her rep for comment), but she has been open about her struggles with depression in the past. The 26-year-old singer first spoke out about her mental health issues back in August 2016, when she announced in a statement to fans (via People) that she'd be canceling the remaining dates of her Revival World Tour, and taking a much-needed break from the spotlight.
"I want to be proactive and focus on maintaining my health and happiness and have decided that the best way forward is to take some time off," she said. "Thank you to all my fans for your support. You know how special you are to me, but I need to face this head on to ensure I am doing everything possible to be my best. I know I am not alone by sharing this, I hope others will be encouraged to address their own issues."
Gomez attributed her anxiety and depression to lupus, an autoimmune disease for which she's undergone both chemotherapy, and more recently, a kidney transplant. "It is not commonly known that depression, anxiety and panic attacks can be side effects of lupus," Kenneth M. Farber, co-CEO and co-president of the Lupus Research Alliance, explained to People. "We are so proud of Selena for taking care of herself and bringing awareness to this sometimes very misunderstood illness."
After revealing her health-focused intent for 2018, Gomez also spoke candidly about making new music. "My next album has been forever in the making," she told Langford. "When people ask me why, I'm honest about it: It's because I haven't been ready. I mean, point-blank, I don't feel confident enough in where my music is yet. If that takes 10 years, then it takes 10 years. I don't care. Right now I just want to be super intentional with all of the things I'm doing."
So far, so good, Selena. Keep doing what you're doing. But whether she's making new music or taking time off for her mental health, she can rest easy knowing that she'll always have the support of her fans.