Selena Gomez's Hospitalization Shows How Chronic Illness & Mental Health Are Linked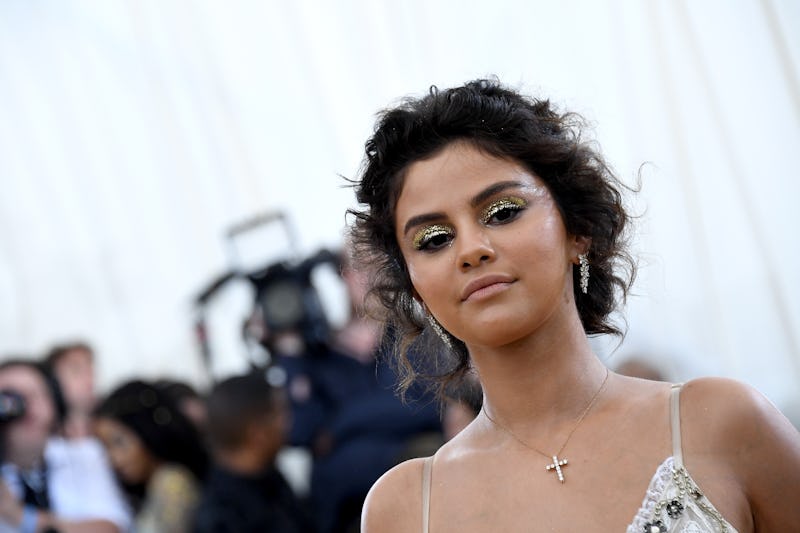 Noam Galai/Getty Images Entertainment/Getty Images
After two hospitalizations related to her ongoing treatment for lupus, Selena Gomez was hospitalized for mental health treatment, according to People. The 26-year-old singer reportedly experienced stress-related panic attacks and an emotional breakdown after receiving a low white blood cell count report, which can be a side effect of a kidney transplant, which Gomez underwent in the summer of 2017 according to People.
Jennifer Behnke, MS, LMFT, LMHC, QS, and Clinical Director at New Perspectives, a Delphi Behavioral Health Group facility in Boynton Beach, Florida, tells Bustle that this reaction to the stress of chronic illness is not uncommon. "Being constantly sick is stressful, overwhelming, and depressing. Often times, individuals with chronic illnesses cannot function at the level they once enjoyed." Further, Behnke notes, "The negative emotional consequences resulting from chronic illness can be further exacerbated by being in the spotlight. Celebrities are expected to be 'on' 24/7. This is not only draining, but unrealistic."
According to the Canadian Mental Health Association (CMHA), the links between physical and mental health can be profound. While those living with mental health conditions are at risk for developing chronic physical issues, those managing the frustrations of chronic medical conditions also face a higher risk of developing mental health disorders. In fact, for people living with chronic illness, the chances of developing both depression and anxiety are double that of the general population, CMHA says. CMHA further states that both the mind and body are affected by the physiological changes associated with chronic health conditions. But also, the frustrations that can come from dealing with chronic illness long-term can be intense. Economic stress, a lack of adequate social support, and mixed or poor treatment outcomes can be overwhelmingly upsetting at times for people living with chronic conditions.
According to the National Institute of Mental Health (NIMH), it's totally normal to feel depressed or anxious after a health crisis. And managing any type of chronic health condition can be a major source of ongoing stress. It can be mentally draining and emotionally painful to cope with symptoms. And dealing with limitations in terms of functioning can be a source of sadness for many people. "Watching time pass by and others having fun can make one feel isolated and alone," Behnke says. "Such emotions further deteriorate one's mental well-being and determination to fight the illness."
The NIMH further notes that anxiety and depression may resolve if the chronic physical condition improves, but even if it doesn't, these mental health conditions are still treatable. Treatments can include cognitive behavioral (talk) therapy (CBT), which can help change negative thoughts or thinking patterns. Other types of therapies — like support groups — may also be helpful, according to NIMH.
People reported that Gomez would be undergoing Dialectical Behavioral Therapy (DBT) as she recovers. DBT helps patients accept "uncomfortable thoughts, emotions, and behaviors instead of struggling with them," according to the National Alliance on Mental Illness (NAMI). According to Behnke, DBT can help in treating mental health issues that stem from managing chronic illness as "it provides practical skills one can implement to stay grounded."
Ultimately, Gomez's openness to destigmatizing her chronic condition, as well as the mental health issues she's experienced as a result, can open the door to more conversations about how everyone is affected by chronic illness. "Not only would a more realistic viewpoint of celebrities help them feel supported and capable of being themselves," Behnke says, "but it would normalize difficulties for the rest of us."