Selena Gomez's Mom Shared The Cutest, Sassy Throwback Video Of The "Back To You" Singer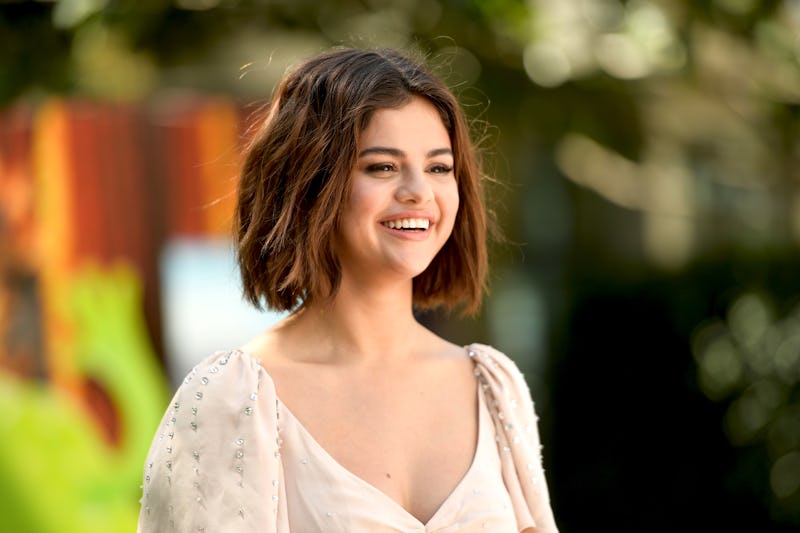 Matt Winkelmeyer/Getty Images Entertainment/Getty Images
Selena Gomez has always been talented, and a recently resurfaced video proves that fact in a super cute way. Mandy Teefey, aka Gomez's mom, shared a video of Selena Gomez as a child, and it's clear she's had a flair for the dramatic side of things since way back when.
In the Instagram video, which was apparently filmed in August 1997, a young Gomez is on the phone with her mother, describing her day at school. It doesn't sound like it was a good one either, based on Gomez's facial expressions in the clip.
"My teacher said I gotta do all the stuff again," an exasperated Gomez says into the phone in the clip. "I gotta do it by myself." It's not clear what Teefey is telling her daughter on the other end of the video, but Gomez only gets more frustrated as the clip goes on. It's hard to believe this isn't a performance, honestly, because it's all so perfect. Gomez stands up from the couch, moves her hands to express her frustration nonverbally, and puts her hand on her hip.
It's not clear who filmed the video, but Teefey wrote in the caption that her daughter has always been "sassy" and "independent." She wrote:
"@selenagomez talking to me on the phone when I was at work asking about her day at school. My sassy, independent, boss lady, adorable gigantic piece of my heart, first born love. Gracie is exactly like this. Diabolical. XO. My girls are born leaders. Why do they grow up? Her sweet little eyes and massive eyelashes."
Plenty of fans commented on Teefey's Instagram post about how sweet the video is. Along with plenty of heart, hugging, and crying face emoji, there were comments praising the young Gomez's attitude. "Your girls are just complete bosses at everything," one person commented. "A sassy bosslady from the beginning," another person wrote.
Gomez clearly had a passion for drama at a young age, so it's no wonder that she became such a big-name star. In her Wizards of Waverly Place audition, which took place when Gomez was just 11, Gomez's dedication to acting and drama is already clear. She was definitely talented from the start, and her mom recognized that, too.
In the Disney Channel audition video, Gomez reads a scene about stealing a goat. Her eye rolls and hand gestures are so spot on — she's doing way more than just reading the script. The character seems to have a bit of sass, too, just like Gomez apparently did when she was younger, based on Teefey's clip. At that point, she wasn't an industry veteran yet — at one point, Gomez doesn't realize the producer offscreen is asking her to start the scene over again. But her talent is super clear from the video, and it's no wonder she landed the starring role in the Disney Channel show.
These days, Gomez seems more focused on her music career and on producing Netflix's 13 Reasons Why, though she is bringing back her voice acting skills for the upcoming Hotel Transylvania 3. But still, these throwback videos are a fun reminder that Gomez always had a knack for acting, too. (Even if, in the case of the video Teefey shared, she wasn't necessarily acting at the time.)
Fans may not know why Teefey chose to release the vintage clip of her daughter now, but it seems to have brought joy to plenty of people, based on fans' response to the clip. Gomez was always destined for greatness, even if she had to redo that school assignment back in the day.