Selena Gomez's Mom Was Hospitalized After Getting "Worked Up" About Justin Bieber — REPORT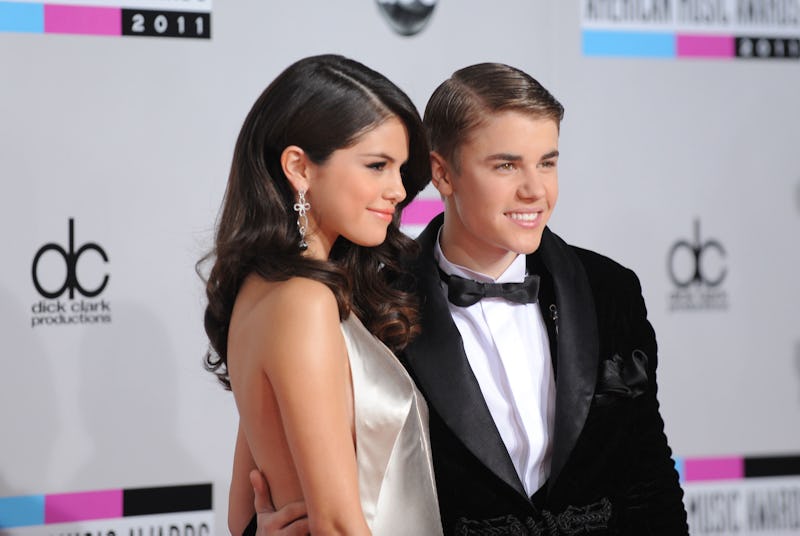 Jason Merritt/TERM/Getty Images Entertainment/Getty Images
A new report from TMZ claims that Selena Gomez's mother, Mandy Teefey, was hospitalized sometime in December. The publication reports that the supposed hospitalization was due to her daughter's reunion with Justin Bieber. Although, neither Gomez nor her family has confirmed these reports, it sounds like a tough situation if it is indeed true. (Bustle has reached out to Teefey and a rep for Gomez about the report but has not received a response at the time of publication.)
According to TMZ, Teefey was unaware that Gomez and Bieber's relationship had gotten serious (the publication reports that the young couple are in couples' counseling). After she realized that the pair may be together for some time, she reportedly got "so worked up" that a family member called in for a welfare check. TMZ reports that she was then voluntarily transported to a local hospital for treatment but was released the same day.
While, again, this report has yet to be confirmed by Teefey or Gomez, this would follow Gomez and Bieber's highly publicized reunion in late October. The two singers grabbed breakfast, attended church, and hung out together on a couple of different outings, per TMZ. On Oct. 30, it was reported by People that Gomez had officially split from The Weeknd, whom she had been dating for 10 months. After that report, the reunited pair were seen spending more time together and were even spotted kissing at a hockey game. But, as TMZ reports, Teefey wasn't totally on board with the pair's reunion.
This isn't the first time that it's been reported that Gomez's family isn't excited to see her back together with the "Sorry" singer. A supposed family member of "Bad Liar" singer (who was unnamed) told TMZ in October, shortly after the young couple were spotted hanging out again, that, "Justin is a vile human and will never be accepted by us."
In addition to that, according to a People source, Bieber knows that Gomez's family isn't completely on board with their reunion. The source said, "Justin is aware Selena's family is not thrilled they are hanging out. They think he caused Selena a lot of grief." The source continued and said that Bieber's trying to change so that the family will come to accept him as part of Gomez's life.
What exactly happened between Jelena years ago to cause so much reported strife between Bieber and Gomez's family? Well, it's possible that it has something to do with Bieber supposedly cheating on his girlfriend when they first went out in 2010. In a 2015 interview with i-D, the singer himself alluded to this. He said, "You're on the road. And there are beautiful women on the road. And you're just getting yourself into trouble" in reference to what might have caused some issues within their relationship.
It's unclear what truly went down with this pair to end things originally. According to Gomez, it's kind of water under the bridge at this point. She told Refinery 29 in 2015 that she did get her "heart broken" but that, "At this point, there is no anger. There's closure in a very good, healthy way." She continued, "We both made mistakes. That's it." It seems like she was able to put any drama behind her.
There's no way to know if some of the couple's past issues led to some kind friction between Teefey and Gomez, as TMZ's report hasn't been confirmed by Gomez or her family. As of right now, neither Gomez, Teefey, or Bieber have commented on the publication's report either through statements or through social media.