Selena Gomez's New Song Basically Captures Every Dark Emotion That Comes With Having A Crush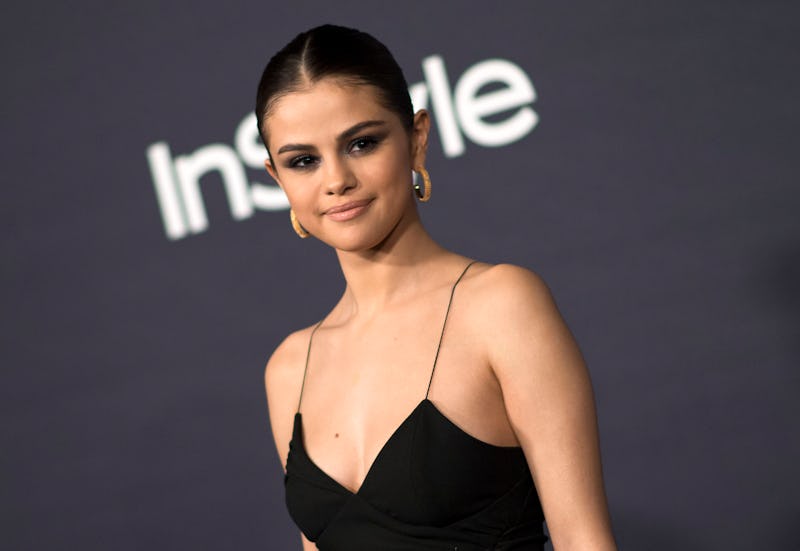 VALERIE MACON/AFP/Getty Images
Selena Gomez's collaboration with the mysterious sweet snack-headed dance producer Marshmello is here, but you may need to sit down. If Gomez's "Wolves" lyrics are anything to go by, this is all the inspiration you need to take that summer fling somewhere more serious. In fact, it's interesting to see a darker, more obsessive version of love and coupledom than we're used to from the "Bad Liar" singer, especially considering the pop melody.
The delicate backing that opens the track initially suggests that the star may be going somewhere intensely vulnerable with her latest song. But then the music eventually builds into an anthemic stomp of a chorus that you might be able to imagine dancing to with your hands in the air in Ibiza. Don't be misled by how danceable the audio is, though. Make no mistake about it, this is a confessional song.
Billboard reported that the singer recently explained in an interview with Apple Music's Zane Lowe that the lyrics are in fact personal, embodying emotions and experiences she was having at the time of the recording. Given that Gomez is currently in a relationship with The Weeknd, whose own vision of romance on albums like Beauty Behind The Madness and mix tapes like House of Balloons has been singularly nihilistic, perhaps "Wolves" isn't much of a surprise. But how perfectly the words summarize the darker side of love might make you feel a little better about how obsessive you got over your last crush. Let's explore.
Verse One
In your eyes there's a heavy blue
One to love and one to lose
Sweet divide, a heavy truth
Water or wine, don't make me choose
I wanna feel the way that we did that summer night
Drunk on a feeling, alone with the stars in the sky
The song starts on the color blue, something that could reference the cover art for "Wolves," which also boasts a blue background. But if this is a direct reference to Gomez's boyfriend, Abel Tesfaye, given the fact that he has brown eyes, it suggests blue here is a metaphor, not a color. There's sadness in his eyes.
There's a feeling that the singer is being pulled in different directions, but it feels like she's pulling back from making a decision with "don't make me choose." The only thing she's craving is a specific feeling from being with her special person on a summer night. It also seems notable that her first reference to intoxication isn't based on the wine she's mentioned earlier, but an emotion — "Drunk on a feeling." Still, it's cryptic. While the obvious conclusion to jump to is that she's drunk on being around someone, the fact that the line ends with her alone "with the stars in the sky" suggests that maybe she's as intoxicated by thoughts of a new romance as by actually being with that person.
Chorus
I've been running through the jungle
I've been running with the wolves
to get to you, to get to you
I've been down the darkest alleys
Saw the dark side of the moon
to get to you, to get to you
I've looked for love in every stranger
Took too much to ease the anger
all for you, yea all for you
I've been running through the jungle
I've been crying with the wolves
to get to you, to get to you
This is where it really gets juicy. There's no fronting anymore: this is a love that's passionate to the point of obsession. The fact that we've shifted from what initially sounded like a pretty chill summer romance to the stuff of Gothic romance novels suggests just how quickly things can change. You might think that perfectly sweet guy you're seeing is just OK, but watch out, Gomez seems to say. You could find yourself falling head over heels if you take this affair further.
Verse Two
Your fingertips trace my skin
to places I have never been
Blindly I am following
Break down these walls and come on in
I wanna feel the way that we did that summer night
Drunk on a feeling, alone with the stars in the sky
OK, at this point, if this is confessional, then it feels like it's Gomez hinting that The Weeknd is taking her places physically that she couldn't even find a map to with previous lovers. But from a more general perspective, the song seems to wax lyrical in favor of two qualities: vulnerability and excess. The verse seems to be about abandoning boundaries and letting people in and the joy of what that can lead to.
So, though the darkness of the lyrics contrasts with the EDM beat, the overall message seems to be not to give up on that seemingly super casual summer romance just yet. If Gomez's above experiences are anything to go by, you're just about to hit the sweetest, wildest spot of all in your new romance.