Twitter Is OBSESSED With The "Selfie Kid" From JT's Halftime Show & Now He's A Meme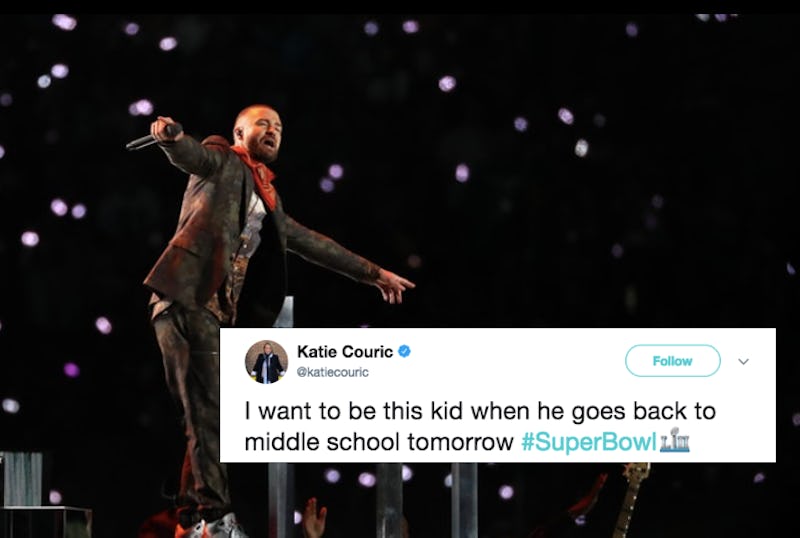 Elsa/Getty Images Sport/Getty Images /@katiecouric/Twitter
Meeting your idols is always nerve-wracking, but meeting one during the biggest sporting event in the United States? That's downright terrifying... for the average mortal. The kid who took a selfie with Justin Timberlake during the pop star's Super Bowl halftime performance, though, must be made of sterner stuff than the rest of us. When Timberlake hopped into the stands as he sang "Can't Stop the Feeling," this kid was unmoved by the power of groovy tunes. He had a goal in mind, and it was to take a selfie with the former *NSYNC legend. Once that was achieved, his attention was totally focused on his phone — and so a halftime meme was born.
For many people, halftime performances are the biggest draw of the Super Bowl, and anticipation for this year's show in Minneapolis was high. But while Timberlake's performance had solid vocals and an appearance by a holographic Prince, it was a little lacking in meme-worthy moments at first. In a closing song medley, however, Timberlake danced his way into the stadium's crowd, and that's where the magic happened. While everyone else was busy dancing along with the pop star, presumably basking in his presence, one kid tried for a selfie. Amazingly enough, he actually succeeded, snapping a picture with Timberlake's arm around his scrawny shoulder.
Without further ado, I present to you the fateful selfie. If society hadn't moved beyond paper photos long ago, I would say it will hang in a place of honor in his home forever. As it is, it might end up as his Facebook cover photo or something. (Is that where the kids post their photos these days?)
Needless to say, people were both proud and all kinds of jealous of this kid. The general consensus? Everyone wants to be him when he gets to school tomorrow. Also, he's a hero of the millennium who deserves to be hailed as such. (His identity is unknown at the moment, but we all know he is now destined to be a guest on Ellen.)
As you can tell, our hero is pretty young — as in, he might not have been born yet when Timberlake was getting his start in a '90s boy band. Several people on Twitter noticed this and decided he must have had no idea who he was taking a selfie with. "When you snag backstage seats but you don't know the lyrics so you have to look them up on your phone," joked one user.
As you may have noticed from the pictures above, Selfie Kid doesn't look all that interested in Timberlake after taking the titular selfie. On top of adding evidence to the theory that he had no clue who the pop star was, it led to all kinds of speculation about what, exactly, he was doing on his phone that was so absorbing he couldn't pay attention to the concert. Theories included texting, bragging on Snapchat, and looking up old photos of Timberlake online. Obviously.
Clearly, Selfie Kid is the greatest Super Bowl meme to come out of a halftime show since Left Shark stole the show during Katy Perry's 2015 Super Bowl performance. (And you know that once you've topped Left Shark, you're a pretty huge deal.)
Luckily for us, we should get to hear all about the experience from Selfie Kid's point of view himself. Provided you're able to pull yourself out of bed early tomorrow to face the post-Super Bowl world, you'll apparently have a chance to see him on Good Morning America and (hopefully) get to hear what was really going through Selfie Kid's head the entire time.
Sure, the Eagles may have come out victorious this Super Bowl, but I think we all know who the true winner is here.