Here's The Face A GOP Senator Made The Moment He Discovered He Insulted Trump On A Hot Mic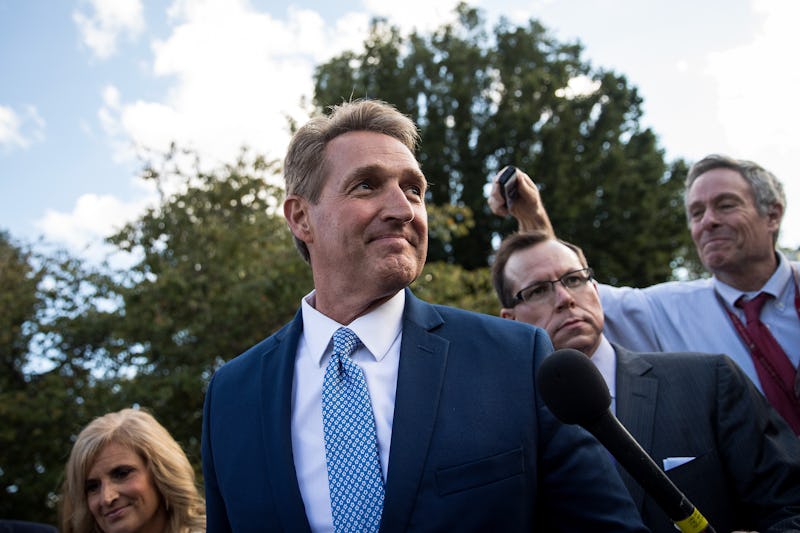 Drew Angerer/Getty Images News/Getty Images
A hot mic caught Arizona Sen. Jeff Flake calling the Republican Party "toast" if it becomes the political party of Donald Trump and Roy Moore, two men who have both been accused of sexual harassment and misconduct by multiple women. Flake was overheard talking about the president and the future of the Republican Party following a town hall on tax reform in Mesa, Arizona on Friday.
"If we become the party of Roy Moore and Donald Trump, we are toast," Sen. Flake was recorded as telling Mesa mayor and fellow Republican, John Giles, via a hot mic belonging to local ABC News affiliate KNXV.
In less than two weeks, nine women have levied allegations of sexual misconduct or unwanted romantic advances against Moore, a former judge currently running as the Republican nominee for Alabama's Senate seat. Among the allegations are claims Moore initiated sexual encounters with 14 and 16-year-old girls when he was in his early 30s. Moore, who is now 70, has denied all of the allegations against him.
As for President Trump? So far at least 16 women have come forward and gone on the record to accuse President Trump of sexual misconduct. Those accusations range from assault, unwanted groping, nonconsensual kissing, sexual harassment, and walking in on women while they were in various stages of undress. Trump has strongly denied these allegations and has called his accusers "liars."
Mayor Giles didn't disagree with Flake's assessment of the Republican Party, but instead appeared to encourage the senator to pursue a presidential campaign in 2020. "I am not throwing smoke at you, but you are the guy — just for fun, think about how much fun it would be — just to be the foil, you know, and to point out what an idiot this guy is," Giles was heard telling Flake, in what appeared to be a reference to President Trump. "Anyway, I hope you do it."
When another gentleman approached the two politicians and alerted Flake to the mic, a look of surprise and realization quickly washed over the senator. However, it's not likely Sen. Flake is too upset about having his comment caught by a hot mic as this isn't the first time he's voiced concern about the direction his party is headed in.
In fact this also wasn't the first time Sen. Flake had spoken out directly against Moore. "There are no words. Other than step aside immediately," Flake wrote in a tweet published to his official Twitter account earlier this week after Beverly Young Nelson became the fifth woman to come forward with allegations against Moore. "Just to be clear. If the choice is between Roy Moore and a Democrat, I would run to the polling place to vote for the Democrat," Flake wrote in a separate tweet published later that same day.
Moreover, this isn't the first time Flake has publicly questioned how his own party has reacted to the allegations levied against Moore. "Come on, Republicans. Is this who we are? This cannot be who we are," Sen. Flake tweeted after hearing reports Alabama Bibb County Republican Chairman Jerry Pow would still vote for Moore even if he did "commit a sex crime" because the only other option is a Democrat.
Flake is also known as being one of the president's most outspoken Republican critics. In August, he released a book that included a strong critic of Trump and of the many senior Republican leaders that have attempted to normalize the president. In October, Flake announced he would not seek re-election in 2018 and charged the president with sundering the country daily through "the personal attacks, the threats against principles, freedoms, and institutions, the flagrant disregard for truth or decency, the reckless provocations, most often for the pettiest and most personal reasons" in a speech announcing his retirement.
While Sen. Flake hasn't explicitly said "no" to inquiries as to whether he'll mount a Republican challenge against Trump in the 2020 election, he hasn't exactly said "yes" either.