These Women Who Work For Trump Have "Sold Their Souls," According To Sen. Mazie Hirono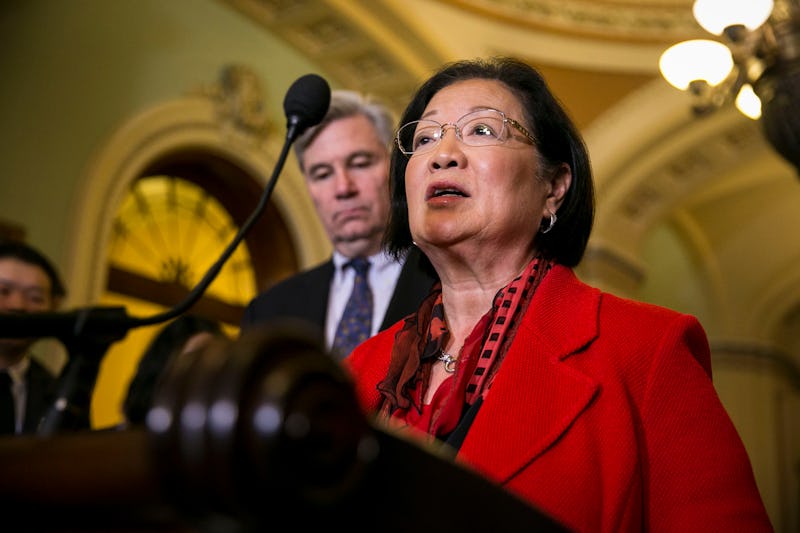 Al Drago/Getty Images News/Getty Images
The Trump administration of separating children from their parents if they attempt to cross illegally at the souther border has provoked strong words from numerous people across the political spectrum, and members of Congress aren't staying above the fray. For example, Democratic senator from Hawaii Mazie Hirono said two Trump employees "sold their souls" to defend the policy and keep working for the president — and she didn't stop there.
In an interview on MSNBC, Hirono discussed the press conference that White House press secretary Sarah Huckabee Sanders and Homeland Security secretary Kirstjen Nielsen gave regarding the family separation policy. MSNBC's Willie Geist mentioned that Hirono had previously called for the resignations of people who lie for the Trump administration, and she repeated that call.
"Well, let's start with the secretary of Homeland Security. She was trotted forward to put … a nice frame to this, calling it 'not a policy', that's a lie," Hirono told Geist. "Sarah Huckabee Sanders lies on a regular basis. All the people around the president who lie for him in order to keep their jobs, they have sold their souls. I would welcome their resignations."
Hirono was referring to a statement from Nielsen on Twitter, in which she wrote that "We do not have a policy of separating families at the border. Period."
Vox noted that while Nielsen's tweet was true in a very narrow sense, it ignores the fact that the separations are happening as a direct result of the Trump administration's new zero-tolerance policy for people arriving at the border without documentation. NPR reported that Nielsen lied about the Trump administration changing the policy and its enforcement and defended it during the press conference as "DHS ... no longer ignoring the law."
As NPR also laid out, though, this was also a false statement, because there is no law that requires immigrant families arriving at the U.S.' southern border without documentation to be separated from each other.
Sanders, as press secretary, has often given out false information, as the Washington Post noted, which she once excused by saying "We give the very best information that we have at the time." On the subject of family separation, she's given out essentially the same false information that Nielsen has spread.
"The separation of illegal alien families is a product of the same legal loopholes that Democrats refuse to close," Sanders said in one press conference. "And these laws are the same that have been on the books for over a decade and the president is simply enforcing them."
Sanders hasn't limited herself to statements like that, however. She also defended Attorney General Jeff Sessions' claim that the policy was supported by the Bible by claiming that "it is very biblical to enforce the law. That is actually repeated a number of times throughout the Bible." This could be more in line with Hirono's comments about Sanders and Nielsen selling "their souls," though, as The Atlantic reported that numerous religious leaders have condemned the policy and its current application.
In her interview, Hirono didn't stop by denouncing the people defending the policy. She also discussed it in very personal terms — as someone who immigrated to the U.S. as a child herself.
"I am an immigrant, and when my mother brought me here I was only about seven years old, and she was our sole supporter. She was working all day, and my older brother and I would wait for her at the bus stop," Hirono said. "I think to myself — you come to this country not having anything, I didn't speak English at all, and I just put myself in the shoes of these little kids. If my mother was taken away from me, I don't know what would have happened to me and my brothers."