This GOP Senator's Last-Minute News Could Seriously Throw Off The Kavanaugh Vote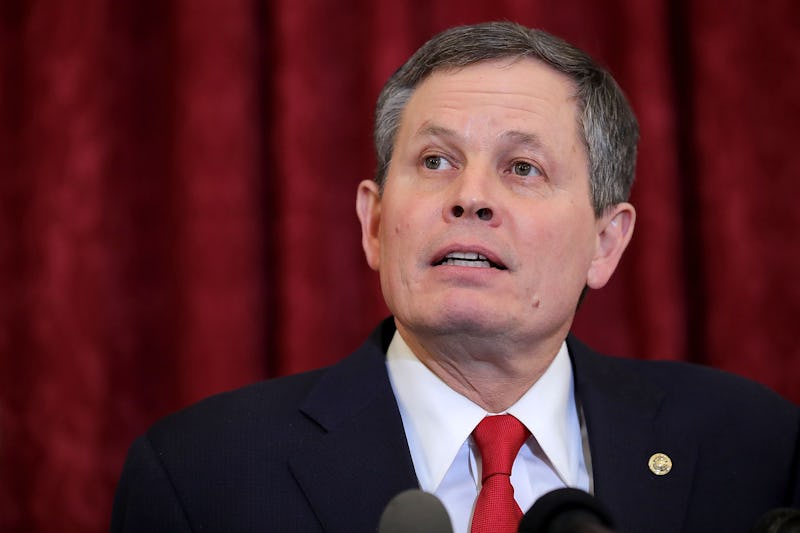 Chip Somodevilla/Getty Images News/Getty Images
It looks like Brett Kavanaugh's path to Supreme Court confirmation might be delayed yet again: Sen. Steve Daines recently said the Kavanaugh vote will have to happen without him if it takes place on Saturday. The reason for this has literally nothing to do with politics. Daine's daughter is getting married in their home state of Montana, and he's made it clear he's not going to miss that. As you might have already guessed, his absence has the potential to seriously impact the Kavanaugh confirmation vote.
According to The New York Post, Daines spokeswoman Katie Schoettler said, "The senator has said there's two things that will happen this weekend: We are going to get a new Supreme Court justice and he'll be walking his daughter the aisle."
Now, the question is whether or not Republican senators believe that they will need Daines' vote in order to confirm Kavanaugh, or if they believe they can get enough votes (over 50) without him. Though it is less than ideal to have a Republican senator not be there for the vote, Daines was never going to be a wildcard for the Kavanaugh confirmation vote: On July 9, shortly after Kavanaugh was announced as the nominee, Daines publicly endorsed him. He hasn't wavered on Kavanaugh since.
Daines' statement of support for Kavanaugh read, "Brett Kavanaugh has an impressive background and excellent experience. I look forward to meeting with the nominee and reviewing his judicial record to ensure we are putting the most qualified justice on the highest court to defend the United States Constitution."
If Senate Majority Leader Mitch McConnell does decide to delay the vote until Daines returns, it might be several days before the vote occurs. Daines has not specified when he will return to D.C. after his daughter's wedding.
If the vote does still occur on Saturday, then it won't be Daines that the American public is talking about: It will be the small handful of Democratic and Republican senators who have remained close-lipped about whether or not they will vote for Kavanaugh. These senators most notably include Joe Manchin (D-W.V.), Jeff Flake (R-Ariz.), Susan Collins (R-Maine), and Lisa Murkowski (R-Alaska).
Sen. Heidi Heitkamp (D-N.D.) was recently undecided, until she announced she would vote against Kavanaugh, saying in a statement, "We need to take the politics out of the Supreme Court as much as possible."
On Thursday, both Flake and Collins gave indications that they were satisfied with the FBI investigation in the Kavanaugh allegations. As for Manchin, a Democrat up for reelection in a red state, he hasn't given a strong indication either way. When a protester confronted Manchin by an elevator on Thursday afternoon and asked him how he could possibly vote for Kavanaugh, Manchin replied, "How do you know I'm going to?"
As for Murkowski, she hasn't given a recent public statement indicating how she will vote for Kavanaugh. She has, however, faced serious pressure from her constituency to vote no. Most recently, she confirmed that she would be reading the full report from the FBI investigation herself, and that she agreed with Collins that Kavanaugh represents no real threat to Roe v. Wade. To reporters on Thursday, she said, "I'm not wasting any daylight, here."