The Senate Blocked The 20-Week Abortion Ban, But Don't Let Your Guard Down Just Yet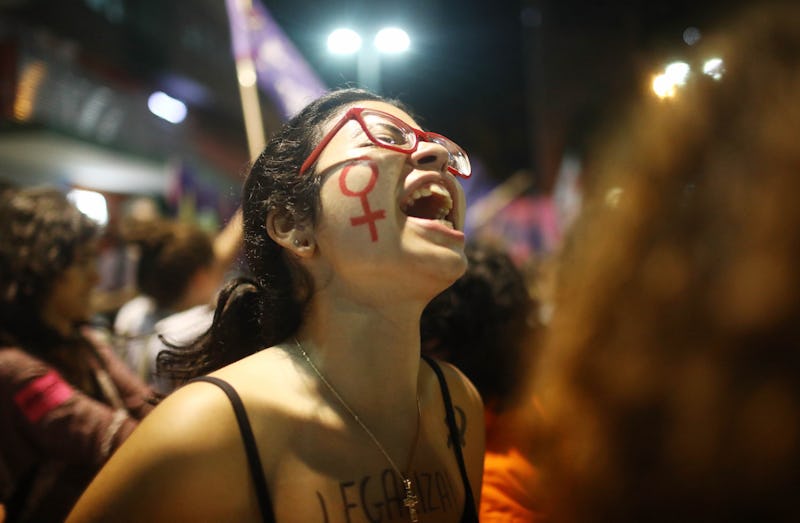 Mario Tama/Getty Images News/Getty Images
On Monday, the United States Senate rejected a 20-week abortion ban by a vote of 51 to 46. However, while the legislation has failed, congressional Republicans have promised to bring it up again in the future — and many states are already leading the way by passing their own abortion 20-week abortion bans.
The bill was sponsored by Senator Lindsey Graham, a Republican from South Carolina. Two Republicans, Senator Lisa Murkowski of Alaska and Senator Susan Collins of Maine, were among the 51 Senators voting against the bill. Three Democrats including Joe Donnelly (Indiana), Joe Manchin (West Virginia), and Bob Casey (Pennsylvania) voted in favor of its passage, though, as The Hill reported. The three Senators are all facing challenging re-election bids in 2018 — and their vote on the bill could play a role in determining their electoral success.
Indeed, as the New York Times noted, the bill was largely seen as a symbolic one designed by Republicans to make Democrats in vulnerable states record their vote on it, potentially hampering their bids for re-election. A similar version of the 20-week abortion ban also passed the House of Representatives back in October, with a vote of 237-189.
While the Senate version of the bill has failed and, thus, the ban will not move forward, Senate Republicans have warned that this is not the last time they will bring up the legislation. According to the Times, Graham, the bill's sponsor, said ahead of the vote:
To those who believe in this issue, we will be back for another day ... You're [the bill's supporters] on the right side of history. You're where America will be. It's just a matter of time before we get there.
Indeed, states across the U.S. are already leading the way when it comes to passing 20-week abortion bans. According to The Hill, 20 states have already passed similar bans, with some lawmakers in those states arguing that the bans are necessary because a 2015 study from the New England Journal of Medicine found that "a small minority of babies" born at 22 weeks were able to survive and faced few health issues. Generally, a fetus is considered viable by doctors at around 24 weeks, according to Rewire.
According to the Center for Disease Control (CDC) and Prevention — and as reported by Rewire — abortions after 20 weeks in the U.S. are exceedingly rare. In 2009, only 1.3 percent of abortions in the U.S. were performed after 20 weeks gestation. As Rewire further noted, abortions after 20 weeks could be required for a variety of reasons, such as fetal abnormalities (which often cannot be identified until later in a pregnancy) and a woman's inability to seek an abortion earlier — something becoming more difficult in states where laws are making abortion before 20 weeks increasingly inaccessible as well.
Those who oppose 20-week abortion bans worry that they infringe on women's rights and are detrimental to women's health. "It goes against the Constitution, against medical experts, and against the rights of women across the country," said Senator Patty Murray, a Democrat from Washington, told The Hill.
Moreover, the bans could be unconstitutional. According to Rewire, many legal experts believe that 20-week abortion bans undermine Roe v. Wade, which allows abortions until fetal viability. Viability is generally considered to occur at the aforementioned 24 weeks gestation.
Nonetheless, anti-abortion advocates are continuing in the pursuit of securing 20-week bans, telling the New York Times that they are hopeful that if enough states pass 20-week bans, Congress will follow suit. Mallory Quigley, a spokeswoman for Susan B. Anthony List, which works to elect anti-abortion candidates, told the paper, "We are building momentum for eventual federal legislation." The outlet further noted that it took anti-abortion advocates 15 years to get Congress to outlaw what the former refers to as "partial birth" abortions" and advocates are confident that the 20-week ban could gain similar slow, but steady, traction.
Overall, even though the 20-week abortion ban failed in the Senate on Monday, it appears that anti-abortion legislators and advocates are certainly not accepting this as a defeat — and have plans to again seek a national ban in the future.