Protestors Crashed The Health Care Vote & Screamed "Kill The Bill, Don't Kill Us!"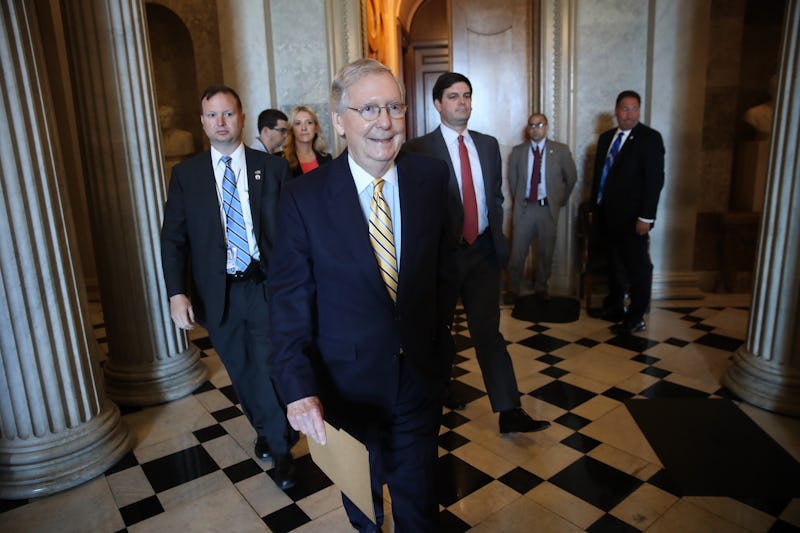 Win McNamee/Getty Images News/Getty Images
As the Senate prepared to vote Tuesday to open up debate on the health care bill, the sound of protestors shouting "Kill the bill! Don't kill us!" flooded into the chamber. The Senate was forced to pause proceedings to address the interruption. After several minutes of shouting about the bill, protestors in the visitor gallery also chanted "Shame! Shame! Shame!" toward the Senators who were going to vote to proceed with the debate and try to pass the Senate's version of the health care bill.
According to Talking Points Memo, about a dozen protestors wore white lab coats as they chanted for Senators to vote against debate on the health care bill. HuffPost reported that the protestors were seated in the visitor galleries and were escorted out or arrested. According to PEOPLE, reporters at the scene were told that they could not take pictures of protestors being arrested because it was a "crime scene."
The Center for Popular Democracy and other activist groups organized the gathering as a part of the continued effort to kill the Republican-created health care reform.
Protests against the Republican health care bill have been happening for some time now. In June, Planned Parenthood volunteers dressed up in "Handmaid's Tale" garb to protest on the steps of the Capitol. And for months, protestors have urged others online to call their Senators to ask them to vote against the bill.
Before Tuesday's vote, Sen. Minority Leader Chuck Schumer addressed the Senate, urging his colleagues not to vote to being debate on a bill that would strip health coverage from many Americans. Sen. Majority Leader Mitch McConnell also urged his colleagues to move forward with the debate and motioned for procedural voting to begin when the chanting started.
On Monday, protestors gathered to rally against the Senate health care vote at the Hart Senate Office Building. Several protestors were arrested, according to a Capitol Police spokeswoman.
Once the chamber was settled and the doors were closed, the Senate moved to the vote. Sen. John McCain returned from his leave of absence for surgery to remove a malignant brain tumor. The vote passed after a tie-breaking vote by Vice President Mike Pence. Then, McCain addressed the Senate, urging both parties to use the opportunity for health care debate to work together for a solution rather than passing a partisan bill that will only upset the other side.
Now, the Senate will begin debate on the Republican health care bill and determine whether they can work together to form a compromise.